Blog from the Top
These blogs were written by Melanie Hooper and Martin Amos during their time as Headteachers, starting in 2014 up until their retirement in Spring 2021.
Friday 26 March 2021 - The Final Curtain
As the final curtain prepared to come down, we were set a blog challenge during our last half-term. To write one each week, in effect a countdown to the end of the show. And here we are, sadly at our 'last ever Friday'. That curtain is definitely on its way down. Where has the time gone?
We will be writing to say farewell to all the parents and our students next week, of course, so a great opportunity to try to keep this blog short! And its final topic? Well, we thought we would take a short stroll down memory lane, to revisit our seven years of blogs. In effect, to write a brief blog about our blogs!
We took up our Headship in September 2013 and decided to start our blog the following year, with an objective of producing it roughly every 3 weeks. Just out of interest, we have this week gone back through our seven year 'blog journey' – a quick whizz through all 103 (103!) of them and their occasional accompanying photos, re-connecting cognitively and visually with former students, colleagues, environments, events and news of the time.
Some surprising (and unsurprising!) statistics emerged:
2014/15 was our most prolific year of writing, with 18 blogs issued, followed the next year by just one fewer. As expected, 2019/20 was our leanest year and the topics we wrote about were very much dominated by school closure, control measures and mitigations.
Our musings have tended to vary in length and the nature of them has also subtly changed with the blog tending, latterly, to morph more into essay-type reflections and serve as a platform for our consideration of a range of diverse societal, cultural, even political issues as well as thoughts on the future of the school. But in the early years, our objective focused more on creating an ongoing chronicle of school life and ethos, on painting a picture of the immense range of happenings, developments, growth and opportunities that have come to characterize this wonderful school over time: welcoming new colleagues, saying farewell to others, documenting the ongoing improvements to our school buildings, infrastructure and facilities as older buildings have been demolished and new, improved ones have risen in their place; describing the school's ever more diverse annual offer of uplifting opportunities to nurture the young mind, enrich the maturing soul and support the development of the whole-child - trips, visits, proms, events, celebrations, sports, concerts, performances galore, and, of course, our professional 'bread and butter' – inspirational daily learning.
We are grateful to those of you who found time to read our blogs over the years, for your many considered responses to them. So, we leave you with some photographic reminders of our school's journey over the past eight years and we thank, as ever, all of our valued and valuable Calthorpe community, for the enduring support that you have given us over our years of headship.
Our final lines are delivered.
Thank you and farewell,
Melanie Hooper and Martin Amos
---
Friday 19 March 2021
A different, possibly more reflective Blog this week.
Teaching is such an important but often undervalued and certainly undermined profession. It has been quite pleasant recently to see some positives about teachers in the media and the profession being heralded by the government. Sometimes it feels as if because everyone went to a school, everyone has some level of expertise.
After more than a collective 70 years in education (more like 80 if we are honest) we feel well-placed to offer advice. One of the true pleasures beyond seeing students grow, develop and succeed is watching the same process in teachers who we have played some part in recruiting, training, even mentoring. So, we tentatively offer some words of advice to new teachers, training teachers and future teachers based on things we would say our newly qualified selves, way back when.
In no particular order:
Observe and listen to others; be a magpie with techniques, approaches, formats and resources but…always take the best and then personalise and adapt to yourself
Be yourself; create your own identity and style; make sure your environment reflects who you are
An exhausted teacher is not a good teacher so take time out; maintain a good work life balance
Stay in control; try not to shout but ensure that when you do it has an immediate impact
Building relationships is key to high quality education
Always leave space in every lesson for creativity from you, or the students: seize and celebrate those moments
Always show respect to students and colleagues: respect breeds respect
Get involved; be a part of your school community; have fun
Never lose sight of your moral purpose; and the reasons why you became a teacher
Smile frequently; laugh often
Provide models and structures but empower through co-construction
Be a role model at all times
Learn to read the signs and create the impression that you have eyes in the back of your head
Know your students and get to know your students
Always look for the positive so that every day is a fresh start
Care
Every child does matter
Your profession matters
You matter
Enjoy it!
---
Friday 12 March 2021
After another busy day which saw all students completing their first lateral flow tests supported by an amazing team of staff and volunteers, we left our offices quite late and went out into a dark, windy and damp evening with just two solitary cars still left in the car park at the front of the school.
As quite often happens, figures walking along the footpath beside Hitches Lane seemed to recognise us (anyone would think we had been here a while!) but this time, the pair beckoned us over.
As is always the case, the greetings were cordial and followed by the phrase "Do you remember us?" At this point, we have both learnt to play for time because, in the years alone that we have been here as Headteachers, 2,000 Year 11s have left Calthorpe Park. "Hello, how are you? How are things? What are you up to these days?"
The first stated that that they were at College and enjoying it. They told us what they were studying and what their aspirations were for the future. A bright, articulate, confident young person full of verve and socially very at ease. Perhaps typical of a Calthorpe student and one of so many reasons to be proud of the young people this school plays a part in creating.
We turned to the other person. They grinned..... "Remember me?". We certainly did!
It seemed like yesterday. In their final months at Calthorpe, this young person had probably spent almost as many hours inside and outside our respective offices as they had done in lessons.
"Lovely to see you. How are you?"
"I'm good, thank you. We hear you're leaving. That's sad. Are you moving on to another school?"
That buoyed our spirits. These last very challenging few months can't have aged us as much as we believe they have if he thought us young enough to seek another school challenge. But it was dark, of course.
"No, we're retiring. We've been here a long time and we're ready for some time out. How about you? What are you doing? Are you at college too?"
He told us he was working. Holding down a steady job. Liking it and enjoying earning money. "I'm doing good", he replied.
Memories flooded in, transporting us back to their time at school. Instinctively we asked, "And are you behaving yourself?" We awaited the response, with trepidation.
The grin re-emerged and grew bigger.
"I am, actually. I think I'm thriving."
We love that word.
"I don't think school was for me. It wasn't my thing. But I got there. Thank you for helping me along the way. And for believing in me, believing I could get there. And all my mates are doing OK too. I still see them from time to time."
The list of names that were recounted from the past included a number of interesting and easily-recalled characters.
As we prepare to step away from the education world in this country we can, after many years of being in it, reflect on its strengths and its 'areas for improvement' (educational terminology will always be in our parlance!). One of the latter is the way in which the current system of education often limits schools' capacity to create experiences that fully engage and support all our young people. Some are required to go through inappropriate and sometimes, it seems, irrelevant hoops. It's easy for schools to become so concerned with league tables and data-based measures that they can lose sight of their real purpose - to create young adults who their family, the school and society itself can be proud of. We have always aspired to create a culture that enables young people to soar. But also one which creates opportunity for those the system doesn't suit.... to..... well, 'thrive'.
A simple meeting - a short conversation with just two of a multitude of ex-students - left us inspired. And proud.
"If you treat young people as they are, you will be instrumental in keeping them as they are. If you treat them as they could be, you will help them become what they ought to be". Goethe
Melanie Hooper and Martin Amos
---
Friday 5 March 2021
"Behind every success there is a story worth knowing."
It has been a hectic week of putting together plans to support getting students and staff back into school as quickly as possible. Complexities of planning have included the need to arrange for testing in excess of 1300 students, 3 times, and within their respective year group bubbles; ensuring that all required control measures are adhered to; communicating such complex detail to parents and staff and, of course, ensuring that the process is efficient and effective. So it is good to take a few moments to reflect on the fact that any success in achieving this mamouth task is built on the story of people who have gone above and beyond; who, in fact, always go the extra mile to ensure that everything that is the 'business of the school' runs smoothly. We must never forget the hidden stars of everything that Calthorpe does and everything it is.
We will start with the parents of our students whose support and encouragement during these times, and beyond, is always a tremendous fillip for the efforts of the team. The widespread confidence in the school and its direction, as well as the sharing of the vision and ethos, are enormously valued.
Specifically, we would also wish to pay tribute to those who volunteer for activities and events, whether it be CPSA fundraising or, most currently, the team of parents who have voluntarily made themselves available to enable lateral flow testing to take place over the next few weeks. We are enormously grateful to them, as we know you will be.
In every school there is a team of staff who work tirelessly in the background but who are, perhaps, not always recognised. We pay regular, due and appropriate tribute to our teachers but, behind the scenes, there are many others who enable teaching and learning to take place. Over the past few months, we have been enormously grateful to all of them – be it those directly involved, such as our Learning Support staff and Study Supervisors who have efficiently and effectively overseen our Key Worker and Vulnerable Student School; or the small but dedicated team who have been running the in-school lateral flow testing for everyone who has been on site - staff and students - since the start of January; or the IT Technician who has worked tirelessly to enable access to remote lessons. The list would and could go on.
The contributions cited are specific to managing the pandemic; but others have simply got on with their campus, administration or support roles without fuss: so ensuring that the school can run smoothly, effectively and safely. There are too many areas, let alone individuals, to mention but we would wish to pay tribute to their efforts, commitment and care for the school. Through this care, we can ensure the maintenance of the highest quality of education for our students.
This school is, and must always be, a community. It is very much who we are and very much the Calthorpe Way. We must, therefore, cherish, celebrate and thank all of those colleagues who enable this community to thrive.
"Alone we can do so little; together we can do so much." Helen Keller
---
Friday 26 February 2021
Friday again. And what a beautiful spring day it is. The first Friday of the first week of our last ever half-term at Calthorpe.
Mrs Hutton, our Communications Officer, contacted us bright and early this morning, her email entitled 'Final Countdown!', and suggested that we might like to write a blog each Friday of our final half term. Great idea, we thought!
We like to convince ourselves that we might have worked some small magic during our many happy years at Calthorpe, but we aren't quite sure how we can create more than 24 hours in each day! We'll do our best, however, keeping each blog short, and hopefully sweet.
In our blog just prior to the half-term break, we mused on the temptation for us to measure all we do daily during the final few weeks via a series of 'this will be the last time we…..' In actual fact, though, many of our 'last times' went by imperceptibly, quite a long time ago, without us even realising that they would be the final occasion.
It's almost a year since the first school closure was announced on 18 March 2020. During the last 11 months, students have been out of school for just 1 ½ weeks short of 2 full terms. Even during the Autumn Term, when we were all back in school, Covid control measures and related restrictions made life so very different for us all. No opportunity for corporate assemblies or gatherings, or for our vertical tutor groups to meet; no clubs, trips, visits or events to resume…. Such reduced opportunity for involvement in those wonderfully enriching experiences that are such key drivers of an education that develops the 'whole child'.
On reflection, although at the time we had no idea that this would, in fact, be the case, our last actual end-of-year Awards Ceremony took place in July 2019 and, at that point, our last Year 11 Prom had already taken place the month before. Our final Model United Nations Event took place in Autumn 2019, as did our final whole-school Prize Giving and Year 11 Certificate Evening. And our final actual Christmas Assembly? Over 14 months ago!
Of course, we have replicated some of these events virtually throughout this last year and they have been hugely rewarding and enjoyable occasions, but it's never quite the same without those very people who make everything come alive – our wonderful students and staff.
But to finish this week's blog on a positive note – our students are finally coming back to us in a week's time. We are so delighted that, despite the very considerable logistical issues and organisational challenges that administering 4,000 lateral flow tests will inevitably present, to be able to welcome our students back again has made our hearts sing. Just as the birds are doing outside our office windows on this beautiful Spring day.
---
Friday 12 February 2021
There could be a real temptation for us to measure this, our final term, in a series of reflections that begin, "That's the last time we'll….". We have largely managed to resist this, as we approach our last mid-term break, as our main reflection, at this time, is about our wonderful colleagues, our amazing students and our highly-supportive community.
In these most challenging of times, we could not have asked more of our staff colleagues. Every learning experience delivered to our students has been both impactful and engaging; every interaction with our young people has shown support, compassion and care; every communication with you, our parent body, has been positive and mutually appreciative …… teaching and parenting are challenging roles to fulfil in these Covid times!
Despite the restrictions and obstacles, the pressures and stresses, our colleagues have continued to provide an education that is aspirational; which supports the acquisition of positive learning dispositions and emotional literacy; that is broad, rich and diverse. For many of them, this has been from their own homes, for others it has been in school. Some of our colleagues have been delivering lessons from isolated classrooms, others have been working with our Key Worker and Vulnerable students in IT rooms. Some of our colleagues have worked to keep the school's site, key systems and administrative functions going; others have supported our young people's personal wellbeing and mental health. In our endeavour to keep our community safe, a few colleagues have been running the efficient operation of Lateral Flow testing for staff and students.
A community working on the front line – our staff have been amazing. Inspirational.
Alongside this, we continue to be impressed by the incredible numbers of students who are not just accessing the learning but actively engaging with it. They have been working hard to stay on top of things and, in the process, have been developing hugely positive learning skills and dispositions. At a meeting yesterday with the Principals of both local colleges, they stressed that it is these qualities and attributes that will have a lasting impact on students' further education and on their life chances. Independent learning is an essential skill throughout education and, increasingly, within the workplace as well.
Our students have been supported by their parents throughout this process and, again, we recognise the vital part you have played in not only ensuring that they access the learning opportunities provided but also that they gain from them as well. We could not be more appreciative of your support and understanding for us, and for your children.
So, as this will be the last of approximately 240 half-term breaks that we have enjoyed between us during our educational careers, we also want to reflect on our own sadness that this term has been so devoid of the human contact, the relationships that are at the very core of all we do at Calthorpe. We have a hope that, sometime very soon, we will see our colleagues in school again, alongside our wonderful students and with the opportunity to meet with parents face to face. We have missed the Calthorpe community in all its many aspects.
We wish all of you a very good break - an even more well-deserved break than usual.
And we hope that everyone finds some time to relax and refresh. And, hopefully, to enjoy some crisp and sunny weather. Fingers crossed!
Martin Amos and Melanie Hooper
---
Monday 8 February 2021
Monday again! How quickly the weeks roll by; just one more to the half-term break - which hardly seems possible. This half term has, as ever, been one full of hard work, new learning opportunities and outstanding successes.
We have been absolutely delighted with our remote learning programme since Christmas and have all very much appreciated the wonderful array of highly positive feedback from parents and students alike. Attendance at on-line lessons has been very buoyant also. Students are buying in, engaging actively with and thoroughly enjoying their learning, albeit from a distance. We monitor attendance very closely and, in the small number of cases where we identify concern, take timely follow-up action. This includes contact with parents at a range of levels, be it by the relevant subject teacher, a member of our pastoral team, from a Head of House or from a member of the Senior Leadership Team.
Occasionally, during conversations with parents, student access to an appropriate IT device or connectivity problems are identified. We will always do whatever we can to support in such cases but we only know of IT issues if parents make us aware. If your child is struggling to have ready computer access at home, please do get in touch directly with Mr Brand, Assistant Headteacher, to discuss (w.brand@cps.hants.sch.uk).
Another success has been our programme of virtual Parents' Consultation Evenings. So far, these have operated for parents and students in Years 11, 10 and 7; this week, we continue with two evenings of consultations for Year 9 parents and Year 8 evenings are scheduled to follow shortly after half-term.
In the virtual world in which we currently operate, the daily face-to-face contact we have with students in school is something we also very much value. On average, 70-75 students from across the year groups attend our Key Worker and Vulnerable School each day. They follow the same on-line learning programmes that their peers at home engage with, supplemented by a programme of activities delivered by our PE staff. We are hugely appreciative of the team of staff, primarily support staff, who supervise the students attending the school as well as those conducting the Covid testing programme. Sometimes our support staff do not get the credit they deserve but, without them, the quality of virtual lessons would certainly be impacted – quite simply, teachers who spend their days delivering these lessons would have to be in school supervising our KWV provision instead.
We hope that students at home are also taking advantage of their weekly 'buffer time' to focus on the benefits of a healthy lifestyle, despite the current restrictions that we are all subject to. Last week was Children's Mental Health Week and, what better opportunity to support positive mental health than through some involvement in exercise or other physical activity? Please also be aware that, despite school closure, our ELSA, emotional and mental health support and student mentorship provisions continue virtually….even our Canine Assistance Programme operates as normal, but within the virtual arena!
Our Lifelong Learning Programme also continues throughout this period of closure, and with tremendous success. So far this half term, we have issued just short of 800 commendations across all year groups and we have delighted in reading the appreciative responses of so many parents. The focus this half-term is on commending student demonstration of learning characteristics associated with independence, resilience and empathy. As part of this initiative, parents have also been invited to nominate their own child for a commendation - with their reasons, of course! We have loved reading such thoughtful testimony from so many proud parents.
Another wonderful platform for sharing and showcasing the outstanding learning and endeavour of our students is the weekly Learning in Lockdown Gallery that we have reintroduced from the first school closure period of Spring/Summer 2020. If you haven't already done so, do view the gallery's diverse exhibits, and read our weekly Learning in Lockdown blog – both are featured on our website each Friday afternoon.
And finally, on the theme of diversity, please do visit our Diversity Page, again on our website. As a Rights Respecting school, we take very seriously our duty to raise awareness of difference and promote equality of opportunity in all its dimensions. Normally, in school, this is done in a variety of ways, with discussion in tutor time, through themed schemes of learning in subjects and via PSHE, through specialist events and via reflection in assemblies, to mention but a few. But, to pursue the virtual theme, we continue to celebrate diversity remotely via the issue of a wide range of information and resources for students to dip into whilst learning from home. These include reading material, clips and information about a different theme each week and month, supported by recommended 'Books of the Week'. Since September, the range of equality themes covered has been vast - International Day of Peace, Black History Month, International Day for the Eradication of Poverty, Remembrance Day, Children in Need, National Anti-bullying week, Diwali, International Day for the Abolition of Slavery, Christmas, Holocaust Memorial Day, to mention just some of the themes covered. Do take a look.
Melanie Hooper and Martin Amos
---
Friday 15 January 2021
Common Sense
As we all struggle to cope with the restrictions and challenges of life at the moment, we are bombarded with media images and reports that can very quickly bring an ever-increasing sense of doom and gloom. Everything from the increasing death and infection rates to insurrection across the Atlantic can make us lose sight of the simple things that can be done to help and improve our own life and that of those closest to us. And, by so doing, we make an ever-increasing circle of difference and improvement.
We have been incredibly impressed with the way in which our staff have responded to the challenges of online-learning and hugely grateful for the positive feedback from those who have sent in their appreciation. Please do not underestimate the power of those simple words of thanks that you have communicated. The staff feel empowered and valued: their motivation increases yet further. This is true for all of us.
An actor recently interviewed described a character he was playing as having a 'super power'. When pressed, and given that this was not a fantasy drama, he identified this super power as empathy. When you think about it, this is a superpower that we can all have simply by taking the time to reflect on what other people might be feeling, what kind of a day they may be having. But is it a superpower that we seek to cultivate, encourage or always display? With a media that tends to focus on negativity, it is incumbent on all of us to try to bring a little joy whenever we can and never to underestimate how a simple kind word can brighten someone else's day. In the early days of this terrible virus, something as simple as clapping for carers gave a huge boost to morale within those professions. It cost nothing other than a few minutes of our time.
"We do not have control over what happens in our life, but we do have control over how we choose to respond". (Bryant McGill).
We ask that all of us within our community take the time to respond positively, to acknowledge the positive elements of a situation, even when we feel aggrieved or upset or frustrated by it. Saying thank you and showing appreciation for what others do, or for what they try to do; seeking out the best intentions of people's actions; thinking and caring about others and how what we do and say impacts on them.
It's really just common sense. And becomes a win-win situation because when we do this, we feel better, they feel better and the circle of good will grow, the ripples will spread… and we will all be superheroes.
---
Friday 18 December 2020
As has been our tradition for the past few years, this week's blog simply recreates our final address to the students that they will have listened to and seen as part of our virtual Christmas assembly. Before that, however, we wish to say goodbye to four colleagues who leave us at the end of the term. Mr MacKenzie stepped in at the very last minute and has done an excellent job in the Maths department; Ms McCandlish did her training with us and subsequently has been doing a great job teaching Geography for the last 18 months; Mrs Webb started out as a Study Supervisor and then moved on to teach some Technology as well, and always with her trademark commitment, care and good humour. Mrs Mercado has been our Study Unit Manager for many years now and has played a huge part in its success and the positive impact it has had on the lives of so many students throughout her time.
We thank them for their hard work and wish them all the very best of luck, great success and happiness as they move on to new roles and adventures.
We would also like to pay tribute to all of our staff who have unstintingly supported us, the school and the students through these difficult times. They all deserve a break and we hope that they all manage some vital R and R.
Thank you to all of the students and parents who continue to be so supportive, despite these very trying and uncertain times.
Finally, we would like to wish all of our readers the very best of season's greetings. We hope you have a safe, healthy and suitably festive celebration as far as you are able to, this Christmas.
2021 is a new year and we hope that the light at the end of the tunnel will continue to get brighter for you all.
Best wishes to each and every one.
Christmas Assembly (Virtual)
Headteachers' Address with Ms Hooper playing the part of 'Interviewer', and Mr Amos the part of '2020'
In a slight change from our usual Christmas address, this morning we bring you an exclusive interview. The subject of this interview has been the centre of attention, and indeed, of controversy, even negativity, for 11 months and 18 days. Ladies and gentlemen, and those who identify as such, please welcome our special guest - the year of 2020. So, 2020, how are you feeling?
Exhausted. Utterly drained. I have so little time left in me. Just 13 days. I feel haunted, harassed, blamed, abused and accused of being the worst year in living memory!
Well, you've not been a great year!.
That's what you think, do you? Strangely enough, thank you. I'm fully aware of just how bad a year I've been. There's no need to rub it in…but I know that you will. Everyone will. This wretched virus that has blighted so many lives, both directly and indirectly.
It's an awful pandemic that has impacted so many things we take for granted. No smiles because of masks, no hugs because of social distancing, no sharing of good times or bad, no family gatherings, or going out with friends, or weddings, or funerals, or parties, or school…
I thought you'd bring up school at some point. Is that all you care about?
Of course not. My point is that showing that we care has never been harder.
And I get the blame. I'm the victim of circumstance.
And then there was the whole sharp focus on equality . Or the lack of it.
You can't blame me for the that. That is something around which the whole of society has to take a good long look at itself.
Yes, you are right.
For once….
We really need to understand what a just world looks like.
And what you need as well are people in power who understand that justice, and being right, aren't about merely operating within the perceived boundaries of the rules but within the spirit of them; people who understand when to step back and concede that they have made a mistake. You can't blame me for the foibles and weaknesses of people. I am just a period of time. 365 days to be precise.
366 actually, didn't you know that you are a leap year?
I wondered why it seemed so much longer than it should have been… Being a leap year would be something to be remembered for but, as it is, I will always be 2020...THAT year. The one everyone will remember for all the wrong reasons.
Schools in particular.
Here we go again … lay it all on me!
Last year's Year 11 didn't get their final assembly; they didn't have the chance to sit their exams; didn't get their prom. The current Year 11 face uncertainty and, what some might consider to be an unfair level of confusion and potential inequality.
I think some of that is down to the powers that be, not just to me. I couldn't have predicted any of this. Back in January, it was all looking good. A new decade, a new year, a time full of possibilities. Lasted about 2 months didn't it? But I am no soothsayer, no oracle who can see into the future. I am just a year.
No one was prepared for you.
Thanks…so… Sorry, I suppose.
And this is not how we ever imagined that our final Christmas assembly would be. Not how we envisaged our last of so many years at Calthorpe panning out…is it?
Well, I'm in character as 2020 so that question doesn't really work. But no, you're right. It's sad.
I could just dismiss you as a 'year' and speak to you…as you.
I suspect that there are a great many people who would like to dismiss 2020. Send me packing to the garbage bin of time. And yet…
We must always try to be positive. Try to see the best in situations, and in people…even in years.
Is the glass on this table, half empty or half full? Or is it simply the wrong-sized glass? Because it's always easy to look at a set of amazing results or grades but spend longer looking at what could have been, instead of celebrating what has been achieved.
There is always something to be learnt from every experience, be it knowledge, understanding, or empathy. If someone ….
…. Or something…
Does their best, then no one can ask for any more. And 2020 did its best.
Thank you.
Look at some of the things that happened… A full lockdown for months
Not a great start if you're focussing on positives!
No, but it was. That period of lockdown was blessed with beautiful sunshine
You could hear birdsong far more, smell fresher air without fumes, see the natural world breathing again and shining in all its beauty
Are you claiming credit for that?
Some…
2020 gave us causes to get behind like justice, kindness and fairness, irrespective of who we are, where we come from, what we look like, what we believe… 2020 demanded….
I did?
Yes, demanded that we reflect on what is right and what is wrong; that we re-evaluate our values and focus on what is really important.
I did that…and…and you all came to appreciate what an amazing group of people we have working in the care and health professions, and maybe, just maybe, through home-schooling, you all came to an understanding of what amazing places schools are to learn in and that teachers are pretty amazing too.
And we have all learnt new skills - be it grandparents who can now Zoom, or young people who read more. And we have all been introduced to a remarkable 100-year-old man who raised millions of pounds to help others and showed the strength of indomitable spirit as well as the generosity of everyday people.
But we have missed real contact with real people.
Don't you think people have come to understand that while contact through the virtual world is expedient, easy and so on, these things are merely tools and no replacement for meeting, seeing, talking, in real time and place?
It would be nice to think that…and maybe, because we had all that time to reflect on what is right, we have understood that thoughtless, non-factual or derogatory comments on social media from the safety and security of a device does nothing but reflect badly on the sender, not on the intended recipient or focus. This is true for everyone, whoever they may be.
And of course, with necessity being the mother of invention, while the artists have found ways to keep us entertained, the scientists have found a way to create a vaccine for us. 2020 is ending and thanks to people's commitment and ability to rise to a challenge; thanks to people's care and consideration for others, their sense of responsibility, their understanding of the power and need for respect; their integrity… do these qualities ring any bells?
Commitment and challenge? Care and consideration? Responsibility and respect? Integrity. Nope. Means nothing to me.
2020 might just be remembered as a time when we showed resilience and determination
Those'll be all of the things that we hold dear and value highly.
Yes, of course. And so, as 2020 comes to an end. And waves its final goodbye.
Bye!
Christmas is around the corner and we implore you to make it a good one in ways that are essential rather than just desired, or traditionally associated with the festive season.
Be safe and stay safe…and keep others safe by following the control measures, by accepting the restrictions.
Don't focus on what you can't do but on what you can do. Don't focus just on the material things. A gift is not measured by how much it costs but by the fact that it is given with care and love.
Put simply, do the right thing in the right way.
This will be our final Christmas assembly and we are incredibly sad that the traditions and very special atmosphere that has been the hallmark of Christmas assemblies over our time at Calthorpe cannot be shared one more time - because we know that a virtual assembly can only ever be a mere shadow of the real thing.
We are sad that the last few months of our long…very long…careers at Calthorpe, and in education, have had no opportunities to get together with students, colleagues, friends. That we only see you behind masks, following routes around the school, trapped in year groups, without House identity.
But our faith in you - all of you - students, staff, parents, the Calthorpe community - remains undiminished. This school is a special place where how you do things is as important as what you do.
A place where success is not simply about exam results but about producing young people who will be a credit to themselves, to their families, to the school. You are those people.
So…wave goodbye to 2020. Don't hate it, don't speak badly of it.
Mark it as learning experience. Learn from it.
And move into 2021 better, stronger and more determined to be the very best you can be.
Merry Christmas
---
Monday 7 December 2020
Over 50 years ago Robert Kennedy, speaking in South Africa, said, "Like it or not, we live in interesting times. They are times of danger and uncertainty; but they are the most creative of any times in the history of (humankind)."
More than half a century later, these words have become just as relevant, albeit in a different context. All of us are facing anxiety, doubt, insecurity - whether this be on a global level or within our own homes, our own school. Worryingly for the behaviour of children, the conventions and protocols of reason are being challenged on the biggest of political stages; disturbingly for our sense of justice and right are the growing frustrations around inequality and unfairness; unsettlingly and tragically for we find ourselves in a world battling a pandemic that threatens the way we live. Even life itself. Things are changing and we need to ensure that they change for the better both in our lives and, for us, within the field of education.
And yet there is hope, as there must always be, in every context. New leaders will endeavour to re-establish balance and reason; new voices and actions will continue to reassert the vital sense of justice and fairness for all; extraordinary intellect, desire, commitment and inspiration will find, has found, a way forward to managing, if not defeating, the virus.
Our job in all of this, as school leaders, is to endeavour to create a path through the miasma that supports the intellectual, personal, physical and spiritual growth of our students. This is challenging at the best of times but, even more so, when many classrooms have empty chairs where students who are ill or self-isolating would sit; desks where substitute teachers are covering for colleagues who are ill or self-isolating. We must manage students who cannot play, who can no longer use up their energy running around together at breaks in the way they used to; students who must communicate the simple things through a mask, where a smile is unseen, a word lost, a nuance of communication missed.
We cannot currently speak to Houses or year groups together. Masks have restricted individual identity, but the inability to address large groups, to run big events, to develop the 'whole child' threatens the school's identity and everything that we hold so very dear and value so highly.
Year 11, in particular, face a most uncertain time. Changes announced just yesterday about GCSE exams will have significant impact on their preparation and revision. There is an inevitable sense of injustice that such significant changes are being announced with only 6 months to go before exams are scheduled to take place. This seems so unfair on our students, let alone on our colleagues who must now review what they teach, when they teach it and, with so many students self-isolating, how they teach. The pressures grow almost daily.
And yet, there is hope. Hope - because we know that our students have the skills and dispositions to rise above this and to find a way through to achieve, to be the best they can be. Hope - because we have colleagues who will work so very hard, will continue to support, challenge and inspire the students. Hope - because the school will do everything it can to protect their welfare, their wellbeing and their futures.
For many teachers and school leaders across the country, the Christmas break cannot come soon enough! The pressure has been intense, the demands extraordinary, the workload overwhelming. Similarly, the students and their families will look forward to a time when we can all regroup, reflect, care, share and be as together as we can, whether in spirit or in person. We are, however, trying hard to end the term with something upbeat and akin to our traditional Christmas assembly, albeit modified for the context. It will, after all, be our last one, and some students' first at Calthorpe Park. It will be very different, but it will be 'Calthorpe'.
These are strange times but there is a sense that there is a light at the end of the tunnel, as there always will be a light at the end of the tunnel. We must focus on that and drive forward, together.
The Robert Kennedy quote that we used at the start concludes:
"And everyone here will ultimately be judged - will ultimately judge (themselves) – on the effort (they) have contributed to building a new world society and the extent to which (their) ideals and goals have shaped that effort."
Calthorpe Park will continue, as always, to do its very best to promote the ideals of the Calthorpe Way (Commitment, Challenge, Respect, Responsibility, Care, Cooperation, Integrity, Impression), to shape the future for our students, to educate the whole child, for the whole of their life, through heart, mind, body and spirit.
We thank everyone - students, staff, parents and governors for their support in these challenging times.
---
Friday 23 October 2020
First Impressions
It has been interesting over the past two weeks to have the opportunity to meet with a number of visitors who are coming to look round our school before deciding whether they wish to apply for our headship vacancy. It is invariably hard not to form a first impression when we meet somebody for the first time. We have, of course, resisted this but it did get us thinking about the whole concept of first impressions from the perspective of a visitor to the school.
Pre-Lockdown, whenever we welcomed visitors, their feedback comments were invariably around citing a calm and purposeful atmosphere, courteous and respectful students and a school that looks smart and efficient. Even in these strange times where our usual approach is compromised by the need for control measures, our students continue, by and large, to demonstrate attitudes and behaviours that create an excellent first impression.
Various research provides lists of considerations that commonly impact on first impressions. These range from practical behaviours such as punctuality, saying please and thank you, opening doors and being polite; to perception elements that include positivity, being open and transparent, being unapologetically 'yourself'; through to the appearance dimensions of smiling and how we look. At a time when we are all wearing masks for much of the time, some aspects - such as smiling- become hard to gauge. So we compensate by heightening or focusing more on others.
As a school, how can our students do this and, by so doing, how can they better prepare themselves for the wider world where, whatever we may wish, first impressions still count?
The vast majority of students at Calthorpe are courteous and considerate. They say please and thank you; they open doors. This creates a positive impression and one that is frequently commented on. When they engage in conversation, they are polite, informed and informative, interested, positive and keen to share and engage.
The one area that sometimes lets the whole impression down can, for some, be their appearance. We are not talking about faces, features, body shape or height; we are talking about uniform. Again, in these challenging times where students have to come to school dressed for PE on at least one day per week, we understand that there will be variations. We have focussed on re-engagement with learning and reconnection with school, however, it has widely been noted that there is an increasing prevalence of trainers and hoodies plus, more significantly, many students, particularly those in our senior years, who are wearing skirts that simply do not meet our stated expectation of length or fabric.
We do understand about fashion. Unbelievably, we were young once too! And we also appreciate that young people wish to make statements about themselves, their individuality and their personality. But, for too many currently, first impressions are not good ……. and they do count.
At a time when phrases such as 'herd immunity', 'collective responsibility', 'community action', 'bubbles' and so on are so frequently heard, there can be a tendency to assume that, because others are doing something, that makes it right. This is not the case. Just because people speed down a road, it neither makes it right nor does it confer immunity from risk, danger or prosecution.
'Impression' is one of the key tenets of the Calthorpe Way, as is 'Integrity'. We talk about the 'business of learning' and a part of this must be the recognition of what is, and what is not, appropriate…. And, to conduct ourselves appropriately without the need for regular reiteration, without constant reminders and without the need for sanctions to be applied. Doing the right thing, even when no one Is looking (or telling you to do it!), is a fundamental principle of the Calthorpe Way, of our aspiration for our community, or our moral code. And, more than ever, in the midst of this pandemic, it is essential that we promote and model integrity.
It has been a busy and challenging half term and we are enormously grateful for the support of all our colleagues, students and parents in ensuring that things have gone as smoothly as possible. More challenges will come, of course, but we are confident that the Calthorpe community will rise to them and that this school will continue to be a great place to learn and grow, both academically and personally.
---
Friday 2 October 2020
This week, sadly, has seen the departure of our wonderful Librarian, Paula Ward. Mrs Ward had been with us since 2016 and had taken a brand new, but totally empty space and transformed it into a vibrant, active library where reading and learning were supported, encouraged, developed and enriched. We are enormously grateful to her for all that she did to develop, enhance and further inspire a love of reading amongst students and staff. She will be very much missed.
Her departure, however, has made us reflect on the whole subject of literacy and how essential effective literacy skills are to our continuing growth, maturation and the cementing of our place in the world. Reading can very easily become something that is overshadowed by the ease of other virtual media where immediacy, brevity and often simplicity make it more accessible but somewhat developmentally impoverished.
Furthermore, the ability to cultivate and grow our vocabulary makes us better communicators, more skilled in sensing the implications, intentions and inference behind the words used; more able to express ourselves with precision; better able to challenge with authority where misinformation, fallacy or fake news are presented. We all need to feel confident, to be adept at reading between the lines – both in terms of what we read and what we hear. This is as relevant to our verbal communication as it is to the written form. The ability to not only comprehend what is being said, but to unpick what is not being said; to have sufficient skill not to just listen to the words but also to judge and respond appropriately to the context and situation; to gauge the tone and even the body language...... because all of these tell us something. This is a skill that we can all develop and enhance. It allows us to be more emotionally intelligent as well as more intellectually astute. It enables greater empathy, awareness, creativity and knowledge. It helps our mental health and that of those with whom we come into contact.
In these strange days where we are often communicating anonymously, either via social media or because our faces are covered by a mask, these skills become even more essential and need to be even more sophisticated. And the starting point for all of this? Reading.
It is imperative that all of us continue with the great work that Mrs Ward undertook to encourage the most reluctant of readers and to extend the most skilled. Because if we can all develop greater levels of effective communication, then our understanding of ourselves and of each other is enhanced, and the world becomes a better place.
And we really need that right now.
---
Friday 18 September 2020
The end of the first fortnight back after such a long period of time away, and with so many changes needing to be implemented has, inevitably, been a busy and tiring one. And, indeed, one which was seemingly a lot longer than just 10 days!
It has been a very considerable challenge to stay on top of the changes and demands of government guidelines alongside the absolute imperative, and our corporate commitment, to protect our students and staff, as well as the curriculum, both in lessons and within the broader culture of the school. We would wish to pay tribute to all of our staff who have worked so very hard since our return to make sure that everything has gone as smoothly as possible. We would like to pay a special tribute to Mr Wilcox and his site team for their huge efforts to prepare the school and to ensure that every aspect of our protective arrangements have been meticulously put in place. And, of course, we have to recognise the amazing adaptability and positivity of the vast majority of our students who have followed the Calthorpe Way (and got to grips with the Calthorpe Highway!) throughout the two weeks.
We would ask our parents to please spend some time reviewing and reacquainting themselves with our various communications regarding our Return to School arrangements, the rationale for the systems that we are implementing and our new procedures for communicating absence. Whatever people's views on the pandemic, the wearing of masks, social distancing and the latest debacle on access to Covid tests, everyone has a duty of care to their community. And ours is to Calthorpe Park School. We are constantly reviewing and adapting our arrangements and will continue to do so; we will communicate changes as necessary and we hope that our students and all of the Calthorpe community will support us, and our colleagues, in these efforts.
The Calthorpe Highway, Wait Zones, detailed Risk Assessments, both school-wide and subject-based are, so far, ensuring that our students continue to access a broad and balanced curriculum in specialist areas with specialist teachers. With collaborative work impacted by social distancing, the need for books and shared resources to lay fallow before and after use and teachers no longer able to move around the classroom to provide close individual support, lessons are different but learning continues and new procedures and expectations are quickly being re-established and embedded.
As for the immediate future? Who knows? An increasing R rate, changes to what we are allowed, and not allowed to do and a seemingly inevitable prospect of yet more changes, and challenges, both locally and nationally. We will continue to always do our best and expect nothing less of our students and staff. We will keep learning from every experience, opportunity and event. We will keep moving forward as best as we are able…following the Calthorpe (High)Way of course!
As always at the start of the year, we have some new colleagues to introduce and welcome. Ms Brown and Mr Bernard-Patel join us in Science. Both were with us last year as Trainee Teachers and we are very pleased to have been able to recruit them to Calthorpe. Ms Brophy was similarly a very impressive Trainee with us last year and she also joins the Calthorpe team, taking up a post in the Art Department and also teaching some English.
We have a number of new recruits to our Physical Education and Maths Departments: Ms Bottell, Ms Charlton and Ms Perkis join us in PE and Mr Bubnjar and Ms Robinson join us in Maths.
On the Support Staff front, we are delighted to welcome Ms Pierce-Jones, our new Student Safeguarding and Welfare Lead Officer. To our Science Technician Team we welcome Mr Pasupuleti, and to further enhance our Housekeeping Team and ensure the highest standards of cleaning and hygiene, we welcome Mrs Gurung, Ms Kennedy, Ms Coleman, Ms Lademann and Ms Dalzell.
We wish all our new colleagues a very happy and rewarding career with us at Calthorpe Park School.
---
Friday 17 July 2020
Head Teachers' end-of-year Farewell
Here we are, at the end of another year. But it certainly doesn't feel as if we should be at this point already. Despite the struggles, frustrations, sorrows and undoubted learning curves of these strange times of prolonged school closure, there have, however, been some uplifting examples of fortitude, selflessness, gratitude and care. And, of course, of missing our students
Part of all of us feels as if we are caught in time, in a vacuum, still way back in March, at the start of the Spring, and looking forward to all those wonderful things that we, as a Calthorpe community, enjoy every Summer, year in, year out. They are part of what we do…. The Prom, the School Show, the Battlefields Trip, Osmington Bay, SLUGG Walk, end-of-year House Assemblies …… but they didn't happen this year. Despite wonderfully creative ways to enjoy some of these events virtually, we have all missed that sense of our community coming together physically. These have been unusual times, indeed.
Another thing that won't happen this year is our staff bbq on the final afternoon of term – usually a time when we celebrate the year and say a fond and grateful farewell to those colleagues who leave us to move on to pastures new. We are determined to arrange a get-together, eventually, when times and rules on social distancing allow us to, probably in the murky days of November! It won't be the same, of course, but it will be an opportunity to say goodbye and huge thanks, in person, to those colleagues who have given so generously of themselves to our school and to or students.
But for now, we have to make do with a written message of farewell and a sincere expression of our appreciation and best wishes for the future happiness and success of our colleagues who are leaving us.
Ms Tomkins has only been with us since December but, in a short time, has made a real impact in her role as Learning Support Assistant. Her calm, caring and patient approach will be very much missed. She is always positive, has great enthusiasm and, during school closure, has been in school, day after day, supporting students with their learning and emotional wellbeing. A former CPS student herself, we are particularly proud to have been able to contribute to the growth of Ms Tomkins' talent for working with young people, and we wish her every success, both personally and professionally for the future. Ms Tomkins begins Initial Teacher Training in September.
Another member of our growing CPS alumni who has chosen to go into the world of education, and who has returned to the fold to teach here for a time, is Ms Skennerton. A student here herself from 2007 to 2012, she joined our Art and Photography Department in January, to cover Ms Beckingham's parental leave. We have been delighted to welcome her back and she has done a fantastic job over the last 7 months, during lockdown included! Ms Skennerton moves on in September to a permanent post in another local school and we both thank her and wish her all the very best for the future.
Mr Forbes joined us from Canada two years ago. He is a very popular teacher of Maths and PE, universally admired for his never-ending good humour, a great team player and a talented classroom practitioner. He will also long be remembered for his sportsmanship, both on and off the pitch. Few of our students will forget the sweltering heat of SLUGG Day 2019, the day on which Mr Forbes volunteered to have his long, full and shaggy beard shaved off completely, for charity. No one recognised him with his new, smoothly-shaven chin. This wasn't a problem, however, as, come the first day back in September, Mr Forbes duly arrived with his beard resplendent once again! He has always had the wander lust and he is now off to teach in Egypt. An exciting challenge and we thank him for his contribution and wish him all the best for the future.
Ms Loosemore has been with us since 2017. She has been an outstanding and highly dedicated teacher of PE and Health and Social Care and has been an inspiration to our netball enthusiasts, coaching them to achieve great success in the extra-curricular league. Ms Loosemore is always positive, upbeat, highly organised and thoroughly prepared. She leaves us to take up a promoted post at another local school and we wish her all the best in her new role. She will be very much missed by students and colleagues alike.
Mrs Green is retiring after 19 years at Calthorpe Park, both in the Science Department and, during the past six years, as Manager of Learning Support. Mrs Green has always shown total dedication to Calthorpe Park and to those many hundreds of students she has taught during her long and distinguished career with us. She is the champion of students with additional needs, totally child-centred and absolutely focused on ensuring that young people's talents are nurtured and their life chances supported in every possible way. Mrs Green has a heart of gold and nothing is ever too much trouble for her. We know that she is looking forward to spending more time with her growing brood of grandchildren and we thank her sincerely for her enduring commitment to Calthorpe Park School and wish her a happy and fulfilling retirement.
And finally, it remains for us to bid farewell, say an enormous thank-you and send every good wish for the future to Mr Wyatt. Appointed to the role of Assistant Head Teacher in September 2012, Mr Wyatt has been a very valued member of our Senior Leadership Team as well as a passionate, highly talented and much respected teacher of both Science and Maths. Mr Wyatt has a fearsome intellect, can always be relied upon to come up with a great and original idea and constantly inspires our students to achieve their best. He is relentless in his enthusiasm and drive as well as in his support and care of our young people. In the time that he has been with us at Calthorpe Park, his contribution has been immense and we will miss him considerably. Mr Wyatt moves to a school in the south of the County, closer to his home, having secured the role of Deputy Head Teacher with responsibility for Pastoral Welfare. We have no doubt that he will prove to be an outstanding success in his new role and we wish him well in his future career. We will miss him considerably.
So, as another school year draws to a close, this time in such strange and unusual circumstances, we would like to pay tribute to our wonderful staff for their relentless efforts to provide high quality home learning and to embrace new ways of working. As ever, and despite the restrictions of the circumstances, they have shown unstinting and singular commitment to the support of our students, both academically and pastorally. Their consummate professionalism, care and dedication to young people are a source of great pride for us and for our Governing Body.
We also thank our parent body for their ongoing support and for the efforts that they have made to work in partnership with us during this extended period of school closure. And finally, we congratulate our students for the focus, perseverance and grit that so many have demonstrated during these challenging times.
It won't be 'back to normal' in September. Far from it. But we are all looking forward to reclaiming some sense of return to the familiar, to rekindling valued relationships and to having the opportunity to come back to our cherished 'Calthorpe Way'.
We wish you a relaxing, safe and healthy Summer.
Melanie Hooper and Martin Amos
Head Teachers
'As long as poverty, injustice and gross inequality persist in our world, none of us can truly rest.' These words, spoken by the great Nelson Mandela in a speech in Trafalgar Square, 2005, strike right at the heart of the global mood. This all-encompassing pandemic that we continue to face together has had many unforeseen impacts beyond the immediate concerns of personal health, safety and mental wellbeing. It has also thrown into stark relief the inequality faced by so many, for so many reasons. Existing inequalities have been very significantly amplified by the crisis.
As we slowly creep out of our enforced isolation, we emerge into a climate that, in so many aspects, has a heightened sense of unfairness and injustice. Tragic events in other countries have sparked a world-wide outcry demanding the recognition that Article 2 of the UN Convention on Human Rights – the right to life - is upheld in its fullest sense. Every world citizen of every nation and race must have an equal and absolute right to life. And beyond this, there is also for that life to have quality to it, so that all children can grow and develop without fear, without encountering discrimination.
A moving letter penned by a Premier League footballer, speaking out against the poverty that families still face in the UK in 2020, has stopped us in our tracks with a simple question 'Political affiliations aside, can we not all agree that no child should be going to bed hungry?'
The slightest glance at the daily world and, indeed, at domestic news, confronts us with issues of inequality, discrimination, violation of human rights, silencing of the free press, an increase in domestic violence, pandemic consequences for women and girls, migrant workers, breaches of privacy, disproportionate British Black, Asian and minority ethnic Covid-19 death rates… sadly, the list goes on.
But also, we see positive and uplifting examples of a significant increase in compassion, in reaching out to others, acts of kindness, selfless giving, love and support.
While many businesses focus on financial matters, others are now looking long and hard at the concept of the 'kindness economy' where truth, integrity, longevity and commerciality replace rabid consumerism.
It is compassion where we start, and is a core tenet of our ethos. We reject inequality in all its forms; we recognise all protected characteristics; we are committed to doing everything we can to understand the impacts this time has had, and is still having on all members of our community. For our students' and our staff's experiences will not have been equal in so many ways.
We are making our first, tentative, steps to reopening our school, to planning our 'recovery curriculum' for our students. A curriculum for recovery reflects our commitment to the highest quality of education in its broadest definition: heart, mind, body and soul…the whole child.
This week, we have been talking to all our Year 10 students to understand what their individual experiences have been during these past 10 weeks of school closure. Where they are now in their learning and wellbeing. What we will need to provide in future to support them to return to school and continue to thrive. And, in due course, in some way, by some means, we will need to provide the same opportunity for dialogue with all our students, in all year groups. This will enable us to plan to welcome back our students to a place where respect, tolerance, kindness and care underpin all we do; a place where young people can rediscover the joy of learning and growing.
"We cannot change what we are not aware of, and once we are aware, we cannot help but change." Sheryl Sandberg - COO of Facebook and the first woman to serve on its Board
---
Thursday 7 May 2020
Victory in Europe Day
May 8th 1945, 75 years ago, the hopes of a nation, of many nations, came to fruition.

The vast majority of us were not there. Perhaps some of our parents and grandparents have memories but, for the rest of us, there are merely echoes of a time of such national pressure, anxiety, restriction and loss that seemed so alien. Yet, here we are.
Our current situation may share some similarities; but this day is not about comparison. It is about reflection and celebration. It is about the debt that is due to all those who gave their lives to overcome the threats to all that we held, hold and must continue to hold dear always.

When the news of the surrender came through, there was an instinctive and justified mood of levity, joy and release. Streets were filled with impromptu parties and waves of people got carried along with the euphoria of a dream realised. One suspects that it was later, even the next day, when the music and dancing had stopped, when the streets were quieter, as home-made bunting fluttered in the spring breeze, that reflection came.

No family would not have been impacted in some way by the war. In his speech that day, Churchill spoke of the sacrifices, of the resolve, of the struggle. He lauded everyone man, woman and child for doing their best. He recognised the endeavour and the fortitude, but also the journey still to come and how challenging that would be. He concluded: … "Even if it is a hard struggle, we will not be the ones who will fail."

Nor did they, rebuilding nations, and improving lives.

Have we always learnt from the lessons of the past? Can we, do we, always look forward to a better world and strive to achieve it?

That was the challenge faced 75 years ago. To seize that moment to celebrate, to take other times to reflect and mourn and then, to commit; to commit body, heart and soul to rebuilding a world that is better, where peace prevails, where humanity works together and where the memories of those who gave their all for the future are remembered and never forgotten.
Edmund Blunden, a poet writing in both World Wars, penned a recently discovered poem about VE Day. We recreate some lines below:

Now the great vision which we dared believe
Through slow and savage years is all our own;
That summit which we willed we now achieve,
And certainty deposes the unknown.
…
To trace the roads that led us to this hour
History will be proud, and honour fill
Her halls with colours; let those bright works flower
In their season – we are mindful still
…
Thence shall the final victory ever new
Sing in the lives of all that live, "We came through."
---
Friday 6 March 2020
Today's blog focusses on two things in the media. The first is impossible to miss and something that we all need to take care with; the second was a very brief segment of news that was specific to Calthorpe Park.
The worldwide issue of Coronavirus is one that everyone is very aware of and requires us all to be sensible about, both in our actions and in our words. Dramatic headlines have not helped manage a deeply concerning situation and one that, we all know, will surely only get worse before it gets better. As a school of more than 1300 students and over 150 staff, each with their own linked families, friends and connections, it is impossible to avoid the fact that, at some point, we will almost certainly be directly impacted by the virus. It is, therefore, incumbent on all of us to ensure that we listen to the advice of Public Health England and follow the clear routines that will reduce the possibility of infection spreading.
First and foremost, we would ask all members of the school community to promote a regime of rigorous handwashing. Soap and hot water is fine, not least as there seems to be no appropriate hand sanitiser available anywhere (we have tried!). This procedure needs to ensure that all parts of the hand are cleaned and the whole process should last for a minimum of 20 seconds - approximately, we are told, the length of time it takes to sing Happy Birthday!
All tissues used should be immediately discarded safely and not retained in pockets or bags. Direct physical contact between individuals should be avoided.
Although this may seem obvious, we would ask all parents to actively promote these measures as being the essentials of daily life, as we will be doing in school. We have also instituted significantly more robust cleaning of door and commonly used hard surfaces and will be introducing a more significant rolling programme of deep cleans. But, of course, these will only be as successful as the personal hygiene and habits of all of us allow them to be.
The advice at present is that schools should not close. Despite some rumours to the contrary, there have been no confirmed cases within the school and, as of today, this situation remains. We will of course monitor the situation with great care and make any decisions in line with the medical advice available. We have introduced a 'Managing Infection' section to our website and will provide regular updated information in it. We would ask you to check out our first update which outlines the practical, precautionary measures that we have put in place, to date, to help minimise the spread of infection. Information will be conveyed as and when it becomes available or we think it necessary. But we would ask all of you for your support, measured responses and common sense.
Rest assured that all decisions taken will be motivated by a need to balance the health and safety of all of our community with the imperative not to jeopardise the life chances of our students, particularly our Year 11s whose exam season is only a few weeks away. We are putting together learning and revision resources to cover worst case scenarios. This is made more complex by the significant number of residential trips that are planned to go out during the next few weeks. All those who are involved have already been contacted and we will keep them updated as often as possible. Regrettably, unless the Foreign and Commonwealth Office specifically advises against travel to a particular destination, insurance is very unlikely to cover withdrawal or cancellation.
Please be aware that should you contact the school to enquire about specific rumours or individual, un-related students, we will be unable to give details; any other action would be in breach of data protection laws.
Thank you for your understanding on this matter. It will inevitably be a subject that will divide opinion and the school will, depending on our actions, inevitably be 'damned if we do, damned if we don't'! We will, however, always do our best.
On a lighter and more positive note, you may have been watching South Today earlier this week and have seen a very brief report that planning permission has been granted for the next phase of our building and facilities development. It was sufficiently short that, should you have blinked, you might have missed it! Sadly they also managed to use some footage that was at least 7 years old! It is, however, reassuring that the permission was given with the full support of the planning committee and opens the way for the development to begin towards the end of the summer term.
Thank you for your continuing support.
---
Friday 14 February 2020
Although Spring terms tend to be relatively short, they are invariably brimming with marvellous events and exciting new projects and, although it's a mere six weeks since we returned from the Christmas break, Spring Term 1 has been no exception.
At this half term break we say goodbye to Mr Heartwell who has been teaching Maths and PE with us for the last 18 months. He returns to his native Canada and we thank him for his work and commitment, as well as wishing him every success and happiness in the future. It has been impossible to recruit to cover his role at this time, as we were let down at the last minute by our one applicant of a suitable standard. The Maths team have, as ever, stepped up to the plate and all lessons will be taught by qualified teachers for the remainder of this term.
On the trip front, Calthorpe students have visited the Tate Modern, National Portrait and the National galleries, have seen Wicked and The Woman in Black and have visited Winchester Cathedral. In school, we have welcomed author Sufiyah Ahmed and crime prevention specialist Dean Coady, both of whom ran fascinating workshops for our students. Year 9 students have also taken part in the UK Intermediate Maths Challenge, whilst younger ones have been involved in a writing skills workshop; our STEM enthusiasts have participated in the Lego League and our Year 11 basketball team reached the District Cup Final where they performed splendidly but sadly lost by a single point!
Back in school, Year 8 exams have taken place and Year 10 exams start straight after the break. Year 11 students have begun the countdown to external exams, with a number having recently completed assessments in a range of vocational subjects. In addition, our Calthorpe Extra programme will be kicking off in earnest on our return after half-term. We often wonder where the time goes. It seems only a few weeks ago that we were launching this programme with our cohort of 2019!
These past six weeks have also been awash with Parents' Evenings. We've held Parents' Consultations Evenings for both Years 10 and 11, a Parents' Information Evening for Year 10 and this week's Modern Languages Information Evening saw parents experiencing what it's really like to learn a language in school today by being immersed in Spanish listening, reading and speaking tasks! And then, of course, there are all the Information Evenings in preparation for the many residential trips that will be setting off soon… the Snow Sports Experience, Lanzarote, York, Osmington Bay, Duke of Edinburgh Award. The list goes on.
In respect of Student Voice, our new Year 10 Prefects have been appointed and interviews for positions in our Senior Student Leadership Team were completed last week. This week we have held our wonderful Dragons' Den event and this evening, as we write, we excitedly await the outcome of the regional final of the English Speaking Union competition being held at Guildford Cathedral. This term we have started an already thriving in-school debating group and we are so proud to be involved in external public speaking events where, invariably, we are the sole state school to take part.
There is such a wide array of fantastic and enriching opportunities for our students to get involved in at Calthorpe Park and so many do embrace these opportunities wholeheartedly. But, before concluding, we do need to mention an issue that has disappointed us, which we feel has somewhat let down the wonderful community of Calthorpe Park. The vast majority of Calthorpe Park students are outstanding ambassadors for our school; they behave impeccably and consistently model the shared and stated values of our school community.
Unfortunately, it has come to our attention that a very small minority of our students have behaved in a totally unacceptable and anti-social way in the local community. This has happened at weekends and, more recently, during our INSET Day school closure this week. While this is not directly a school matter, we have identified most of the students involved; their parents are being contacted and we are dealing with these students accordingly. We ask all our parents to support us in reiterating a common message of expectation of respectful and responsible behaviour from all our young people, at all times. Thank you.
Finally, before we sign off, we would like to remind parents that if students choose to wear a skirt as part of their uniform it may not be of stretch material and it must have a hem that falls at least midway between the hip and the knee. As we said in our recent letter to all parents, we do not operate a draconian uniform policy at Calthorpe Park and we do firmly believe that it is our duty to support young people to acquire the skills of self-regulation and to make wise decisions. Unfortunately, a number of students who currently choose to wear a skirt as part of their uniform are not making wise decisions. If your child's skirt does not meet requirements and is not appropriate 'for the business of learning' i.e. would not be acceptable wear for a formal, business environment, please take advantage of the half-term break to purchase an appropriate replacement. From after half-term, we will expect all students to wear either trousers or a uniform-compliant skirt. Thank you all for your support.
We wish everyone a happy half-term break.
Melanie Hooper and Martin Amos
---
Friday 17th January 2020
Firstly, we would like to wish all our readers a very happy and fulfilling 2020!
Parents will recall that, before Christmas, we fed back on the outcomes of the Governors' Summer Term Questionnaire to Parents and thanked you for your high level of response and for the abundance of very positive comments received. We also explained that a few respondents had cited some concern, or a desire for more information about particular areas of school practice and that, moving forward, we would be addressing these in future Blogs. In December, we wrote about our philosophy regarding homework. Today's Blog will focus on the thorny subject of 'marking'.
From your feedback, it was evident that a small minority of parents feel that teachers should spend more time marking students' work. From an educational perspective, however, the essential questions to consider are: What is the purpose of marking and how can it be most impactful? Does marking always have to be carried out by the teacher? And, indeed, what is the difference between 'marking' and 'feedback'?
The leading educationalist in the field is John Hattie. His research indicates that high quality feedback is one of the single biggest drivers of student progress. So, is it just a question of teachers marking more work, more often, to help students make more progress? Or, is the reality somewhat different? The Department of Education published a report in 2017 indicating that secondary teachers spend, on average, 8.1 hours per week marking students' work. But how much of this time actually acts as a driver of student progress and how much of it simply serves a validatory purpose?
Undeniably, validation is a good thing. It supports students' positive working habits and recognises endeavour; we all like to feel appreciated and we all like to have our efforts acknowledged. However, this sort of recognition does not automatically translate into better progress. Moreover, there are only so many hours in a day and we have to prioritise our time to ensure that our actions have the greatest impact on our students' learning. Time spent planning really challenging and developmental learning experiences is key. High quality feedback on strengths and areas for development with detailed, tailored advice on how to improve is, without doubt, what makes the greatest difference. Indeed, Ofsted counsels against marking policies that are overly prescriptive or onerous because inspectors recognise that this may then actually mitigate against the very best learning and teaching.
In Making Every Lesson Count, Shaun Allison and Andy Tharby state that the point of feedback is to identify a "learning gap" so the teacher can then aim to close it by ensuring that future planning is responsive. Staff assess students every lesson. This assessment takes a variety of forms – it might be via questioning; observing students undertaking an activity; it might be going through a piece of home learning or indeed a flagship piece of work or a test. What is most important, however, is how the member of staff then uses this data to inform their subsequent planning. Assessing is largely pointless if it does not lead to a meaningful learning opportunity.
Therefore, impactful, developmental feedback might take the form of verbal teacher commentary when the work is given back; teacher-guided study of assessment criteria by students with subsequent peer-to-peer feedback; a similar teacher-guided study of assessment criteria followed by student self-assessment of their work or, maybe, future lessons that focus specifically on addressing lack of understanding and which are directed at either the whole class or customised for groups of students within it.
Allison and Tharby ask teachers to consider a set of questions to help them identify whether the feedback they are giving is worthwhile:
Does it close a gap in knowledge, skill or understanding and so help move students forward in their learning?
Is it fit for purpose?
Does it take the most effective form?
Is it holding the students back?
If the answer to any of the first three questions is 'no' (and, of course, to the final question is 'yes'!), then teachers must question the purpose of feedback. This is an approach that we endorse at Calthorpe Park; but we would also go one step further. Namely, in addition to offering both diagnostic and developmental feedback, which takes a variety of forms, we also advocate teachers training students in the art of assessment. If students are able to critically evaluate their own work, and that of others, and are then able to state exactly what they need to do to improve, then this will be an altogether more impactful way of working.
We are extremely fortunate at Calthorpe Park to have a body of staff with excellent skills in the art of providing high quality feedback. We do, however, recognise that time invested in endeavour is of great importance. Students need to be confident that their effort is acknowledged and that their work is regularly and thoroughly reviewed; staff, likewise, need to know that their professional commitment to supporting young people to make optimum progress is valued. Learning is always most effective when a partnership between teacher and student is entered into – it can be somewhat demotivating for staff when they have invested considerable time in assessing, marking and providing feedback only to have a student glance at it in a cursory way but not feel compelled to act upon the advice given. So Calthorpe Park students must expect to engage routinely and actively with feedback and should also expect to be held to account if they do not try their best to make ongoing improvement.
We do also recognise that our students receive a great deal of feedback and, at times, may find it hard to recall the precise detail across the wide range of subjects that they study. It is with this in mind that we are currently trialling a variety of new strategies and systems in order for us to further develop our practice.
More on this in a future blog…..
---
Friday 6th December 2019
You may recall that, at the end of the Summer Term, the Governors of the school asked parents to complete a survey on a wide range of subjects. We thank everyone who took the time to complete the multi-choice questionnaire and those who provided additional free-text comments.
Responses have been carefully considered both by the Governors and by ourselves in conjunction with our Senior Leadership Team. Firstly, we sincerely appreciate the high volume of very positive comments recorded. It was lovely to read that so many of you value and appreciate everything that the school does. In the spirit of constant improvement, however, a few respondents did cite some concern, or a desire for more information about certain areas and so it is our intention to address issues raised via our Blog, from time to time.
Some responses to the prompt 'Teachers set and mark appropriate amounts of quality homework' identified this to be one such area. So we will concentrate on homework this week.
Homework is one of those perennial hot potatoes. Too little? Too much? Whilst the vast majority of parents responded that they are fully supportive of the type and volume of work set for home study, some would like more, others less. We feel that some further clarification would be helpful.
All staff endeavour to maintain an appropriate balance. Some subjects set weekly tasks while others ask students to complete extended projects over a number of weeks. Each is a valuable activity; the former creates order, allowing specific and focused tasks to be completed and providing opportunity for consolidation and retention of new learning. The latter places onus on the student to find out and organise new information, apply previous learning to similar or new contexts and to manage their time whilst also demonstrating commitment to challenge and the skill of perseverance. Alongside both approaches, it is also part of our expectation that students will self-study, seek out opportunities to learn through research and engage in wider reading. Through the subjects they are taught, we aim to stimulate a general curiosity about the world ........... "Educating the whole child."
We seek parental support in helping to ensure that students are encouraged to be organised in their time management and in their approach to requirements. Routine is key and, if your child is a perfectionist and is spending too long on any one task, please feel free to stop them after a reasonable amount of time and then sign to indicate that they have spent 45 minutes on this activity and you have told them to move on.
Obviously, as students move up through the school, our expectations will change both in the amount and time spent, but also in the need for self-regulated study. For instance, during the past two weeks, Year 11 have been sitting their mock exams. Prior to and during this time, they have been revising. It is important to understand that revision needs to be structured and organised. We support our students to plan and structure an effective revision programme; we ask parents to support in overseeing that it is followed at home.
Sometimes, it is not appropriate or relevant to learning to set a specified homework task. In such a circumstance, teachers may ask a child to select and review a piece of work done in class, to explain the content and key concepts of it to their parent, to formulate a series of questions on it that will probe the understanding of their peers. Such opportunities reinforce knowledge, develop skills, deepen understanding.
And then there is reading..... around a specific subject or simply for enjoyment. Please challenge your child to read more widely, to try more sophisticated books to extend vocabulary, comprehension and analytical ability.
As for the question of marking, there is clear and irrefutable evidence that tells us that marking per se is much less impactful than focused feedback. And, in turn, verbal teacher feedback has maximum impact when students actively reflect on and engage with it.
For example, by capturing the key points in writing themselves and then adapting, re-drafting and improving a piece of work through application of the advice given.
But more on this in a future blog.
---
Friday 25th October 2019
The Calthorpe Way
This has been a terrific half term, full of wonderful events and celebrations - not least the fantastic results achieved by last year's Year 11 students in their GCSE exams. Our new Year 7s have settled in brilliantly, and the new Year 11s have knuckled down impressively, with very high levels of attendance already in place for the Calthorpe Extra Programme in preparation for their forthcoming Mock exams. A great start to their final year with us and a real sense of positivity about their aspiration, progress and potential achievement are clearly evident.
It is, therefore, with no little regret that we have to ask for parental support in reinforcing the need for all students to behave in a manner out of school that reflects the key tenets of The Calthorpe Way.
Over the course of this half term, several issues have arisen that have undermined the high expectations and standards of the school and compromised its very positive standing in the local community. The students concerned form a tiny minority but they have an inversely proportional impact on our reputation and, indeed, on that of themselves and their families.
We have had reports that a small number of our students have been involved in the extraordinarily dangerous act of lighting fires in public places. This is irresponsible at best, very dangerous indeed and certainly illegal. Names have been passed to the police but it is paramount that all young people show respect for the safety of themselves, the community and the environment. We would ask all parents to reinforce the obvious key messages and to ensure that you always know what your daughter or son is up to and where they are in the evenings and at weekends.
We are also deeply concerned by reports from members of the community that some of our students have been cycling to and from school in an inconsiderate and dangerous way. Not wearing a helmet is irresponsible and unacceptable but this is exacerbated by cycling without due care and attention, risking accident and injury to themselves and to others, including younger children. Please insist that your son or daughter wears a helmet. Please also stress the need to show consideration for other road users as well as understanding that pavements are for pedestrians. Riding 3 or 4 abreast is unacceptable.
Recently we have been contacted by Morrisons citing incidents of young people causing issues in and around the store, showing lack of courtesy and even responding abusively when challenged. Since being alerted to this, we have maintained an after-school presence around the area and haven't witnessed any further poor behaviour; however, we would ask for your support in ensuring that young people behave in a way that demonstrates care and respect for everyone in the local community. It is also essential that they accept responsibility for their actions and, when admonished for not behaving in an appropriate way, do not respond negatively or rudely, but by apologising.
All of the above have been reported to us by members of the community; we have discovered the names of some of those involved and it is a very small number of young people - circa 1% of the student population. But it is 1% too many. After half term, we will be following up further on these matters, and will be contacting parents where appropriate, but we wanted to ensure that everyone is supportive of our desire to ensure that the local community views students from Calthorpe Park as young people of whom we can all be proud.
In school, we are also aware of a number of instances where an equally small number of parents have acted without reflecting on how this might undermine the expectations of the school. When dropping students off, or picking them up, please do not do so outside the main Reception area as this creates a pinch-point for traffic which then backs up onto the road, There has been some pressure from the Highways Agency to remove the Pick Up and Drop Off facility at the school. We have fought against this but we need your support to ensure that the facility is administered with due care for the local community and other traffic. Similarly, we ask again that all parents respect our neighbours by not parking across their driveways or using their drives for car turning.
Furthermore, please do not phone or text your child during the school day. Our phone usage rule clearly states that students may only use their phones for games or music at break and lunchtime and only in the approved Phone Zones. Should your child contravene this rule and contact you during the school day, please do not engage with this communication. If there is an emergency then the school will contact you. If your child is unwell, s/he should go to the Medical Room where s/he will be assessed and you will be contacted if necessary. Please do not accept a message from a student saying they are unwell, or indeed undermine the school's processes by coming to school to collect your son or daughter on their say so. Our medical team is both highly trained and experienced, and will contact you if they have any concerns. If you have an essential need to get a message to your daughter or son, please contact the school and we will pass it on in timely fashion.
On a slightly different note, we would ask for your support in ensuring that our students come to school with the right equipment for the day, including lunch. This will support them to become more organised and to take responsibility for themselves and their learning. Dropping forgotten items into Reception both compensates for their own lack of organisation and delays their ability to develop effective self-management skills; it also places undue pressure on the Reception team who do not have the capacity to deliver items across the school, except in a real emergency.
Finally, we would draw your attention to our school uniform requirements, as published on our website. We are not a school that that has a highly directed uniform policy but we do expect some basic requirements to be followed. This is primarily an issue with skirts. We would remind everyone that skirts may NOT be made of stretchy material and that the length should equate to at least a point half way between the student's hip and knee. This is far from draconian; however, an increasing number of students are abusing these principles. After half term there will be regular spot checks of all students in a year or house at a time and, where our expectations are not being met, letters will be sent home asking for increased compliance. We know how hard it can be for a parent to insist on such things in a world where fashion and appearance are ever more important but, if we work together, the impression of young people coming to school for the "business of learning" will be enhanced.
In last term's Governors' Questionnaire to Parents, one comment was that our Blog from the Top tended towards gloss and focussed mainly on the good stuff. Whilst there continues to be so many outstanding and amazing things going on at Calthorpe Park (please read our End-of-Autumn Term 1 Newsletter and News Round Up), we certainly do not feel that this Blog has much gloss at all!…except that we know that the vast majority of our students and parents are extraordinarily supportive of The Calthorpe Way and model it consistently. We thank them for that. One of the school's improvement objectives is to strive to ensure that "the rest of us like the best of us" is reflected in all we do. We can all aspire to be better and by so doing, inspire others to do the same.
Thank you.
Have a great half term.
---
Friday 13th September 2019
The new year has begun with gusto. Boosted by and thrilled with the outstanding GCSE results achieved by our Year 11 Leavers, we and our colleagues are raring to go! For their part, current students have also made an excellent start with the vast majority demonstrating eager positivity and showing, through their demeanor, actions and smiles, that they are quickly and firmly back into The Calthorpe Way!
We are also very pleased to welcome some new faces to the Calthorpe community. Our new Year 7s are a delightful bunch who have transitioned impeccably and their older peers have been superb in the way they are supporting them to settle quickly and confidently into secondary school life.
We also welcome a number of new colleagues to Calthorpe Park this year. Mrs Rachael Jones joins us to take up the role of Associate Leader and Head of Maths and, following her success as a trainee Maths teacher with us last year, Miss Jeanne Dreyer now joins the department as a qualified colleague. Miss Leanne Kiernan becomes a new member of our English team. To Science, we are pleased to welcome three new colleagues - Mr Peter Harris, Mr Louis Irwin and Mr Ross Daly. Mr Tony Boby joins RE and will also teach some Drama, Mr Alex Barclay will teach PE and Mr Kenny Talibart joins our Geography department. In addition, Mrs Jo Holman and Mrs Marwa AlAdl join our Inclusion and Achievement Department as Learning Support Assistants and Mrs Jenny Ballard takes up the role of School Health and Welfare Officer.
We look forward to working with our new colleagues and wish them all a very happy and successful career with us.
As we look ahead to the Autumn, we know that this will be a very busy but fulfilling term for us all and we wish every member of our excellent staff, and all our delightful students, the very best for the year ahead. We look forward to celebrating their future successes in our blogs to come.
---
Friday 19th July 2019
The end of term and, indeed, the end of the school year, always creep on us as the days get longer, the sun shines brighter and our busy school calendar seems to become ever more rich in the opportunities it offers.
This has been, as ever, an incredibly busy year; with so many highlights it is impossible to list them all other than to say that we continue to celebrate the diverse and positive experiences that the school brings to our students. Many of these have been previously mentioned in Newsletters, reports or blogs. It would be remiss of us, however, not to mention three specific events that have taken place over the past few days.
Firstly, on Monday, we were visited by a UNICEF Assessor to consider whether the school, in its actions, approaches, dispositions, culture and ethos, meets the criteria to be a UNICEF Rights Aware Silver Award winner, so building on the Bronze Award that we achieved some years ago. In preparation, a dedicated and committed team of students and staff, under the coordination of Ms Al Dabagh, have worked tirelessly to promote, educate, enhance, implement and impact measure.
We are delighted to announce that we easily met all the criteria and were encouraged to go for the Gold Award sooner rather than later. This is a wonderful achievement and a reflection of the strong rights culture that exists at the school, underpinned, of course, by The Calthorpe Way. We congratulate everyone directly involved, as well as the whole school community.
Secondly, we must mention the brilliant production of Little Shop of Horrors. Yet again, the Drama and Music Departments, led by Miss Oram and Mr Walker and supported by a great number of other staff, created five evenings of extraordinary quality and professionalism, unbelievable talent and commitment as well as a sense of utter joy from everyone who took part, as well as from the 1200+ of us who were lucky enough to see it. Thank you to everyone involved.
Finally, we continue to be concerned by the issues in society, particularly with young people, surrounding illegal drugs. In order to continue to enhance the education of our students, we recently invited back the very experienced, knowledgeable and impactful Dave Parvin to further raise awareness and promote knowledge of this topic. He delivered sessions to students in each year group during the day, and subsequently to staff and parents in the evening. Impressed as he was by the response of our students, we are, nonetheless, all aware of the pressures they face, or inevitably will face, outside of school. We will, therefore, from the Autumn Term, be introducing some additional measures to support students and help them to stay safe, some of which will include unannounced spot-checks. Further details will be made available in September.
Sadly, the end of this term sees the departure of some staff:
Ms Halsall, Ms Collier and Ms D'Eye all move on from their role as Study Supervisor; the latter returns to Australia, the former two colleagues will begin teacher training. Their role can be a challenging one but they have all undertaken it with positivity and professionalism. We wish them all well.
Ethan Forster is also leaving us after a very successful 'sandwich' year during which he has made a great contribution to life and learning at Calthorpe Park School by working with us as a Specialist Maths Learning Support Assistant. Ethan now returns to university to complete his degree. We know that he has the makings of an excellent future teacher, we wish him well and thank him not only for being a valued member of the Maths team, but also for his extra-curricular contribution, particularly in Music and our recent school production.
Mr Pilgrim and Miss Sitarski have been with us for just a year, in Science and English respectively. They both move on to other local schools and we hope that they will enjoy their time there as much as they seem to have enjoyed being at CPS.
Mr Möller's return to Calthorpe has sadly been just a brief one as he leaves us to take on a Head of Drama role at a Reading school. His contribution in such a short time has been considerable, not least with the production. We are certain that he will be a huge success in his new role.
Mr Blake has been a ball of energy, enthusiasm and commitment in the PE department, as well as teaching some Maths. He moves on to a new adventure in a new school where we know he will not only be a considerable asset to the PE team but also to the life of the school.
Ms Heaton started her time at Calthorpe Park as a Study Supervisor but quickly began to utilise her Science knowledge and skills to good effect, firstly as a trainee and then as a fully qualified teacher. It has been a real pleasure to watch her grow and develop as a skilled practitioner and we are sorry to lose her.
Mr Lewis has been with us for five years and, from his early days, quickly developed into an outstanding Science teacher, as well as a brilliant tutor. He is admired, respected and liked in equal measure as a teacher, colleague and person. He is an outstanding role model and we hope that, after he has spread his wings to experience teaching overseas, we will see him back at CPS as soon as possible. We are very sorry to see him go.
Mr Roberts, Associate Leader (Maths), joined us three years ago and has selflessly led the Maths Department during a time of considerable staffing changes. He is always positive and upbeat, with a very clear focus on students. He has also been an excellent member of the school community in his wider leadership role; always willing to lend a hand, help out or deal with situations. His commitment is extraordinary and goes above and beyond, every day. He is also an outstanding teacher and it is in this role that he will take up a new position that will involve him in training, supporting, developing and inspiring new and existing teachers of Maths. We wish him every success and thank him for his many contributions.
Finally, Mrs Milner joined us four years ago, initially as an Associate Leader in charge of STEM. Her role has evolved over time but every new challenge and expectation has been met with the same level of organisation, endeavour, enthusiasm and passion. She has been an excellent teacher and her contribution to the wider school has been tremendous, from managing the Calthorpe Extra Programme that supports our Year 11s towards their exams to The Prepared and Ready to Learn Programme that supports those basic expectations that can make such a difference to students' organisation for learning, presentation and punctuality. She moves to an Assistant Headship and we will miss her enormously. We know she will be a great success and we wish her all the very best in her future career.
As always, a number of new staff will be joining us in September and we will introduce them to you in our start-of-term Newsletter. However, if you, or anyone you know is thinking about a career in education, in any capacity, we as a growing school are always interested in pursuing opportunities for recruitment. Do please tell them to get in touch.
So, as another school year draws to a close, our thanks go to all of our staff for their relentless efforts, unstinting commitment and good humour, often in the most challenging of educational times. We also thank you, our parent body, for your ongoing support. And finally, we thank our students who, every day, in some way, do things that occasionally frustrate, often entertain, frequently enlighten and always inspire us.
Have a wonderful summer.
---
Friday 21st June 2019
It has been rather a long time since we last updated our blog and so, for those of you who have been waiting impatiently, we apologise! This has been a very busy time of year with GCSE exams in full flow alongside a hectic series of events and activities that are part of the rich offer at Calthorpe Park School.
Yesterday saw the final assembly for our Year 11s with the Prom taking place this evening. We would like to pay tribute to a year group who have shown an enormous commitment to everything that we hold dear within the Calthorpe Way. With the smallest handful of exceptions, they have been an absolutely delightful year group and we will be very sorry to see them go. We know that the Prom will be a wonderful event and a fitting conclusion to their time at the school. We are incredibly proud of the young adults they have become and know that they will continue to thrive in the future.
As with any school, this has also been a busy time for recruitment. At a time when there is a teacher recruitment crisis and real-time budget reductions, it is a real struggle to find teachers who are the right ones for our students. We have an amazing staff but, as such, some move on for promotion, to extend their experience and influence or have particular lifestyle or family reasons for a change. Sadly, the next generation of practitioners is not coming through to, or staying in, teaching and many are put off by the cost of living in the area.
If, therefore, you know of anyone who might be interested in returning to teaching, training to be a teacher or even trying it for a while, please get in touch. We have an excellent reputation for growing talent and you might just know the person who will aspire to inspire the students of this wonderful school. Should you know anyone, please ask them to check our website or contact us to arrange an informal chat. It is an incredibly rewarding career and we particularly welcome ex-students as they embody and exemplify the merits of the school.
With regard to ex-students, next weekend marks the 30th anniversary of the tragic coach crash involving students from the school who were travelling to Fishbourne Roman Palace. We will be marking the event with an informal ceremony that will include the partial reopening of the memorial garden. A number of people who were either on the trip, or involved in or associated with the school at the time will be returning to pay their respects. We will be "unveiling" a clock and plaque (with words written by Thalia, the student who lost her life) as a permanent reminder to us all of how precious friends, family, love and life are.
---
Friday 26th April 2019
Hello, we are the Senior Student Leadership Team and, as we are now coming to the end of our time as Head Students of Calthorpe Park School, the Head Teachers have kindly given us the opportunity to say goodbye via their Blog this week.
From our very first days here, we have experienced a school life filled with adventure, fun and, more importantly, great opportunities to develop into the best possible versions of ourselves.
We still remember those very daunting moments of our first day when we arrived at the school, overwhelmed by the gigantic Year 11s and the labyrinth of corridors! However, it was only a matter of days before we had become accustomed to the school routine and began to challenge ourselves. The extensive list of trips, from Osmington Bay in Year 7 to Battlefields in Year 9 occupied our growing desire to explore and find our own independence. The traditional school events of Sports Days and SLUGG Walk became the high points of our year and, all the while, our responsibilities were building both within lessons and within extra-curricular events.
Before we knew it, we were seated in the hall, being informed of the Prefect selection process and feeling full of quiet excitement and a spark of hope. The waiting game left us nervous and even more grateful for the good news when it came - we were now Prefects, holding a position of pride within our school community. Our next application was one far bolder; one that would entail a tense interview and the one that sees us here today as members of the Senior Student Leadership Team. Installed with our new titles, we were ready to help improve our school and organise the school's most valued events - a terrifying prospect, but one that has been filled with valuable learning curves and, most of all, thorough enjoyment.
Our first big event was SLUGG Walk - the pinnacle event of the summer term and, determined to make our first impression, we started our preparation early. The theme was Hollywood and the charitable event tried reaching for the stars too as we displayed an array of stalls all reflecting the spotlight and fame of movie icons throughout time. From Marilyn Monroe to Daniel Craig, we drew upon the very best of Hollywood and, in so doing, not only did we create a spectacular day (or at least we hope we did), but we also raised incredible amounts of money for our chosen charities.
Throughout the rest of the year, we continued to run events as well as to oversee the roles of the Prefects, run Speakouts, deliver a speech at our Year 6 Prospective Parents' Evening and help out at the Year 6 Taster Days. Whilst all pleasurable, we began to realise that our time here at Calthorpe was running out and, with each event, we began to feel the imminent approach of our GCSEs and the hand-over of our beloved roles. This inspired us to make our last event special - the Week of Change.
This year the Heads of REaL3 tried to top all previous versions of this event by introducing more aspects that resulted in every day highlighting and improving the awareness of our rights as students. We discussed exciting and controversial news items in class, we had an 'electricity free' day (no access to IT!) and of course saw the return of our famous 'Student - Teacher Swap Day'. The week was certainly jam-packed, but highly amusing and poignant when it came to reflecting on the rights we take for granted due to the great, supportive environment we have here at school.
Finally, we would like to round off our reflection of our time here at Calthorpe by saying thank you. Thank you for giving us the opportunity to carry out our roles, thank you to the teachers who have helped us along the way and thank you to the Prefects who have worked very hard to help us carry out different activities and events. And of course we would also like to wish the incoming student body the best of luck; we are sure they will make the school proud!
We hope you have enjoyed travelling back with us as we reflected on our time here,
Your outgoing Student Senior Leadership Team.
Tyson, Samantha, Austin, Amelie, Liam, Alice, James, Lucy, Tai, and Grace
---
Friday 5th April 2019
Maybe a mere six weeks in length, but certainly each and every one packed with awesome learning; as the end of another half-term draws near, we reflect on some of the many highlights of Spring Term 2.
GCSE Exams have started with the practical component of Art, Photography, Drama, Food and Nutrition, Technology, Music Ensemble and some Modern Foreign Languages having been assessed. Year 10 students have taken internal exams.
With Year 11 focusing on GCSE exam preparation and attending, in large numbers, our Calthorpe Extra Revision Programme, Prefects have been elected and our new Senior Student Leadership Team appointed from amongst our Year 10 cohort.
Trips have been plentiful and have included Hartland Village (Careers), Whitechapel (History), Reading (Geography Field Trip), Yorkshire (Year 8), Oxbridge Entrance (Year 11), The SLS Literary Quiz (Library) and Guildford Cathedral (Music). Our excited participants in the Snow Sports Trip to Italy leave today.
In-school events have been many and have included Find a Future Day, World Book Day and visiting author, our annual Week of Change, and our wonderful Spring Music Review. We are also delighted to have hosted both the NE Hampshire Primary Vocal Festival and our first ever inter-schools Dragons' Den Event.
Two colleagues leave us today and we would like to say a big 'thank you' to both. Mr Durkan leaves us after five excellent years of Geography teaching, leading our Eco-School venture and our Pupil Premium Programme. He moves to a school in Wiltshire and we wish him well in his new post. Ms Zhu joined our Maths Department in January 2018; she moves on in her career, having successfully gained Newly Qualified Teacher status; we wish her well as she progresses in the profession.
So finally, as holiday time beckons, all that remains is for us to wish everyone a very Happy Easter!
---
Friday 8th March 2019
New Beginnings
For our blog this week, we wanted to bring you some of our students' voices, this time from a selection of those in Year 7 now that they have been with us for a few months.
Firstly from Lucy, Zaid and Libby in K09:
'Calthorpe Park is a lovely school with amazing people. In your first week you will probably get lost but people are very helpful. Most of the teachers are really funny and kind.'
'When I first came into the school I didn't know anyone and it took a while to settle in but I did fit in, made new friends and joined in. It was a great experience. There are also some lovely clubs to do. If you struggle they have helpful clubs to help you learn after school. There is a bus you can get to and after school.'
'This school is lovely and we are all glad we came, and if we went to a different school our lives would be totally different!'

And from Emily in M07:
'My experience at Calthorpe Park School has been amazing. It has given me so many new opportunities and the chance to meet new people. There are a lot of exciting trips that you get a chance to go on.
Before I came to Calthorpe, when I thought of the school, I thought it would be daunting, massive and too hard to find my way around but, as it turned out, it only took me a few weeks to memorise fully, with the help of staff and older students. Teachers, your form tutor and the HUB are all approachable and will help you if you ask.
They make sure that you reach your full potential and help to get the best out of your learning. The Calthorpe Way supports us. Everyone is so friendly and eager to help.
Another big worry I had was the amount of homework we are given. The trick is not to let it pile up and have a quiet space and time to do it. So far, I have been able to join the hockey team and play in several matches, which is great. Making new friends is easy as everyone else is trying to do the same thing. Friends come to you simply by just saying hi to one another – we are all in the same boat.
I am enjoying my experience at Calthorpe Park School and it has exceeded my expectations!'
---
Friday 15th February 2019
The first half of the Spring Term has sped by, a seasonal melange of crisp, icy, and bright, mild days dramatically punctuated by some snow. The new year started with post-Mock Year 11 Parents' Evenings followed by Consultation and Information Evenings for Year 10. Year 8 have completed exams and Year 10 have begun theirs. Year 7 are part-way through our 'Secondary Ready' Strategy.
Similarly, the 'Countdown to GCSEs' is in full swing, Year 11 are deep in revision; Year 10 are preparing to step up, soon to become our senior year. We have appointed our new Prefect Team from among them and Senior Student Leadership Team interviews will be held straight after the half-term break.
On the events front, students from all year groups have been involved ..... a theatre trip; two Lego League competitions; our Children as Victims of War Citizenship Day; a week at Calshot Activities Centre.... and this morning, at 4am, a group left for a football tour of Holland. We are also delighted to report the launch of the hotly awaited new summer show, 'Little Shop of Horrors'.
Moving forward to next half term, Calthorpe Life looks even more packed .....GCSE Art, Photography, Food and Nutrition and Drama practical exams are scheduled; World Book Day, Find a Future Day, District Cross Country, field trips and our annual York Trip will take place too. On the musical front, we look forward to both the Primary Singing Event and our Spring Music Review, to mention but a few.
But first, our thoughts focus increasingly on the prospect of a few days off!
A happy and well-deserved half-term to one and all!
---
Friday 1st February 2019
Our parents may have read some of the recent media coverage concerning proposed revision to the Ofsted Inspection Framework from September 2019.

HM Chief Inspector, Amanda Spielman, has stated that a key tenet of the proposed changes is to be a new 'Quality of Education' judgement that is to have evaluation of the curriculum at its heart.

Many Heads are optimistically expectant that this will signal a de-intensification of the current inspection focus on performance data and, with it, a consequent move away from a 'teach to the test' mentality that, in some schools, has resulted in a narrowing of both the curriculum and the educational experience of young people in its broadest sense.

Ofsted says that, under the new framework, inspectors will be placing more emphasis on the 'substance of education'..... what is taught and how it is taught, with test and exam outcomes looked at in that context, not in isolation.
GCSE results are, of course, hugely important. Every young person deserves to complete their secondary education having made the best possible progress and having achieved the best outcomes of which they are capable.
At Calthorpe Park, we have always believed that the best possible life chances are supported through the study of a broad range of subjects and the opportunity to actively experience a rich and diverse extra-curricular offer. 'Educating the whole child for the whole of their life, through heart, mind, body and spirit' is, fundamentally, at the heart of our vision and ethos. It underpins our practice.
So we welcome a judgement that will require us to articulate our aspiration for all our young people; we welcome a judgement that will require us to show how we will achieve this through our teaching, learning and assessment; and we welcome a judgement that will require us to demonstrate the impact of a full, rich and rounded curriculum via the educational, social and personal outcomes that our students achieve, the destinations that they move on to, the adults they become. Young adults that you, as parents, and we, as a school, are always so very proud of.
---
Thursday 20th December 2018
A Christmas message from the Headteachers
At last, it's almost the end of term. A term of 16 action-packed weeks with everyone now looking forward to a well-earned Christmas break.
This final week has been, as ever, full of festive good cheer and memorable events. Our magical Christmas Concert was performed, on Monday evening, to a packed auditorium. The students were amazing. The music superb.
On Wednesday, staff and students sat down together to enjoy Christmas lunch, complete with all the trimmings and served by our excellent Café Team. It took well over an hour to get the eager and hungry hoards through, but it was certainly worth it. On Thursday, we delivered our Year 11 Mock Outcomes Assembly, with students receiving both their Mock results and 'On-track for' grades and having the opportunity to experience the emotions, good and bad, of opening that envelope to find out how well they have achieved. Just like it will be in August. But still lots of time to make those outcomes even better!
And so, with just one day to go, we are looking forward to our Christmas Assembly. It's going to be rather different this year! We no longer have the old Hart Leisure Centre Sports Hall at our disposal and so can't accommodate the whole school at once. So we will be delivering assembly twice, in two sittings, in our combined two halls. Different but hopefully just as fun, just as thought-provoking as it always has been. One unchanged feature, however, is our tradition of sharing with parents our Head Teachers' Message that we will deliver to our students (twice!) tomorrow:
A number of years ago I was lucky enough to spend some of the Christmas holidays in Toronto and, as part of that trip, visited Niagara Falls. It was, according to the Canadians, a mild winter with temperatures only dropping to minus eight, with a wind chill factor taking it to close to minus twenty.
Despite the cold, I spent some time just watching the amazing sight that is the falls. It was made even more extraordinary by the fact that much of the waterfall was frozen solid. The spray thrown up by the remaining water flow made ice crystals in the air, creating beautiful refractions of light on the rare occasions that the sun dared to shine.
After a while of watching and appreciating the view, a coach load of other tourists arrived and parked near where I was standing. Around forty people must have got off the coach, a buzz of excitement in their voices. They then proceeded to pair up and operate an efficient system whereby one partner took a photo of the other with the falls in the background. Within five minutes everyone had their 'selfie' and they got back into the coach and headed off towards the café down the road.
It struck me at the time that all they had experienced of this wonderful sight had either been accomplished with their back to it or through the lens of a camera. They had not stopped and stared at the majesty, power and beauty of this extraordinary natural phenomenon. They had not experienced the awe and wonder of the falls. In truth, although they may have ended up with a photo-memory, they had, in reality, seen nothing, engaged with nothing, felt nothing. It was a photo that would not have a truly memorable experience attached to it.
These days, we all watch clips that have been posted on various sharing platforms. In an age where mobile phones and social media enable us, instantly and conveniently, to film and report on anything and everything we see and do, such clips illustrate the type of situation that has been described. One where the person recording has merely been an onlooker to the situation; physically there, present in person, but not really engaged with it. Detached from it. Not 'feeling' it, not conscious of the beauty, or the uniqueness, or even of the potential gravity of it. I am always amazed when I see footage that someone has recorded of an act of unkindness, of someone in distress, maybe even of a tragedy. And have then posted it. Posted it without recognising what that says about themselves. The question that always springs to mind? Rather than filming it, could they not possibly have helped in some way?
It happens in school as well. If something happens that is different, unexpected, maybe unkind, the first reaction of some of you is to reach for your phone and record it. You give no thought to how this might affect those you film. No thought as to how it might make matters worse. Seemingly no thought as to what you might be able to do to assist, to stop the situation, to offer a kind word, to make someone feel better… In fact, for some of you, for a very small number of you, your first thought might even be to exaggerate the upset by making it available to a wider audience, giving no thought to the feelings of others, simply motivated by some kind of short-term thrill and the boost to your ego that receiving '100 likes' on You Tube might bring.
Is that who we are? Is that what we have become? People who merely observe? Objectively. With detachment. Without empathy or feeling. People who see a chance for self-promotion rather than an opportunity to do the right thing.
Integrity is a key dimension of The Calthorpe Way. But does it guide us in all we do, both collectively and individually? Do you show it? When you access and post social media, do you think about the potential impact of your words or images? How they might wound, hurt or upset? Do you think about other people or just about yourself and your friends?
We all know Christmas is a time for giving. But it is also a time to reflect on who we are and what we can bring to our family, our friends, our community. It is not about how big or expensive our present is but more about the joy we bring by appreciating what we have been given as well as the thought and care we have shown in choosing or making a gift for someone else. When you open your presents this Christmas, don't just rush from one to the next, ripping off the paper of each in a frenzy of avarice and materialism. For each gift, look…. study…… think. If the giver is with you, look them in the eye and thank them. Give them a hug. If they are not, write a letter, send a card, ring them.…show you appreciate them and the thought behind their gift, not just the gift itself.
This Christmas, do not be the person who lives their life vicariously through the actions of others. Do not be one of the 57% who admit they would rather spend time on Facebook than with their family, or be one of the 7.5 million people who will activate a mobile device on Christmas Day. Be a person who sees the true meaning of Christmas. Who shows their appreciation through what they say and what they do. Be the person who gives the greatest gift, the gift of time.
Be the person who understands that a real and lived memory is worth a thousand photographs, a million tweets. Making memories for yourself and for others is the most precious thing. Be that person who says a genuine 'thank you'. Who takes time to show that they care, even love. And so make memories that will last a lifetime.
It is, after all, the true spirit of Christmas.'
So, to conclude this Autumn Term 2018, it simply remains for us to say goodbye, farewell and to wish the best of luck to five colleagues who are leaving us, either temporarily or permanently. Thank you and good luck to Science Technician Elliot Cox-Putker who leaves us to embark on a new and exciting career in the travel industry. Thank you also to Mrs Yershova who leaves our Maths team to move to another post in the New Year. Mrs Knights moves to a school nearer home to take up a promoted post with responsibility for aspects of Psychology. We wish her all the very best for her future career. Two other colleagues are also leaving us temporarily, both to begin their maternity leave and both very much looking forward to welcoming their babies in the New Year. All the very best to Mrs Chidgey and to Mrs Wrighton. We hope to meet your new arrivals in due course.
We have three new members of staff joining us in January. Mr David Williams will be joining the Maths Department and Mr Devin Moller will be returning to Calthorpe to take up a post in Drama and PSHE. Mr Leigh Fisher will be joining colleagues in Geography and during Mrs Chidgey's maternity leave, Ms Podesta will become Acting Subject Leader.
Finally, we would like to extend our thanks to all parents for their support during this long and busy term. We wish you all a very Happy Christmas and a peaceful New Year.
Melanie Hooper and Martin Amos
---
Friday 30th November 2018
Pride in abundance yesterday when our Year of 2018, our Year 11 leavers of this Summer, returned to celebrate their GCSE successes at our Annual Certificate Evening.
With the Hall packed to over-flowing with excited ex-students and proud parents and staff, the event was opened by two of our current Head Students. Subject nominations were shown on screen, followed by the announcement of the winners who came to the stage to receive their awards and pose for parents to capture that elusive 'photo moment'.
We then moved on to whole-school awards before our Chair and Vice Chair of Governors, Jonathan Phillips and Justine Whitworth, presented GCSE Certificates.
It was delightful to have so many former students joining us to celebrate their fantastic successes and notable personal triumphs. The evening concluded with a much-enjoyed story, complete with audience participation, from our Chair of Governors, followed by our address. As always, we include it for you here:
Mr Amos : This week has seen the US Space Agency NASA land a robot on Mars. The first pictures came back within minutes despite the distance…approximately 140 million miles. Almost instantly the astronauts currently living in the space station were talking of their excitement at the prospect of using the same technology to transport humans to visit Mars in the near future.
Ms Hooper : Such extraordinary leaps in technology and engineering are almost commonplace now but just over 56 years ago, the then US President, John F Kennedy, delivered an iconic lecture at the Rice Stadium in Houston about the incredible feat of the US in landing a man on the moon. In it, he alluded to the extraordinary speed of change and technological progress. Imagine what the pace of change has been since then - you actually have, in your pockets, computers that far exceed the capability of anything used to land that first man on the moon, enabling you to access information in milliseconds that would have taken previous generations hours to research on paper, in a library. We have the ability to communicate instantaneously across the world, to watch pictures from Mars.
Mr Amos : I can recall the innovation of a pocket calculator when I was at school. I had to use things that we called a slide rule and log tables…things that will mean nothing to you. The pace of growth and change is exponential. And with change comes challenges. In 1630, one of the founding fathers of the USA said that all great and honourable actions are accompanied by great difficulties and must be overcome by unswerving courage. It is incumbent on every generation to show such fortitude.
Ms Hooper : But if time teaches us anything, it is that human quest for knowledge and progress cannot be deterred. We will continue to make advances. The momentum for change is there. The challenge is to ensure that each generation recognises and fulfils that potential in a positive and cooperative way for the benefit of all. Grand words…and you might be thinking 'what has all of that got to do with us?'
Mr Amos : At the beginning of Year 11, we spoke to you and presented you with a challenge: to exceed the quality of the previous year group; to study better, to achieve better, to make better progress, to be better young people. As part of that, we laid on an extensive menu of additional opportunities - The Calthorpe Extra Programme. We laid out our expectations…even our demands. But we cut nothing from the list of opportunities available to you. And so, MUN, Music concerts, productions, SSLT , charity fundraising and more all continued.
Ms Hooper : And did you flinch? No! Did you attend all those extra lessons? Yes! In fact, we had to lay on even more after-school classes, in even more rooms in some subjects because you turned up in such great numbers. And did you star in shows and concerts, lead events, raise money? Yes! Did you work hard? Really hard? Yes! Did you achieve what we asked you to achieve? Yes, you absolutely did!
Mr Amos : And through that time, something else emerged: a sense of aspiration. You wanted to do it for yourselves. You set yourselves lofty ambitions and strove to achieve them. The momentum gathered pace. You changed and progressed….and it was a joy to see.
Ms Hooper : The school's motto is 'young people who aspire for themselves and inspire others'. Through creating that sense of aspiration last year, you have given us the gift of being able to cite your approach as an inspiration to those who will follow you. 'Success breeds success' is a phrase we use this academic year; a phrase that you allowed us to use. You created the momentum for Calthorpe Park to continue to grow and improve.
We thank you for that. But moreover, you did not just aspire or dream in vague and esoteric ways…as Terry Pratchett noted…
Mr Amos : "If you trust in yourself and believe in your dreams, and follow your star…you will still get beaten by people who spent their time working hard and learning things and weren't so lazy!"
Ms Hooper : But you understood about hard work. You understood about commitment. You understood that you also needed to grow as young people, to contribute to the school, to develop skills, qualities and dispositions that will last you a lifetime, as the wonderful memories of GCSEs fade.
Mr Amos : Thank you for being those young people who believed in, and lived, The Calthorpe Way. It is easy for us, as leaders, to present a concept, a philosophy but it is entirely dependent on a community to buy into that. You did! You led that move into a culture that is now embedded.
Ms Hooper : We appreciate it and we know that those four pillars of the Calthorpe Way - of Challenge and Commitment, Respect and Responsibility, Care and Consideration and Integrity and Impression will stand you in good stead whatever path you follow, wherever your life might lead.
Mr Amos : In that same speech about the moon, Kennedy went on to say…
"We choose to go to the moon…and do other things, not because they are easy, but because they are hard, because that goal will serve to organise and measure our energies and skills"
Ms Hooper : As you go through your life, we hope that you will always rise to the challenge, always work hard and with skill, always care about others, and always strive for 'your moon'.
Mr Amos : We were enormously proud of what you achieved and of the young adults you have become. And we hope that in the future you might, you just might, look back at your time at Calthorpe not only with fond memories of the people who were there but also with understanding of the opportunities you were given, the successes you gained, the life it has helped mould and the person it has helped you to become.
Ms Hooper : We wish you every success and every happiness.
---
Monday 26th November 2018
We, REaL3 and the Head Students of Charities, strongly believe in supporting children throughout the world. Recently, we have been busy supporting Children in Need and World Children's Day on 16th and 20th of November respectively. We did this through a joint mufti day where we asked students and staff to wear yellow or blue to represent the colours of each charity. We also each contributed a pound and raised a significant amount of money.
In addition, we, the Heads of Charities, organised a quiz about Children in Need that was completed at the beginning of each period on the 16th November. Teachers then handed the quiz into The Hub and a prize will be awarded to the winning year group (stay tuned for the result!). REaL3 also created a similar activity for World Children's Day. We made a PowerPoint of activities for each period of the day as well as blue paper chains that were hung in the old reception area as a way to acknowledge the UNICEF #GoBlue initiative. Our activities included: poems written by children, the story of a young Syrian girl and what she wishes for all children, as well as some videos to raise awareness of the United Nations Convention on the Rights of the Child including an inspirational speech from Malala Yousafzai. Five blue balloons were also placed in the old reception area to acknowledge the five rights from the UNCRC that are included in the student diary that link to the Calthorpe Way. These are the rights that we feel are most important here at school. They are: Article 2 (non-discrimination), Article 12 (respect for the views of the child), Article 28 (right to an education), Article 29, (goals of education) and Article 19 (protection from violence, abuse and neglect).
We'd like to thank the staff and parents of Calthorpe Park for their continued support of our charity events- we couldn't do it without you!
---
Friday 9th November 2018
Under the watchful silhouette of a soldier….
…. the students and staff of Calthorpe Park gathered in the courtyard to collectively show the school's respect for the centenary of the end of the First World War and to honour all those victims of war.
Members of the Student Senior Leadership Team read prose and poetry prior to a two minute silence. The Last Post echoed over the assembled school and personalised poppies were placed in the flower beds around the courtyard by two members of each Tutor Group. Each of the 88 poppies was inscribed with the name of a Fleet resident who had lost their life in the 1914-18 war. Further poppies were attributed to family members of staff.
This was an awe-inspiring ten minute period with total silence descending across the student body, demonstrating not only great awareness of the significance of the event but also enormous levels of respect.
"We will remember them"
---
Friday 19th October 2018
As warm September breezes have gradually turned into chilly autumnal brumes, the sun has continued to shine on life at CPS during this, our first half-term of the year. As days and weeks have sped by, our new colleagues and students have happily settled in and, in addition to our routine expectation of outstanding learning, we have packed a wide range of diverse events into these first seven vibrant weeks. Our Open Evening and Mornings were extremely well attended, as were the Parents' Information Evenings that have been held. Our Year 7 Evening focused on settling-in to life at secondary school and our Year 11 Evenings have focused on preparation for transition at 16 and the sharing of information about our Calthorpe Extra Programme which supports preparation for the Mock Exams. Our Year 11s will be embarking upon this programme straight after the half-term break.
Also in this half term's calendar have been Prize Giving, field trips, National Poetry Day, Citizenship Days and sporting events, to mention just a few. Last week, we held our wonderful Model United Nations event for the nineteenth successive year, and, on Wednesday of this week, our Ocean Stars Team left for Sri Lanka, having raised over £14,000 during the past year to support the schools and communities they will be working with throughout their trip, and specifically the building of a new pre-school.
We were delighted to host the first of our 'Head Teachers' Celebratory Coffee Breaks' for the six students in each year who, this half-term, have gained the highest number of achievement points. We look forward, next half-term, to starting a 'Pride in Learning' initiative whereby, at randomly selected points each week, we will be asking colleagues to send students up to show and celebrate with us examples of their outstanding work.
And finally, we would like to share an action that we believe encapsulates exactly what the Calthorpe Way is all about. On arriving in school yesterday, we were told that a small group of students had, the previous lunchtime, let themselves down by failing to dispose of their rubbish appropriately. The area in question had not been cleaned by site staff but had, instead, been cordoned off with a notice explaining the reason. But when we went to view the area, we were surprised to find it spotlessly clean. And then we were told that a Year 11 student, having seen the notice, had spontaneously and without fuss or fanfare, picked up all the rubbish, disposed of it and had even put a clean, plastic sack into the bin for future use! Pride in our environment; corporate action; generosity of spirit; taking responsibility; providing a positive example for others and real integrity (doing the right thing even when no one is looking)…… ….. The Calthorpe Way! We felt proud. He knows who he is and we thank him.
We wish you all a great half term break.
Melanie Hooper and Martin Amos
---
Friday 5th October 2018
This week's blog is very much dedicated to the staff and students of Calthorpe Park School, so many of whom committed time, energy, creativity and enthusiasm to planning, preparing, supporting and delivering an excellent Open Evening for prospective parents and their children yesterday evening.
It was an extremely busy evening and we, as Headteachers, delivered three consecutive presentations to well in excess of 600 people. We promoted the many and varied strengths and qualities of the school. We spoke about The Calthorpe Way and how it underpins everything we do, be it attitudes, actions, achievements or approaches. We said how wonderful it all was.
'Well,' you are thinking, 'They would, wouldn't they….!'
But we were able to support these glowing statements with copious quotes from parents, students, ex-students, guests to CPS and members of staff who have recently joined us. A selection of these is replicated below.
But more than this…much more than this, was the way in which everything we said was illustrated by what our visitors experienced, saw, heard and felt as they walked round, or were shown around, the school. We have received such positive feedback from those who came to look round: the students were variously described as 'polite'; 'helpful'; 'lovely'; 'brilliant'; 'incredible' and 'awesome'. The school was described as 'very, very impressive'; 'warm and caring'; somewhere that made them feel 'at ease' and the staff were identified as people who raised our visitors' opinion of CPS even higher, and who are 'passionate, knowledgeable and engaging'. And finally, we heard of prospective students who 'cannot wait' and are 'so excited' to be coming to Calthorpe next year.
So, thank you to everyone involved for everything that they did last night and continue to do, day after day. What was on display yesterday evening is not a one- off but an embedded culture and approach.
We are extremely proud to be Headteachers of such an amazing school.
Some further quotes used at our Open Evening:
A new member of staff:
'A positive community...... the positivity radiates throughout this community!'
A new Head of Department:
'The school is very welcoming and supportive. I settled in very quickly. There are clear boundaries and very high standards for students' behaviour and learning. A clear vision of progress, of what should be done and how it can be achieved; a caring and, at the same time, a demanding environment for students'.
A new but experienced member of staff:
"For a large school it feels very small."
Reflecting on the transition experience last year, parents of a new Year 7 student commented on… "the genuine nature of the care provided"
and
"..the high standard of the transition …exceptional attention to detail and care shown. We were so impressed!"
From the parent of a Year 11 leaver:
"Thank you for the excellent education my daughter has received.
I really appreciate how much hard work staff put into running lessons, exam preparation and support. The academic teaching is outstanding but the highlight was participating in three of the schools shows. I cannot tell you how much she came alive at these times. I am so grateful for everything CPS has done for my children."
And an ex student who contacted us via our alumni email address:
"As an ex-pupil of Calthorpe Park (2005-2010), it was such a pleasure to come back …to the school that gave me so much.
I was given so many opportunities whilst at the school that really helped me to develop, not only academically, but far beyond that. I developed passions that have helped me to find a career that fills me with joy each and every day."
---
Friday 21 September 2018
We were very pleased this week to welcome Mrs Karen Powell into our Maths Department. We wish her all the best for a successful career at Calthorpe Park and are delighted to have secured the services of another very experienced and skilled teacher.
We would also like to pass comment on the excellent start that our students have made to this academic year. Their behaviour around the school has been exemplary with doors being held open, cheerful greetings exchanged and regular thanks offered for help given and for lessons delivered.
Some of our new colleagues, who have joined us from other schools, have been overwhelmed by the good manners and respectful support of the students they teach or have met around the campus.
This impression has been enhanced during the learning walks that members of the school's Senior Leadership Team conduct each week as part of our ongoing monitoring of student focus, attitude and endeavour. We have consistently observed students who are positively and proactively engaging with learning and, dare we say it, enjoying the challenge even on Friday period 6!
It has also been a delight to have welcomed so many new Year 7 parents to our Meet the Tutor and Information Evening this week. The evening was described as 'extremely informative', 'covering all the right topics' and a 'good opportunity to meet the teachers'. It is the first of a series of such Information Evenings that we will be holding for all year groups and to which we look forward to welcoming our parents.
Finally, following a Governing Body meeting at the start of the week, today has seen all of our staff receive a letter from the Chair of Governors, Jonathan Phillips, commending them for the results achieved last year and thanking them for all of their efforts to support, cajole, encourage and challenge students to do so well. We know that this level of staff commitment will continue as we build success upon success.
Therefore, to all of our colleagues and to all of the students, thank you for such a positive start to the year. It might just be the best yet!
---
Friday 7th September 2018
Welcome back!
Despite this 'first week back' having been an extraordinarily full one, we have enjoyed a wonderfully positive return to school. Buoyed by our excellent GCSE results, some super refurbishment work carried out over the Summer, the opening of our brand new, amazing Sports Hall and the return of well-turned out, enthusiastic students who have re-settled immediately into the business of learning, focus and school routines have very quickly resumed; we are, once again, firmly back into The Calthorpe Way!
We have been delighted to welcome some new faces to our community. Our new Year 7 students have transitioned seamlessly and our older students are, as always, providing exemplary role models for their younger peers.
We have also welcomed a number of new colleagues this week. We are fully staffed, looking forward to working with an exceptional team and are already aspiring to fulfil the 'endless possibilities' that are out there waiting for us, and which, indeed, have provided the theme for our 'welcome back' presentations to staff and students this week.
Mr Chris Elsey joins us to take up the role of Head of Technology, Mr Robert Bullion becomes our new Head of Physics and Miss Sara Le Poidevin joins our English Department as Lead Practitioner. Also joining the English team are Ms Jamie Gallagher and Ms Kelli Sitarski.
To our Maths team, we welcome Mrs Marina Yershova, Mr Jeff Hartwell and Mr Matt Forbes; to Science, we welcome Mr Mike Pilgrim.
In addition, Mrs Tracy Adams joins our Hub team as Pastoral Assistant and Mrs Alex Hemmings and Mr Ethan Forster join us as Learning Support Assistants. We continue to advertise to build and strengthen the staff of our growing school and so, if you are interested in working at the school, particularly as a Learning Support Assistant, please check out the vacancies on our website. It is a great place to work.
We wish all of our new staff a very happy and successful career with us at Calthorpe Park.
We are sure that this will be a very busy but fulfilling term and we wish each of our colleagues, and every one of our students, all the very best for the year ahead. We look forward to celebrating their successes in our future blogs.
---
Thursday 23 August : Exam Results Day 2018
2018 GCSE Exam Results
We are absolutely delighted with our results this year.
82% of students achieved grade 9-4 in both English and Maths with 88% achieving this measure in English and 87% in Maths.
33% of all exam entries were graded at 7-9 (A/A* and beyond equivalent); fifteen students achieved a complete set of the highest grades across an average of 10 subjects and forty one students achieved the same high standard in at least 8 subjects. Thirty six students achieved an average of grade 7 (A) or higher across all their exams; for 20 subjects, at least a quarter of their entry was awarded A*/A or equivalent.
We are particularly pleased with the improvement in student progress this year. In terms of exceptional progress, our top 10 students at present are (in alphabetical order):
Jessica Bailey, Jessica Davey, Mia Clarkson, Emma Grey, Felicity James, Mateusz Kraszewski, Joe Nichols, Jake Lewis, Will Sargent and Callum Worship.
Students currently in the top ten for attainment are (in alphabetical order):
Yasmin Bascal, Mia Clarkson, Abby Coombs, Eddie Dewing, Tabby McEwan, Max Miles, Ben Nichols, Michael Presland, Will Sargent and Nina Skingley.
But, picking out a "Top 10" when so many of our students have performed so exceptionally seems arbitrary and we would wish to congratulate each and every one of the Year of 2018 for their hard work, for their focus and for demonstrating such commitment to the Calthorpe Extra programme. They also applied themselves diligently to their independent study. All of this was underpinned by such good humour, positivity and maturity.
Whilst we recognise that these are our students' achievements, we would wish to pay tribute to the outstanding dedication and professionalism of our staff as well as thanking our parents for their support over the past five years.
We wish all of our leavers every success and happiness in the future. We have always been impressed by who you are and who you want to be; by your desire and ambition for self-improvement. Without doubt, it is your aspiration that has inspired you and will be an inspiration to Calthorpe Park School.
(L to R) Michael Presland, Emma Grey, Max Miles, Jessica Bailey,
Yasmin Bascal, Felicity James, and the twins, Ben and Joe Nichols
Our local MP Ranil Jayawardena also popped into congratulate our students
and to chat to some of them as they collected their grades
Melanie Hooper and Martin Amos

---
Friday 20th July 2018
End-of-Year message from the Head Teachers
And so we have come to the end of another fantastic year. But it is also, sadly, a time when we must say some fond farewells to colleagues who leave us to move on to pastures new - new schools, new roles, new ventures, new challenges.
This year, we say au revoir and very many thanks to Mr Hainsworth, our Joint Head of Technology and STEM Champion, who has inspired so many of our students and has made such a wonderful contribution to CPS during his time with us. David moves to take up the role of Head of Technology at another Hampshire School and we wish him all the very best for the future.
Goodbye and thank you also goes to Ms Gluck who moves to take up a post in the private sector. A great teacher and form tutor, Ms Gluck has also made a notable contribution to the wider life of the school and we wish her all the best for her future success.
Ms Hadley and Ms Brown are two popular and talented teachers who will be much missed by students and staff alike. Known for their energy, creativity and skill, we wish them every success, Ms Hadley in her new post at a Surrey school and Ms Brown in her move to working with disadvantaged young people in Yorkshire.
Ms Young has been with us just a few months but, in that short time, has shown super commitment in her teaching of both English and Maths. We thank her and wish her well in her new post in a Surrey school. Ms Pepper, Learning Support Assistant, has been a great team player whose calm, caring and patient approach will be much missed. She has decided to train to be a teacher and we very much hope that she will return to us to complete a teaching practice placement in the months to come.
Finally, we say goodbye and thank you to Mrs Williams, a member of our excellent Receptionist Team who has given twenty years of dedicated and loyal service to Calthorpe Park. We wish her well in her retirement.
It has become our end-of-year custom to share with parents our Head Teachers' Address that we deliver at the conclusion of our Annual Awards Ceremony. The topical theme of the ceremony this year is 'Goals' and we reproduce below our message to our students:
'Abraham Lincoln, President of the USA 150 years ago, once said: "I like to see a person proud of the place in which they live. I like to see a person live so their place will be proud of them."
The theme today has been all about Goals which seems apt, given both the need for us all have targets to aspire to, but also due to the proximity of the Football Word Cup.
This competition was reported as a huge success in many ways. People overcame prejudices towards the people of Russia. They expected problems but found only friendliness and cooperation. This should always be the case wherever we travel and whenever we welcome people to our own country and community, be they our home, our school, our locality or our nation.
At the World Cup, in many cases, teams that were expected to succeed did not do so well,while others achieved notable firsts. Panama and Iceland, for example, enjoyed their first ever appearance in the tournament, and celebrated that extensively because we shouldn't wait until we have reached our ultimate goal to be proud - but should feel pride in our achievement at every step we take along the way.
Iceland enjoyed great success at the European Championships but became the smallest nation ever represented at the World Cup. The entire population of Iceland could fit into the seats in the stadia used for the World Cup in Russia…with 250,000 places still left unoccupied. It's not always about size.
England won their first ever World Cup penalty shootout and, for once, were applauded for the manner in which they played, their commitment, energy, humility, squad loyalty - not just for the matches they won. Players and journalists commented on the sense of pride they felt in the team; in the spirit of camaraderie shown; in the willingness to put everything on the line and never stop trying. Those of us watching at home, in the pubs, out in the open in front of huge screens, celebrated not only a victory but a group of young men who played as a team, played with passion and played with pride. And by so doing, the overwhelming response was that they, in turn, created a sense of pride in those of us who watched and supported.
And then there was Croatia. One might have expected this small country to have been desperately disappointed to have come so far, so very close to victory, to winning the cup….. Yet, once again, the overwhelming response from its people was one of enormous pride in what they had achieved. Croatia has only existed as a country for thirty years and its total population is less than half that of Paris, the ever-expanding capital city of the country that beat them in the final.
They gave their all and no one can expect more than that.
This is also true of you, of all of us, in any and every situation. It's not always about success or achievement or being the best. It is about doing your best, giving of your best, about doing better than expected, about achieving success in the manner in which you operate, not just through the result.
We often talk about this but it is a substantial and key part of what we believe our school's DNA to be. We believe that education should be about, and in, everything you do. We talk about educating the whole child for their whole life through heart, mind, body and spirit; these are the cornerstones of a Calthorpe education. Yes, we want you to achieve the very best exam results you can. Yes, we will push and pull and cajole and nag and challenge and support and demand and everything else, because we know you have the capacity to do even better, to be brilliant, to achieve amazing things. But also, we want you to be young people who care, who have empathy and integrity; young people who believe in themselves and in helping each other; young people who have compassion, are considerate, can work independently and in a team; young people who enjoy life and who do what they can to support others enjoy to enjoy theirs'.
In the past few weeks we have seen our Year 11s leave having shown a higher level of commitment and dedication to preparing for exams than we have ever seen. We felt enormous pride in that and in the young people that they have grown into. Your challenge is to be even more dedicated, more committed, more driven than them…better than any year group.
We have watched in awe (and enjoyed again this morning) the wonderful production of Mary Poppins with large numbers of your friends and peers performing to an astonishingly high standard, creating magic and joy but underpinned by enormous effort and a great sense of pride.
And, perhaps slightly strangely, the manner in which you all sat patiently and quietly, waiting to see what was happening on Sports Day afternoon, a couple of weeks ago. Your calm and supportive behaviour, your innate understanding that there was something bigger and more important going on, was amazing.
Every day, when we come into school, most of you, and at times all of you, do something that makes us proud. We want you to feel that sense of pride in who you are (not just in what you do) and to feel that pride in the school and community that you belong to. You have so much to feel proud about. This is a remarkable school, staffed by exceptional teachers and filled with inspiring young people.
Just like Abraham Lincoln and the quote we started with, we want to see people proud of the life they live and the school they attend. And we want to see people live so their school will be proud of them.
That is your goal. That is our goal'.
We wish all our students and parents a wonderful Summer. Have fun. See you in September!
Melanie Hooper and Martin Amos
---
Friday 13th July 2018
End of Year Message from our Governing Body
As the final chords of 'supercalifragilisticexpialidocious' echo around the corridors, classrooms and courtyards of Calthorpe Park School, following this year's superlative production of Mary Poppins, the Governing Body wish to reflect for a moment on this soon-to-be-concluding academic year, and to project forward just a little into the future.
Alongside the school's relentless pursuit of outstanding academic success, the production is just one example of the many and varied opportunities to excel that are afforded to our students.
As a Governing Body, we are firmly committed to a strategic vision that is broadly captured by the school's stated mission to educate the 'whole child for the whole of their life through heart, mind, body and spirit'.
Along every journey, there will be challenges and disappointment. To capture the zeitgeist, whilst our national team may not have brought the cup 'home' this year, the DNA of the Football Association, the Manager and the team, is one of community and commitment; of humility and integrity. It is built on a team's collective vision of continuing improvement, creation of a sense of pride and long term 'goals'.
This has many similarities with this school's vision which we, as the Governing Body, have been instrumental in co-creating with the Head Teachers, and to which we are completely committed. To continue the football analogy, we recognise the importance of the 'now' alongside the 'long game'; the desire to produce young adults of whom their parents, they themselves, and society can be proud. We understand that the school will play a relatively short, but highly significant part in this journey and we will not relent in our determination to make this 'part' excellent in every way.
We know how hard Calthorpe Park School staff work to prepare students, not only for their exams, but also for life. The additional time dedicated to our Year 11 students, particularly this year, has been immense, as has the students' own investment in this process. These young people have already shown themselves to be an amazing year group, and an inspiring model for their younger peers. Their aspiration deserves commendation and celebration. As does that of their dedicated and highly skilled teachers.
We wish them, those who have inspired others through their teaching, or through their resolve in learning, every success.
And we wish you all an excellent Summer.
Calthorpe Park School, Governing Body
---
Tuesday 26th June 2018
With last Thursday being the last formal day of school for our current Year 11, it is that time of year when we reflect on the very small part that we play in the growth and development of the next generation. Although our leavers have been students at Calthorpe Park for 30% of their life so far, in reality, these five years will ultimately form just a small part of the future that they will create, and of the lives that they will lead.
They have completed their exams, many having sat nearing 25 different papers over the past few weeks. They have approached the whole process in what can only be described as an incredibly professional manner. Calm, sensible, prepared and positive: they have embodied the very spirit of the "business of learning" that we have promoted.
But the exams will be only one part of their journey, albeit a very important part. Exams will open doors to opportunities but it will be the young person they have become who will step through that door. While we will inevitably be measured on their exam successes as a school, perhaps as parents it is just as important to look at the young adults that they will all become, judging the real measure of education at, say, 22, rather than at 16.
With this in mind, we want, on this occasion, to celebrate the achievement of an ex-student, Cameron Booker, who left the school five years ago and has just gained a first class honours degree from Cambridge. We know there will be many other such stories and we are keen to hear about the many other successes (with 'success' covering any aspect of life, achievement, accomplishment or triumph) regarding ex-students. This is not only to build up a bank of experiences and expertise that we might be able to call upon or refer to, but also to allow us to understand the journeys that our students take beyond the compulsory classrooms of Calthorpe. If you have any such information, or have contact details for any ex-students, we would welcome you sharing the information. Please send it through to Hannah Hutton who will be delighted to collect it or use the new email address alumni@staff.calthorpepark.hants.sch.uk.
For the 2018 leavers, however, they are only just taking their first steps on the pathway. They have been amazing and we are especially proud of them as they are the first year group who have only known us as Headteachers. We thank them for their many and varied contributions to the school.
Friday saw them gather for the Prom. What a privilege it was to see them all, not only so beautifully attired, but also showing such poise, maturity and sophistication. They are young adults with a bright future before them. We wish them every success and every happiness.
Prom photos by Surrey Events Photography
---
Friday 18th May 2018
And so it begins.
We are sure all of you can remember walking into exam halls just like this one with that same sense of expectation, trepidation, anxiety and even fear. Our Year 11s are now fully into their exam period with many having already taken 5 papers, and some having to endure staying behind on a Friday until nearly 5 pm to complete one exam due to a clash of timing.
As ever, the students have approached the process in a calm, committed and collaborative fashion. A visitor to the school today told us that he could not recall being to any school (and he has been in many) where the exam students seemed so prepared, so supportive of each other and so focussed. They have worked incredibly hard (as have their staff) and we wish them every success (not luck as "the more you practise, the luckier you get"!).
At the other end of the age range, we wish to recognise and pay tribute to the Year 7 Football Team. Last Friday, they completed an extraordinary season that included winning the League, the District Cup and the County Cup, beating Robert Mays 5-1 in the concluding final at the Aldershot FC ground.
They also got through to the National 5-a-side Finals coming, effectively, a magnificent third and having endured what Mr Jones described as "the group of death" in the round-robin element!
We are so proud of what they have achieved, of their success and, just as importantly, of the manner of their approach - their exemplary attitude was notable. Just occasionally one sees copied (or, heaven forbid, coached) behaviours and actions in junior football that emulate the very worst of the professional game. These boys played in the right spirit, recognising that how you play and conduct yourself says as much about who you are as does a victory. They tackled and challenged with passion and flair but showed great humility in victory, appreciating the other players' commitment and efforts.
Finally, we would also like to make an observation based on the same age group who have been set a reading challenge over the past few weeks. Not all students have engaged with the activity and yet we all know that reading and literacy are one of the absolute and irrefutable cornerstones of learning, progress and school success. We all have a role to play in supporting and promoting reading as a valuable and valued activity. In fact, it is not a role, it's a duty.
Thank you to all of you who regularly support your children with reading: asking questions, suggesting books, modelling good habits, and showing that, not only is it a crucial skill but also a source of endless information, entertainment and pleasure.
Enjoy the sunshine…maybe sitting in the garden, reading?
---
Friday 27th April 2018
We take feedback very seriously at Calthorpe Park. Teacher feedback and student engagement with it are fundamental to outstanding learning and progress. But similarly, stakeholder feedback is also crucial to our drive for ongoing improvement in everything we do.
At each Parents' Consultation Evening, we encourage completion of a short questionnaire. Our wonderful prefects and senior students consistently do a great job of encouraging, cajoling and even bribing parents with chocolate biscuits to ensure that we solicit a sizeable return from the parents of each year group. We are currently concluding our analysis of Year 8 parents' opinions but we have the outcome of parental surveys from all other year groups 2017/18.
We are delighted that feedback again this year reflects and reinforces the very positive comments about our school, its ethos and its practices that Ofsted, the Local Authority through its annual monitoring visits and our many visitors to the school have reported. Here are some headlines:
More than 96% of surveyed parents have told us that the school has high expectations and that teaching and learning are good
Following achievement of our school's highest ever levels of progress and attainment in 2015 and 2016, 2017 saw a buck to the upward trend and a blip in our published progress measures. Consequently, we are delighted that 93% of our parent respondents are highly positive about the progress that their children are making at CPS. The vast majority also feel very well informed about their children's progress although some would like more regular opportunities for feedback. We take this on board and have already planned improvement to our assessment and reporting practices for next year.
Safety at school, enjoyment in learning and excellent behaviour that meets the exacting standards of our Calthorpe Way, are key to our expectations. 99% of surveyed parents tell us that their child is safe at CPS. More than 92% of parents state that their child enjoys school and is happy here and a similarly high percentage believe that our students' behaviour is at least good and in many cases outstanding. Moving forward, of course, we aim for 100% across all of these measures.
Modesty prevents us from saying too much about the very positive responses regarding the leadership and management of the school and the promotion of our vision and values. Clearly this is not just about ourselves but entirely about the excellent team of leaders we have at the school. We are delighted that nearly 60% of those who completed the survey read this Blog regularly.
Student Voice is a key aspect of our ethos and vision, therefore to have more than 90% of those questioned feeling that we value student contribution and involvement is rewarding although there is still room for improvement. We will be working with the new Senior Student Leadership Team to explore ways to get this figure even higher.
Last, but by no means least, we are delighted that only fractionally below 100% of those who completed the survey told us that they would recommend the school to other parents.
Calthorpe Park is not a school that will ever accept complacency; we promote a growth mindset alongside dispositional education as well as, clearly, academic excellence. We are proud of the young people who leave us and are delighted that so many parents reinforce not only what we are doing but also the way we try to do it.
We will continue to aspire to improve and welcome any constructive feedback that allows us to further develop our practice. If you wish to speak to us on any matter, please feel free to contact the school. Members of the Senior Leadership Team are always on hand at Parents' Evenings and so, should you want to make any suggestions, raise any issues or simply have a chat, please do not hesitate to speak to us or even book an appointment at a convenient time in your appointment schedule. We will be delighted to speak to you - not least to relieve the tedium of just standing there and talking to each other, despite our high degree of mutual respect and long-term working partnership!
---
Thursday 29th March 2018
So we come to the end of another great term that has witnessed much outstanding learning, a number of year groups involved in exams, both internal and external, and our Calthorpe Extra Year 11 Revision Programme in full swing and drawing numbers well into several hundreds during many weeks this term. And then there are all the enrichment opportunities that our staff provide and into which our students invest so avidly….. special events, trips, visits and competitions, both local and national, many of which we invite you to read about on the pages of this newsletter.
Staff and students have, again, worked so very hard as the days have gradually turned from the icy darkness of Winter into the (almost and keenly anticipated) airy lightness of Spring! We commend the vast majority of our students for their ongoing effort, active participation and ever-readiness to savour new opportunities. And, in turn, we applaud our staff for their passion, relentless dedication and simply, for always going the extra mile. A number of them will also be in school during the Easter holiday, offering extra revision support to our Year 11s as GCSE exams nudge ever closer, but we hope that each and every one of them will find an opportunity to take some time out. We wish them a very well-deserved rest and a great break.
On the staffing front, Ms Tate started her maternity leave last week; we wish her all the best for impending parenthood and look forward to meeting her new little one in the months to come. Sadly, we must say a longer-term good bye to three colleagues who are off to explore pastures new and so are leaving us this week. Ms Tims (Technology) takes up a role in a school in the south of the county, much closer to her home. We thank her for her contribution and wish her well for the future. We say goodbye also to Ms Payton who joined us on a temporary basis last year; she has bridged a gap so well at a time of transition in the History department, pending the arrival of our new Head of Department. We thank her, and wish her well also. And finally, we must say goodbye to Ms Russell, our Assistant Head of Science, who, over the past five years, has made such an excellent contribution to Science teaching at CPS. An outstanding practitioner, she leaves us to move into the field of scientific research. We thank her and wish her every success in her new venture.
And finally, we look forward to welcoming two new colleagues next term, both of whom will join our History Department. Mrs Eleanor Rushmere is an experienced and highly successful subject specialist who joins us from a Basingstoke school and, having worked very successfully at CPS for a number of years previously, Mrs Alicia Binding rejoins us to take up the leadership of the History department. We are delighted to welcome her back on board and have great expectations of her for the future.
But enough of projecting ahead to a new term…. holiday time now beckons! We wish everyone a very Happy Easter.
---
Friday 23rd March 2018
A few observations and thoughts for this week, as the end of term nears.
The first two surround our amazing students.
On Monday and Tuesday, we interviewed a group of 18 young people for the Senior Student Leadership positions. What an absolute joy it was to meet such measured, mature, articulate and positive young people. Congratulations to all of those selected for the various posts, and thanks also to our unsuccessful applicants for being so willing to support the school - we could easily have picked an entire "shadow" SSLT! We very much look forward to working with the new team who are full of ideas, enthusiasm and a genuine pride in their school.
Also on Tuesday, we ran a Site Strategic Workshop as a very early part of the ongoing consultation around the potential future growth of the school. There were representatives from the local community, the governing and parent bodies, the staff (teaching and support), Hampshire County Council, local councillors and, of course, a range of students from years 7 to 10.
While everyone's contribution was valued and recognised, it was, without doubt, the students who stole the show with their observations, ideas, commitment to, and appreciation of the school. And they demonstrated such confidence in speaking to so diverse an adult group.
Finally, on Thursday, we took part in an aspect of the selection process for the Hampshire Teaching Awards. Reading the nominations brought about an increased awareness of the high quality of skill and incredible commitment of our own staff that we often laud in this blog.
Nominations spoke of teachers who give up their time before and after school to run clubs, extra lessons, support groups and the like. These teachers were deemed to be exceptional – yet so many of the activities cited were simply things that we 'just do' as part of normal life at Calthorpe Park.
Take, for instance, the Calthorpe Extra Programme - a timetable of additional revision classes that, since the start of the year, have been taking place before school, in tutor time, in teachers' non-contact periods and after school, not to mention the revision days that are planned to take place during the Easter holiday. And it isn't just about the delivery – each of these sessions has been meticulously planned and resourced, also in our colleagues' own time. Literally hundreds of students have been attending ....and all of this has been offered gratis. This level of commitment is exceptional and must never be taken for granted by any members of the school community. At a recent Full Governing Body Meeting, when appraised of these activities, our governors were amazed at the extraordinary dedication of staff at this school.
What the process of reviewing the Hampshire Teaching Award nominees also brought into sharp focus was the immeasurable and enormously valuable role that support staff at Calthorpe Park play in the running of the school and in support of the students' education. None of our trips, events, activities or projects would happen so smoothly without the management, support, leadership and commitment of colleagues from the many and varied areas of the school. Learning and supervision are also often underpinned by the involvement of our Support Staff Team – by their willingness to contribute and by their sheer endeavor. We are enormously lucky to have such a complete and wonderful group of people. At a time when teacher recruitment is a real challenge, a subject we will return to in future blogs, there is a tendency to focus on the incredible job that teachers do. And that is right and proper. But we must never forget the amazing teams in admin, cover and supervision, finance, exams, reprographics, site management, information management, learning support, welfare, the cafe and every other group or individual whose vital role does not fit into these headings. It is they who keep the school running. They work incredibly hard, often for meagre financial reward, but each and every one will always go the extra mile, do a little bit more... And always with a smile and infectious good humour.
We thank all of our colleagues for all that they do. Quietly. Day in, day out.
Next week sees the end of a short but full term. Enjoy your Easter break.
---
Friday 9th March 2018
To conclude our annual Week of Change, the final day is traditionally given over to a 'teacher swap' whereby, in consultation with their teacher, students have the opportunity to plan part, or even all of a lesson and to deliver it to their classmates.
Today was Teacher Swap Day and, as we carried out our usual schedule of classroom visits, we were delighted to see some amazing student-led learning going on across a wide range of subjects.
Up in IT, 2 ingenious students were very confidently delivering a revision lesson in preparation for Year 10 exams that are due to start on Monday. They had pre-programmed a multi-choice on-screen quiz, with accompanying graphics, to help their peers revise key technical terms of the GCSE Computing syllabus. The whole class was focused, loving the challenge of the task and thriving on its competitive element.
In a Year 10 English class, a student was leading learning using excerpts of films that, with the support of his teacher, he had selected to practise GCSE-style questioning; in a French class, students were also focused on exam preparation with two of their number leading their peers in revision of key vocabulary around urban social problems. Discussion, in the target language, of homelessness, gang culture, substance misuse and poverty provided significant challenge and offered opportunity for speaking, listening and writing skills to be practised.
In a Year 7 Science lesson, a student was teaching reflection and refraction of light, providing a clear and accurate explanation to accompany the projected diagram whilst the class recorded key words and definitions. Learning was similarly impressive in a Year 7 Geography class where three students were co-leading their peers through a lesson on natural disasters. They had prepared a mini-video for the class to watch, a powerpoint presentation and an accompanying worksheet; by the end of the lesson, students were applying the knowledge they had acquired to plot, on a furnished plan of a building, the most safe places to shelter in the event of an earthquake. When it was time to debrief the task, in true teacher fashion and with no difficulty whatsoever, the intrepid student teachers called their classmates to silence on the count of '3,2,1' and then proceeded to collect, and spontaneously expand on ideas shared by the class!
Today, we have seen endeavour, enjoyment and the realisation that teaching is actually harder than it looks! But, in these very difficult times for teacher recruitment, we think that many of our students at Calthorpe Park could do a great job!
We also think that the idea of teacher/student swap is a great one and we intend to practise what we preach! So, with their GCSE exams fast approaching, it's sadly time for our fantastic Year 11 Senior Student Leadership Team to relinquish their roles; Year 10 applications are in and interviews are scheduled for after the exams. Before final retirement, though, we are going to ask our out-going Year 11s to write our next blog for us. Watch this space!
---
Friday 9th February 2018
Only 5.5 weeks in length but, without doubt, the most packed and impactful half term.
Our fantastic Year 7 football squad won the Regional 5-a-side Final and have now gone through to the National Finals to be held in Birmingham in March.
Year 8 students have completed internal school exams; their behaviour and effort were impeccable throughout.
Our Year 9 and 10 Mathematicians have taken part in the Intermediate Maths Challenge and, just last Friday, the whole school were involved in Number Day. The day was prefaced by a week of supporting numeracy challenges and activities which provided a great opportunity to embrace our love of all things numeric combined with fundraising for the NSPCC.
Also on the fundraising front, one of our wonderful Year 8 students has initiated and inspired a series of in-school events that have resulted in over £2,000 being raised in support of the Royal Marsden and Cancer Research charities.
Other great outcomes of the half-term have witnessed our Year 10 GCSE PE students spending a week at Calshot Activities Centre, a D of E Practice Weekend and one of our Year 11 students coming second in the Hart Young Musician of the Year Competition, so securing his place in the District Final.
But, the key highlight has, without doubt, been the amazing effort, enthusiasm and dedication of our fabulous Year 11 students.
We launched our Calthorpe Extra Programme on the first Monday back in 2018. The programme supports preparation and revision for GCSE exams and sessions run pre-school, at lunchtime and after school each day until 5pm.
Student buy-in has been phenomenal with in excess of 100 Year 11s attending regularly, even on Friday evenings! Indeed, yesterday afternoon topped efforts so far with numbers nudging 150 turning up for their weekly additional English session. It's been an expensive half term on the biscuit-buying front!
All of this wouldn't be possible, of course, without the commitment and professionalism of our exceptional colleagues who continue, so consistently, to go above and beyond in their support of our students.
It is also our observation that, in all classes that we visit, as well as in the timetabled revision lessons that we both supervise, our Year 11 students' collective independent and collaborative learning skills are not only of a notably high standard but, indeed, are even more developed and focused than those of any previous year group in our experience.
Well done Year 11. You have raised the bar to a level to which our younger students must now aspire. Thank you. Enjoy your half term. Have a rest. But don't forget your revision timetable!
---
Friday 26th January 2018
Safeguarding the young people at Calthorpe Park
Last week we learned that, as part of a sample of Hampshire schools, we had been selected for a Local Authority Safeguarding Audit visit. Four days later, on Friday 19th, two inspectors spent the day with us, talking to students, staff and Governors, and auditing our safeguarding provision and practice in a range of areas.
We are hugely proud of our safeguarding practice at CPS and value any, and every opportunity to enhance it further. So, we very much looked forward to the feedback report which, at the end of the day, was presented verbally to ourselves, Jeff Kelsey, our Safeguarding Governor, and to two other members of our Governing Body.
It was really positive. We'd like to share some of the key point with our parents:
The inspectors said that young people at Calthorpe Park are very clear about how to keep themselves safe; in terms of e-safety, the school has identified the most appropriate solutions for filtering, monitoring and keeping students safe online.
CPS is leading the way by focusing on the promotion of positive mental health as a supportive context for its keep-safe work
Support for staying safe online is a real strength. It is embedded in our wider curriculum, via PACE and Citizenship specifically, and through our rich programme of assemblies, special focused events and external presenters
Safeguarding policies, procedures and practice are fit for purpose, consistently operated and regularly reviewed; their impact is continuously monitored
Training in safeguarding for staff and governors is of high quality and accredited. Safer recruitment practice is firmly embedded. Checks to monitor the high quality and consistent implementation of safeguarding practice are exemplary
The school's evaluation of its safeguarding practice and impact is very strong; both this and our Safeguarding Action Plan were described as being models of good practice
The inspectors concluded the day with their judgement that the culture of safeguarding at CPS is very strong and clearly embedded in all aspect of practice, both day to day and in terms of strategic planning. They said that some of the safeguarding practice that they had observed at Calthorpe Park is the best they have seen and they asked to take away some of our documentation as exemplars.
We were delighted with the outcome and we continue to strive for ongoing improvement. It is the responsibility of each and every one of us to support our young people to stay safe and to promote their wellbeing….and it must always be at the heart of what we do.
---
Thursday 21st December 2017
Here we are, finally, at the end of a super-hectic term!
And our final four days of term have been, as ever, full of good cheer, festive fun and memorable events. Our wonderful Christmas Concert took place on Monday evening; on Tuesday, our Year 7s took part in our annual Homelessness Day and the remainder of the school brought in food and other basics as donations for those who are in need. Also on Tuesday, staff and students sat down together to a delicious Christmas lunch, prepared and served by our hardworking Café Team, and with all the trimmings, of course!
We are all looking forward to our whole-school Christmas Assembly on Thursday and, as is our custom, we reproduce below, for parents, our 2017 Head Teachers' Christmas Assembly message to our students :
A few days ago, the Oxford English Dictionary announced its 'Word of the Year 2017'. This is an annual event. Each year, those who compile the dictionary, endeavour to find a word that is deemed to reflect the ethos, mood or preoccupations of the year and to have the potential to pass into common, daily language use. The word for 2017 is 'Youthquake'. Youthquake is defined as 'a significant cultural, political or social change arising from the actions or influence of young people'. Young people like you.
It was a word first coined some 50 years ago when it was used to refer to the youth-led fashion and music movement of the 60s. The influential magazine Vogue said : 'The year is in its youth; the youth in its year. Fewer dreamers, more doers. Here. Now. Youthquake 1965'
And now it's 2017…very nearly 2018. The 'Youthquake' now referred to by the dictionary is a political change surrounding the way in which young people voted in both the June General election and the Brexit Referendum. But perhaps 'Youthquake' for this century should be about more than just politics.... maybe it should be about what you do, and can do, to make the world a better place.
Every year we see you do things for charity. Last week, you had a mufti day for the Save the Children charity. This week, you have been donating gifts and food for those who are homeless or without life's basics. But when you come in to school not wearing school uniform, for Save the Children or Children in Need, or any of the other charities we support, do you look beyond the opportunity to dress casually? When you attend the fairs and events, do you look beyond the chance to buy cakes or chocolate at break and lunch? If you don't…now is the time to do so.
We have been proud and amazed at the way in which so many of you have embraced these fundraising activities. Every one of them raises much-needed funds for charities. But we do wonder if all of you fully understand the true import of what you do and where the money goes. A few simple cans of food can make the difference between someone eating this Christmas or simply not eating. A gift that you might look down on as not quite what you wanted, not worth much, not something you need…may well make the day of another person who has little.....might make their Christmas brighter.
The money you donate can buy essentials for a person or even a family; can support initiatives and projects that improve the lives of those who suffer challenges and difficulties that most of us can barely imagine.
Through your contribution you can change a life. It might sound over-dramatic but that is the reality. Your generosity can mean that someone's life is lengthened, brightened, improved. But less material and simple acts of kindness can cheer up a neighbour, a passer-by, a family member or even a complete stranger. And beyond our immediate community, what you do can make a difference in ways that, perhaps, we find hard to imagine.
And we have the proof that what you do is changing lives…
The Ocean Stars Trust that we have raised funds for in many ways, supports the communities, families and schools on the East Coast of Sri Lanka that were devastated by the Tsunami in 2004. For the last few years, we have been sending out students, staff and resources to help with the rebuilding of villages and education provision for this area. This year was no different, except that a letter, written to the team by the Headteacher of one of the schools we visited, clearly articulated exactly what a difference the simple things we send, take and do, can make.
She wrote: "Our students … have ongoing money problems, alcohol related problems, post-tsunami family loss and one parent families where a parent is away working in the Middle East (for up to 4 years). These factors mean that a lot of students have mental health problems and feel …unhappy.
When (your) students visit, our students have a chance to be free from their problems. They feel liberated. They can be children, and laugh, and have fun. They feel motivated to study and want to do well in their exams. They feel that someone cares for them and they truly treasure the interactions they have had with the UK students.
Before (you) came to visit our school in 2013, our GCSE results were 26% A-D grades. In…2016, they were 58%. My target for 2017 is 65% pass rate.
You are really making a difference and changing lives. Our children now have hope and their hearts are filled with happiness. Thank you."
That is the difference you can make.
For the past few years, we have set you a Christmas challenge. This year is no different. We ask you to do something that makes a difference, that improves someone's life, not just your own. Raise money, but be aware of why you are doing it and how it will make things better. Do something for someone who is not just suffering financial hardship but who is less well off, less fortunate than you in any way. If each one of you takes one small step to do something good, to do something better, then the vibrations will resonate far beyond this school. You can create your own Youthquake!
And by so doing, you can begin the Youthquake that influences the powers that be to do the right thing. You can begin the Youthquake that makes a difference through its commitment, compassion, integrity and care. You can begin the Youthquake that changes lives.
'The year is in its youth; the youth in its year. Fewer dreamers, more doers. Here. Now. Youthquake 2018.'
Be the year. Be the youth. Make it happen.......'
So, to conclude the term, it simply remains for us to say goodbye to three colleagues who are leaving us to move on to pastures new. Good luck and many thanks to Laura Blake who leaves us after 4 very successful terms. Laura has been a great asset to CPS and has made an excellent contribution to students' learning in Drama, Drama Literacy and English. She is moving to a school nearer her home in the south of the County and we will miss her dedication and infectious enthusiasm. We wish her well in her new post.
Two other colleagues are also leaving CPS this week. Richard Sutton, Second in Maths, moves to take up a post in the private sector locally and Science colleague, Sophie Haggart, moves to Wiltshire. Although both have been with us for a just a term, we thank them for their valued contribution and wish them well in their new ventures. We look forward to welcoming Ms Helen Zhu and Mr Robert Mansfield who will join us in January, in the Maths and Science departments, respectively.
Finally, we would like to extend our thanks to all parents for your support during this long but busy term. We wish you all a very Happy Christmas, a peaceful New Year and a very relaxing break!
Melanie Hooper and Martin Amos
---
Friday 1st December 2017
Many of our proud 2016/17 Year 11 returned for our annual Leavers' Certificate Evening, held in our auditorium, on November 30th 2017. Staff, parents and the ex-students had a short time before the event to meet and catch up with news, share stories of ongoing progress at college, and talk about future aspirations. With the stage set, music queued up, nominations and winners of Awards ready to share, two of our current senior students opened the event. We presented the official GCSE Certificates after giving out a number of subject and school awards. It was lovely to see so many students and their families joining us to celebrate their successes! We concluded the event with an address – aimed specifically for our leavers but was of interest (and even some amusement) to the parents and family in the room. You can read it here:
Mr Amos: Have you ever got lost?
Ms Hooper: We don't mean in some esoteric or metaphorical way. We just mean lost.
Mr Amos: I recall when I had just passed my driving test staying with a friend in St John's Wood in North London and then moving on to see another friend in Notting Hill Gate, also in North London. I got lost; hideously and horribly lost. Eventually I managed to work my way there using the Thames as a point of reference even though the Thames is miles away from either location. It took me 2 hours. On the return journey with someone sitting beside me who knew the way, it took 9 minutes.
Ms Hooper: Of course, this was long before mobile phone technology allowed us to identify, where we are, where we are going and how to get there. I assume you didn't have a map. You could have asked someone the way.
Mr Amos: I was 18…and a man. Everyone knows that neither teenagers nor men ever ask for directions.
Ms Hooper: We often talk about life being a journey. It has become something of a cliché. But the thing about clichés is that they have become such because they absolutely do contain some considerable element of truth. Every step we take in our lives is part of a bigger journey. Time moves on. We move on.
Mr Amos: The problem with the journey that is life is that there is no GPS to tell us where we are on that journey; no Google map to point us in the right direction; no sat nav to tell us which way to turn.
Ms Hooper: Your generation, Generation Z, has not known a world without mobile technology, and for the vast majority of your school life you have had access to smart phones with all that they bring. Who did you ask about stuff before Google? How did we communicate with anyone before social media? How did we ever get anywhere before we had sat navs and google maps?
Mr Amos: Well, we did. Although sometimes it took a bit longer…but in taking that time we learnt new things. On my convoluted journey from St Johns Wood to Notting Hill Gate I discovered a degree of resilience, patience, problem solving…as well as a fantastic little café which did brilliant bacon rolls.
Ms Hooper: We are so used to just getting to where we need to be that we have lost the ability to enjoy the journey, even to enjoy being lost. And there are other problems caused by a slavish reliance on technology…it does not take into account the speed bumps and pot holes that occur along the way. It doesn't take into account that other people through their needs, through their unhelpful behaviours, their mistakes, their carelessness can influence the direction we take along the way. The technology also can't recognise that sometimes a more scenic route is better for your soul.
Mr Amos: And, of course sometimes it just goes wrong. Maybe there's no signal? Sat Navs take us down roads that are unmade up or unsuitable, take us to places with the same name, divert us off the route we wanted to follow, insist we go a way that we know to be wrong…
Travelling to Wales with a friend a few years ago on the M4, he slavishly followed the sat nav's direction, taking us off at junction 13, round the roundabout and back onto the motorway. Why? Because that was what the sat nav said!
Ms Hooper: But life does not have a Google map, a GPS or a sat nav. It does not come with a pre-planned set of directions. There is no manual on how to grow up, how to mature, how to succeed. There is no set on instructions on how to live.
As parents we know all too well that there is no easy guide to parenting. That sometimes we make mistakes. But understand that when we do, we make them for all the right reasons.
Maybe we don't always know best in your view but experience means we do know better….
Mr Amos: We all have to keep learning. We all have to pay attention to every learning opportunity. We have to know that on the journey of life we have to find our own way. You, as the next generation, have to find your own way.
But you can look for signposts, you can plan a route, and you can stop and ask for direction from those who are further down the journey and road than you are.
Ms Hooper: It is often said that we are often defined by what we do…where we go…who we choose to associate and be friends with. If you hang out with people without moral fibre or purpse, with negative attitudes…what does that say about you? If you hang out with people with low aspiration, their lack of ambition may influence you.
Mr Amos: But if you spend your time with people with commitment, with positive attitudes, with compassion, with ambition; these qualities may rub off on you, even inspire you. On your journey of life, our advice is to do three things.
Ms Hooper: Take a careful note of and learn from what is around you: choose the company you keep and the route you take; embrace the detours and the scenery that will help you grow as a person.
Mr Amos: Listen to the advice you are given. Choose that which you think is best and given to you by people who care…genuinely care; people who will care at every step of your journey not just in the next five minutes.
Ms Hooper: Make sure that your journey creates footsteps for others to follow in. We all have a duty to inspire someone positively. There is no limit or parameters to inspiration. We are constantly inspired by the students we come across, by you. Similarly we are always inspired by the amazing staff who taught you and who we have the privilege to work with.
Mr Amos: Finally, make sure that your journey has a purpose, but make sure the pot of gold at the end of it gives you satisfaction, mental and physical wellbeing, joy and love; those are the things of real worth.
These things will inspire you; they will fuel your dreams. They will give you that ambition to succeed in life, the aspiration to keep moving forward and improving on the journey.
Ms Hooper: During your time at Calthorpe Park you have often proved that you have these capacities. Your challenge is to carry these abilities and dispositions forward; to develop and hone them. Can you do that? We absolutely believe you can.
Mr Amos: We wish you happiness on your journey. We know you will travel well.
Send us a postcard.
Ms Hooper: Good luck.
---
Friday 10th November 2017
Last week, representatives from the school staff and student body attended a Community Minds Partnership event at The Village Hotel.
The subject was around the need for local businesses and schools to work together to ensure that opportunities are extended, relevant skills are promoted, careers-confidence is developed, employability is enhanced and that young people across Hart and Rushmoor become the kind of people who will enhance the community in which they live, and will ultimately work in, thus having a positive impact both socially and economically.
Our student representatives sat with adults from local community groups, businesses, organisations and consultants. They fed back on behalf of their tables and were able to demonstrate exactly the skills, attitudes and dispositions that we promote at CPS and that the community is looking for. By the end of the morning, they all had contacts and had received offers of apprenticeships, internships and work experience from a range of employers. They learnt a great deal and were, as ever, a credit to our school.
It was reassuring to know that, alongside the emphasis on qualifications, the broader elements of education are appreciated and even demanded by such organisations. The education of the 'whole child' that we promote is exactly what further and higher education establishments are looking for, as are employers.
The event also raised the interesting question as to how the diverse businesses and employment experiences of our parents might be harnessed to supplement and support these aspects of education.
As a result, we will soon be sending through a request for parents to indicate their line of work and whether they might be able to offer help or opportunities across any number of situations and events, as well as to support individual or small groups of students seeking information, experiences, opportunities or understanding.
We would ask that, if you feel able to help, you complete the information request when you receive it.
On this matter of support, we would once again like to pay tribute to the activities of the CPSA (Calthorpe Park School Association). The events they run are fantastic fun (Race Night is on 24th November) and raise money to enhance the education of our students, your children.
Sometimes, however, it can feel that, in a school of nearly 1200 young people, the percentage of parents who actively get involved is quite low. We are not expecting you to join the committee but if you could keep an eye on the website for letters about events and activities and maybe come along, sponsor your child or contribute in some small way, the resulting impact could be tremendous.
Thank you.
---
Friday 20th October 2017
The first half term of any new school year is always a full and hectic one but this half-term has, without doubt, been the busiest and most productive one yet!
In addition to great learning from all year groups (we know this because every member of staff has already been observed teaching at least once so far this term, and, since our return to school in September, we have operated a 'visibility rota' whereby each day, members of the Senior Leadership Team visit classrooms across all subjects, unannounced, to ensure that good focus for learning is happening), we would just like to list a few of the memorable events, trips and enrichment activities that have taken place in the first few weeks of term. Far too many to mention in entirety, and with some of the long list explained and showcased in more detail elsewhere in this newsletter, we will pick out just a few to give a flavour of the additional opportunities on offer at Calthorpe Park.
On the literacy front, we have celebrated Roald Dahl Day, Book Week and National Poetry Week with a wide range of super activities. Year 7 students enjoyed a Punctuation Show and Year 8 took part in a Reading Skills event. Our Scholastic Book Fair was great success with all year groups.
Off-site activities that have taken place over the past few weeks include the National Water Explorer trip to London, a visit to the Haymarket Theatre to see a performance of Dr Jekyll and Mr Hyde, the Year 11 Field Trip to Christchurch Bay and, as we write, our lucky students and staff who are participating in the Calthorpe Park Ocean Stars trip are watching elephants bathing at the Elephant Orphanage in Pinnawala, Sri Lanka!
Our Year 7s and their parents have had an especially busy half term. Students have taken part in our Rights Respecting School launch and, with their Year 11 partners, have done a brilliant job of proudly (and very competently) showing prospective parents around school at our Open Evening and Open Mornings. Their parents have been on site too, to 'Meet the Tutor' and to take part in our Year 7 Information Evening.
Year 11s are busy preparing for their Mock Exams which start shortly after half term. They have just completed Week 1 of their in-lesson revision programme and many of them are in school until 4pm each evening, taking part in the special after-school revision sessions that their teachers are providing for them. With their parents, they have also attended our Options at 16 and Mock Exams Information Evenings.
Our wonderful Model United Nations annual event demonstrated, yet again, that Calthorpe Park is a school with the widest ambitions and aspirations. It ran over a marvellous evening and day and was attended by delegates from 11 other schools and a range of other visitors, including our local MP. The event is fully described and illustrated in an article to be found later in this newsletter.
We could, of course, go on forever! We need little excuse to wax lyrical about the rich and varied opportunities that our students buy into and benefit from so actively….Prize Giving, Duke of Edinburgh event, Inter House sporting events, Race for Life, House Day - the list goes on.
And finally, we want to make special mention of the Drugs Awareness event that we held, this week, at Calthorpe Park. Dave Parvin, former Drugs Squad officer and now country-wide Drugs Prevention Educator, visited school to provide special information sessions for our Year 9, 10 and 11 students and a tailored after-school training session for our staff. In the evening, he presented a thought-provoking, illuminating and very well-received Information Evening for both our parents and those from Court Moor School. This was the first of a number of events that we hope to offer, in the future, to raise awareness of the dangers of substance misuse. On this occasion, we were delighted to work in partnership with Court Moor to provide information for our parents so that, together, we can support the young people of Fleet to make informed choices and keep themselves safe in a rapidly changing world.
Looking ahead to next week, although we recognise that not all will have the good fortune to be able to take some time off, we wish everyone associated with the school a very happy half term.
---
---
Friday 29th September 2017
As Autumn sets in, and the leaves on our Courtyard trees turn golden brown, we thought it would be a great idea for our blog this week to share a typical late September day at Calthorpe Park:
---
Friday 8th September 2017
This week's blog is relatively brief and simple focussing on welcoming everyone back after what we hope has been a wonderful summer.
We have been delighted to see the Year 7 students quickly settling into the lessons and school routines and thrilled to see so many examples of senior students positively helping them through the transition.
Year 11 have also returned with their eyes clearly on achieving excellent GCSE grades with the challenge to be the best year group the school have ever had, exceeding the very good grades that last year's leavers attained.
We would like to specifically welcome a number of new colleagues into the school whose presence allows us to state that we are fully staffed and looking forward to working with our outstanding teams and colleagues.
Ms Haggart joins us in Science; Ms Wrighton, Mr Sutton and Ms Scutter join the Maths team alongside the returning Mrs Ward and Mr Blake who will also be teaching some PE.
Ms Loosemore also joins us fulfilling a dual role in English and PE, while Mr Margilewski joins the Business Studies and Computing team. Ms Kearns joins us in the Music department.
Furthermore, we welcome Ms Robinson, Ms Bridgman and Ms Kelly to the Learning Support team.
We hope they all settle in quickly and enjoy being part of the Calthorpe "family".
We know from past experience this term, like every other, will be a busy one but we wish all the staff and every student the very best for the following weeks and look forward to celebrating their successes in future blogs.
---
Tuesday 25th July 2017
Here we are, at the end of another year already. And what a year it has been! A year in which 42 trips and visits and a huge variety of events, concerts and shows have taken place.
The list is far too long to report in detail but includes a very wide range of musical and dramatic presentations, sporting events, fair trade and eco school events, careers fairs, citizenship activities … the list goes on and on. Our annual Sports Day was definitely our best ever and this year's school show, Billy Elliot, was an absolute triumph! And all of this, plus a highly positive Ofsted visit in March and a very successful Local Authority Review in June, both externally validating our own self-evaluation, prioritisation and approach to improvement planning.
Ofsted headlines, of which we are particularly proud, spoke of our very clear and confident vision for the school, our strong set of values and clear expectations and our relentless pursuit of excellence. In short, 'The Calthorpe Way underpins all aspects of the school's work'.
Headlines from our Local Authority Review echo a similar theme, celebrating Calthorpe Park's many considerable strengths; our ambition and determination to secure continuous improvement, our effectiveness in driving this improvement and our ability to secure high standards of both attainment and progress.
We seize, whenever we can, the opportunity to recognise and proclaim the many and varied achievements of our students and are looking forward to our wonderful Annual Awards Ceremony. With such a fantastic year coming to a close, there will certainly be a longer list of successes to celebrate than ever before. It's the conclusion of our fourth year in post. Time really does fly!
This is a time of the year when, sadly, we say goodbye and farewell to colleagues who leave us to move on to pastures new – new schools, new roles or to a new phase in their life. We will miss them all; we wish them well for the future and thank them all, each and every one, for the great contribution they have made to Calthorpe Park School in so many ways in the time they have been with us.
Mr Downes has only been with us for a year but, in that time, has been an inspirational teacher, enthusing his students with his outstanding pedagogy. He leaves us to take up the job of his dreams, teaching Maths on a South Korean island! We hope that, if the call of adventure far away ever loses its charms for him, he will find his way back to Calthorpe Park. He certainly won't be forgotten.
Ms Man moves to take up a post in Berkshire. She has a fantastic work ethic and has shown super commitment in the short time she has been with us. We wish her all the best for her future success.
After 17 years with us in a variety of roles, from Learning Support Assistant through to Pupil Premium Academic Tutor, we say a fond farewell to Mrs Barton, who begins her retirement and is looking forward to a slightly slower pace of life. Her calm, caring and patient approach will be very much missed.
We also say goodbye to Mrs Brown, also a highly successful Learning Support Assistant, whose commitment to our students with additional needs has been one of excellence. She leaves us to take up a similar role in a local primary school and we wish her all the best as she moves cross-phase.
After eight years of great service we say goodbye to Mrs Coombs, who leaves us to take up the role of Head of Music at a school in Reading. Known for her energy, creativity and skill, both as a teacher and as a form tutor, we will miss her greatly and we wish her well in her new leadership post.
Mr Kisob leaves us to develop his own business and we wish him all the best in his new venture. We have very much appreciated his experience and positivity and we know both staff and students will miss him.
Mr Saddiqui joined CPS in November and, in the short period of time that he has been with us, has forged very good working relationships with students and staff alike. He leaves us to take up a post in a school in Qatar; we thank him for his contribution and wish him well in his future career.
Ms Francis joined us in September and leaves us temporarily to take maternity leave. We wish her joy and contentment in motherhood and look forward to meeting the new addition to her family in due course.
We say goodbye to two of our Learning Support Assistant team. Ms Henze and Ms Mitchell both leave us this summer and we thank them for their contribution and wish them well for the future.
Ms Beaveridge moves to take up an English and Drama post in the private sector and to gain experience of teaching at Advanced level. On joining CPS, she very quickly established herself as a gifted and motivational practitioner and we will miss her drive and excellent pedagogy. We thank her for the great contribution she has made to the English Department, and to the school, in the time that she has been with us.
Ms Macmillan is also moving on to join the private sector, having spent 17 outstanding years as Head of History at Calthorpe Park. All recognise Ms Macmillan to be a gifted, inspirational teacher and an excellent, highly skilled Subject Leader and we will miss her hugely. We wish her every success in her new role and thank her for her utter dedication and total commitment to the many hundreds of students she has taught throughout her years with us.
Finally, we say goodbye to Mr Bell, who joined Calthorpe Park in 1980, and whose 37 years of commitment to the young people of Fleet has been legendary, both as a teacher and in his roles, throughout the years, as Careers Coordinator, Head of Upper School and as Coordinator of Vocational and Work Related Learning and Citizenship. Mr Bell is a man of determination and strength of character who richly deserves, and is positively looking forward to the next phase in his life; we wish him every happiness and many years of active retirement. We know that he intends to enjoy every minute!
And, last but not least, we say our temporary goodbye to all within our Calthorpe community. We wish every one of you the very best of summers and we hope the sun shines on you, wherever you are and whatever you may be doing.
---
Friday 14th July 2017
There are two things that we wish to talk about in our blog this week; they relate to events in the school that have taken place during the past two weeks or so and they encapsulate the broadest and most powerful value of education, as well as embodying the very essence of the Calthorpe Way.
Ten days ago, we held our annual Sports Day. This was a mix of traditional sports day events alongside multi-sport activities (hand ball, rounders, softball, cricket, etc). The huge number of students competing in events was wonderful, as was the tremendous sense of collaboration and community, which was tangible. Achievement and effort were celebrated in equal parts with both first and last place being cheered equally in the races that took place in the afternoon. With the barbecue and refreshment stall running all day long, music to accompany events and an ongoing commentary, the feel was more of a festival of sport. Staff support for the PE team and student commitment to ensuring the day went well were both brilliant and we thank everyone for one of the best such days we have experienced.
Some students also put together a short film using the school's drone and we would urge you to watch the two minute piece to see both our excellent facilities and to get a flavour of a truly wonderful day.
This week has seen the culmination of months of hard work for the team that makes up the many and varied aspects of the production of Billy Elliot, The Musical. By the end of this week, 1,100 people will have seen the show which has a cast in excess of 60 and a support team that increases the number to beyond 80. The plaudits and standing ovations have rung out; everyone has been blown away by the talent and teamwork in evidence. The show is a complex and demanding one and the Drama and Music teams, led by Miss Oram and Mr Walker, continue to raise the bar in terms of aspiration: they dare to dream and take the students with them.
It is wonderful to see the lack of ego present as leads from last year's production happily join the chorus just to be a part of the experience; Year 11 who have now left us come back to share the sheer joy that the experience brings; everyone supports each other with a single ambition to put on the best show they can. The sense of discipline and endeavour alongside effervescent joie de vivre and fun is a powerful combination; something to which all of us involved in education can aspire.
Photo credits: Robert Oram
---
Monday 3rd July 2017
A time of 'goodbye' to our outgoing Year 11 and of 'welcome' to next year's Year 7
This time of year sees events occur which encapsulate the journey that our students make during their time with us at Calthorpe Park.
On the evening of Thursday 22 June, we stood in pleasant summer sunshine in the shadow of the grand Audley's Wood Hotel and watched our Year 11 leavers arrive for their Prom. Even the wonderful photographs attached do not do justice to the levels of sophistication, maturity, calm confidence and joie de vivre that these young people brought to the event. Always with good humour and good grace they chatted, danced and smiled through the evening: happy to talk to peers and staff alike. It was an absolute joy to be a part of this event and we wish them every success in the future.
Last Thursday, our current Year 10 , now our most senior students, took part in a World of Work and Mock Interview Day. A series of workshops on key interview techniques and work skills concluded with each student being interviewed for an imaginary job for which they had applied. They were allowed to dress as they would for an interview and how smart they all looked! Immaculate, mature, measured and incredibly grown up: they were a credit to the school.
And this week, we will be welcoming Year 6 students for two days of Induction to Year 7; the next generation of students to follow the Calthorpe Way. We eagerly look forward to meeting them.
Finally, to the many parents who have kindly written or spoken to members of the school following the departure of our Year 11s, we thank you for your appreciation of what the school tries to do, and for trusting us with five years of your sons'/daughters' education. Some of you were kind enough to heap praise on our school and its staff, but we would simply wish to thank our leavers for becoming young adults of whom we can be very proud.
And we look forward to watching our next Year 7 cohort follow in the steps of our leavers as they grow, aspire, achieve and inspire, just as those who have gone before them have done.
---
Friday 9 June 2017
In our May half-term newsletter, we mentioned our intention to introduce the next phase of our plan to ensure even better attendance by launching an 'Attendance Matters' initiative this half term. This will include a dedicated page for parents on our website through which we will regularly publish our attendance figures and other attendance-related information. In parallel, our in-school focus will also see the introduction of a range of competitions, incentives, prize draws and assemblies to help us promote and celebrate excellent attendance amongst our students.
On a daily, on-going basis, we have, in fact, been maintaining a real focus on attendance and punctuality since last Christmas. Both are good at Calthorpe Park but we need to make them even better! Since the start of 2017, senior staff have been out and about, braving the elements and welcoming students to school in the morning. They have been meeting and greeting students on their arrival and issuing short, snappy lunchtime detentions to a very small number of latecomers who have struggled with the requirement to be waiting to go into their tutor room on the bell at 8.40. To further support good punctuality, we now also shut the various gates to the site on the 8.40am bell, so there is no escape from the welcome party!
Punctuality is now generally excellent but we need to turn our attention even more closely to attendance.
Attendance percentages are not like examination results – an attendance percentage needs to be in the high 90s before it can be considered good and regular; we define 'good and regular' attendance as 96% or above. If a student is not in school regularly, s/he will miss out on learning and, in turn, this is likely to impact negatively on progress and, potentially, on well-being.
Unfortunately, our whole-school attendance for the Spring term fell this year, to just below 95%. We know that there were a plethora of bugs and colds 'doing the rounds' in the early months of 2017 (and a number of our staff fell victim to them also) but we now need to really drive this figure up as the (hopefully!) sunny and warm days of Summer beckon.
So do, please, look out for our Attendance Matters webpage which will be appearing shortly. We look forward to sharing advice, guidance and information on attendance with you and thank you, in advance, for reinforcing at home the importance and benefits of great attendance.
---
Friday 26th May 2017
It has been a short but eventful half term.
We received our Ofsted inspection report and were delighted to share it with our parents and the community. We also delivered special assemblies to all our students, speaking to them about what the inspectors had said about them - the high quality of their learning and engagement, their compliant behaviour and their respectful attitude - and we applauded them for being the asset that they so emphatically are to Calthorpe Park School. The report's clear recognition of the emphasis that we place at this school on the development of personal and social skills, our focus on the 'whole child', the strong and explicit values that underpin the 'Calthorpe Way' and the unfailing politeness and courtesy of our students are a source of great pride to us.
GCSE exams are now in full swing. Year 11 students are on Flexible Learning programmes, attending taught revision sessions relevant to their exam schedule. Pre-exam booster sessions have been incredibly well attended so far, despite the 8 am start for all morning papers, and students have also been participating enthusiastically in the post-booster refreshment programme!
This week, Year 7 students returned from a highly successful Osmington Bay trip. A member of staff who joined us this year told us, pre-trip, that he was really looking forward to accompanying his first group of CPS students on a school trip and that he expected it to be a great experience. On his return, he reported that both surpassed his expectations. We were not surprised!
Year 8 students have completed their Options process and are waiting for confirmation of subject choice allocation. Year 9 are busy preparing for their GCSE R.E. exam and the upcoming trip to the battlefields of France and Belgium.
With Year 11 no longer in school full time, our new Year 10 Senior Student Leadership and Prefect teams are proudly wearing their black sweatshirts, setting up their 'firms' and establishing themselves as our senior year group.
We would like to thank parents for their cooperation in supporting the school during the change of use of the former Hart Leisure Centre car park. At the end of the school day, the volume of traffic continues to cause congestion along Hitches Lane so we reiterate our request that parents maintain a free-flow of cars through the school drive and only drop-off along the marked bay at the front of the school.
Starting after half term, we will be reinforcing the importance of good attendance through the establishment on our website of an attendance page for parents - 'Attendance Matters' - which will include weekly publication of attendance information and data. In parallel, our in-school focus on attendance for students will see new House Boards with similar attendance information in the main downstairs corridor. This will be supplemented by incentives including competitions, prize draws and celebratory assemblies to support the improvement of attendance still further.
Finally today, the day we are writing our introduction to this Newsletter, the whole school observed, impeccably, one minute of silence at 11 am in recognition of the Manchester tragedy and in memory of those who died in it. At times like these it is incumbent on us all to take more care, to be more aware and to remember that, whatever the highs and lows of our daily routine, life is precious.
---
Friday 7th April 2017
Another half term that has been packed with events, activities and trips, as well as much hard work and, last week, a visit from Ofsted.
Our 'Revise and Refresh Programme' with its daily pre- and post-school subject revision sessions to support our Year 11's in the run-up to GCSE exams is in full swing. Year 10 exams have just been completed and our Year 8 students are now embarking on the GCSE Options process. A busy time for all!
On the extra-curricular front, Eco Week and the Great British Clean Up were a great success, as was our Comic Relief Student and Staff Bake Off ….. you can read about, and see photos of both in this Newsletter. Our students have loved reading this half term! We celebrated World Book Day with staff reading a section of a short story at the start of each lesson throughout the day, meaning that by the end of the day all students and staff had enjoyed a complete story. We've also launched the Hampshire Book Award and Carnegie Medal reading initiatives; and our Year 9's have enjoyed a Shakespeare Theatre Company performance.
Our menu of events and trips this half term has been wide and varied. Our students have hosted our annual Fair Trade Conference for primary school guests; our Music Review was a joyous celebration of the Spring's arrival; a group of our older students have visited the Houses of Parliament and watched Prime Minister's Question Time; and Inter-House Sport has taken place. Our Year 8's enjoyed a fabulous residential trip to York; Year 10 geographers have been on field trips; and our choral group has very successfully taken part in the Bath and Mid Somerset Festival of Music. Our annual Community Snowsports Experience sets off for Italy on the final day of this term.
Auditions for the cast of this year's production, the wonderful 'Billy Elliot', have taken place and we excitedly await what we know will be an amazing show scheduled for the end of the Summer term. Recent weeks have also seen the appointment of our new Prefect Team and we have interviewed and appointed an excellent new Student Senior Leadership Team. They will be writing to parents to introduce themselves after the break.
Sadly, we must say goodbye to Mrs Anderson who moves on to a post in a Surrey school where she will have the opportunity to teach to A Level. Mrs Anderson has been with us since 2011 and, in this time, has proved to be a truly outstanding teacher capable of inspiring her students to achieve the highest standards. We will miss her utter dedication to those she teaches and wish her all the best for her future career.
The start of the Summer Term will see us welcoming two new colleagues to our staff.
Mr Matharu will be joining us as Head of Computing and Business Studies and Mr Robbins will be joining the Modern Languages Department as Assistant Curriculum Lead. We wish them both a long and happy career with us.
We will also be writing to you in the new term to convey the outcomes of our recent Ofsted inspection. We await receipt of the final report and very much look forward to sharing this with you as soon as it is published.
And so, we are ready to start our Easter break - lots of chocolate, a modicum of relaxation and plenty of sunshine, we hope!
And we wish the same to you all, our staff, students and parents, and we thank you all for your ongoing support.
Don't forget to take part in this newsletter's Easter Egg Hunt!
Happy Easter!
---
Friday 10 March 2017
This week we have handed production of the blog to our wonderful Senior Student Leadership Team.
Hello, we are the Senior Student Leadership Team (SSLT) and as we are now coming to the end of our time as Head Boys and Head Girls of the school we have been asked to reflect on our time here. As GCSEs approach we are faced with the imminent prospect of blood, sweat and tears plaguing the last few months of our time at school…but let us not wallow in our sorrows and instead reminisce about the good times at Calthorpe Park.
The time we spent in the lower school seems a world away now, when our biggest worries were forgetting our apron for Food Tech or maybe having to complete a 4-week History project the evening before it was due in! Our life was scattered with pockets of free time where we could relax, and if you weren't ridiculously afraid of failing that all-important PACE test, maybe even take a weekend off work…but this was only for the adventurous type. Despite this freedom that our lives outside of Calthorpe Park contained, our school certainly kept us busy! Those three years were filled with incredible trips: Osmington Bay, York and the illustrious Battlefields Trip, which never failed to produce unforgettable memories. Events, activities and performance opportunities littered our school lives. Many of us wish that we could turn back the clock to those care-free days, but unfortunately that is not to be. Let us take counsel from possibly the greatest Disney characters ever to be established: 'I never look back, darling. It distracts me from the now.' – Edna Mode.
At the end of Year 10 we faced the rather serious prospect of responsibility… In some cases this was long awaited, but most of us were soon to discover the heavy pressures (although usually enjoyable!) this can set upon you. We, along with many students, applied to take the prestigious position of Prefect due to our (newly-found, it would seem) desire to serve our school community. Following this we were then given the opportunity to interview for the SSLT. The interview process was of the utmost formality, and we discovered that we had never truly appreciated the effect of sitting in front of our rather fearsome head teachers. But fortunately we managed to pull together whatever nerve we had left, and our efforts were rewarded.
Last week we hosted the annual Fairtrade conference run by REaL3 and SSLT. On this day we invited 80 Year 6 students to join our Calthorpe ambassadors in learning about Fairtrade and its benefits. This was achieved by students from each group taking part in various activities such as orienteering, smoothie tasting, party games and Creative Fairtrade. We also offered African drumming (a definite hit among students!) in which one of the groups recorded a performance which was then shown to the rest of the students in the final presentation.
The main task of the day, however, was to create a presentation of a Fairtrade product given to each group. These groups were made up of students from both the junior schools and Calthorpe Park. There were, of course, a few rules to this presentation! The presentation had to include a PowerPoint, poster, leaflet and the all-important costume! At the end of the day we all received a stunning variety of presentations, and the amount of effort put in by the students was truly incredible. We would like to congratulate all teams for their fantastic efforts and enthusiasm throughout the day.
Other than the Fairtrade conference we, as a team, have achieved some incredible things, and we have all gained something from our experience. Some of our most notable events included the SLUGG Walk, MUN, the Christmas Fair and the Induction days in the summer. Others of us have managed large groups of people such as the Prefect Team and Speakouts, with positive outcomes along with a few moments of stress! Thank you to the House Captains for your assistance with Speakouts, and to the Prefect Team for your hard work and dedication. Our time as SSLT has been an incredible opportunity to develop our skills (although it may not have seemed it at some points!) and we have gained vital knowledge and experience which we will take through life. The last few months have been a time that we will never forget, and we owe huge thanks to the staff who have supported us throughout it. We wish the future Senior Student Leadership Teams luck in their roles, remind them that sometimes a little stress is healthy, and hope that they gain just as much from it as we did.
---
Friday 3 March 2017
This week has seen two wonderful events going on in school alongside a few trips and the launch of this year's school show: Billy Elliot, The Musical.
The first of the events was our annual Fair Trade Day which was run by our students for local Junior Schools. The Senior Student Leadership Team will be writing next week's blog and so we will leave it to them to say more about the content of the day, but we must just take this opportunity to acknowledge both their skilful and meticulous organisation of the event as well as the care and commitment of all the students involved. It was a wonderful event, much appreciated and enjoyed by all our visitors.
Thursday was World Book Day and alongside the issue of a £1 Book Token to all our students, we enjoyed a range of activities which included competitions and free books. Throughout the day, every member of staff read a section of a short story to their class, part 1 in period 1 and so on. The story, by Anthony Horowitz, was entitled Killer Camera and had us all on the edge of our seats as the tale gradually unfolded throughout the day. It was a wonderful idea and really focussed us on the importance of reading for pleasure as well as to improve our literacy skills and find out information. We cannot stress how vital it is to encourage young people's reading skills and to nurture a love of reading; it has a profound impact not only on their success in school but also gives them access to worlds, ideas, images and tales that will excite, intrigue, challenge and inspire.
While reading and literacy are key parts of improving a young person's chances in life, it is also important that they understand the importance of actually being in school. In these grey days of winter and early Spring, it is easy to struggle to get out of bed and make it into school. This has always been the case (even Shakespeare wrote of the "…whining schoolboy, with his satchel and shining morning face, creeping like a snail unwillingly to school), but statistics clearly demonstrate that attendance and achievement are closely linked.
95% needs to be our minimum expectation for attendance as this gives a student a statistically very good chance of achieving their potential. Should an individual student's attendance fall to 90%, this would equate to them missing one session (a morning or an afternoon) every week! Over the course of their 5 year secondary education, this would equate to half a school year missed!
Evidence indicates that missing 19 days a year results in achievement of one grade lower across all GCSEs and, should a student's attendance drop to 90%, he or she will have less than a 50% chance of achieving their expected progress; this drops to less than a 30% chance for 88% attendance.
These are not our figures, they are facts generated from countless schools and countless students.
Attendance matters.
We ask for everyone's support in ensuring that every student's chances of success are maximised.
---
Friday 17th February 2017
We've made it! Despite an unprecedented share of bugs and viruses this half-term, amongst both the student and staff bodies, we have got to the mid-point break and can now look forward to a very well-deserved few days of rest and recuperation.
It has been another jam-packed half-term. We started the new year with an excellent GCSE Revision Day, which included a morning of 'Ace your Exams' and 'Memory Mnemonics' for our Year 11 students, an afternoon session for teaching and classroom support staff and an evening especially for parents which outlined strategies and suggestions to use at home to support our students as they prepare for their GCSE exams. This revision event was held on 4th January and 193 of our Year 11 (89% of the year group) voluntarily gave up their final day of the Christmas holiday to attend. Well done, Year 11, we were highly impressed by your commitment and delighted with your 99% positive feedback.
Despite the cold and wintry weather, this half term has, once again, featured a rich menu of trips, extra-curricular activities and in-school events. These have included STEM Lego League, Snowsports Dry Slope lessons, Calshot residential, a Music trip to Blackheath Hall and GCSE Science Live at the Apollo. As we write, we are delighted to welcome to our Music Department a group of children and teachers from Tavistock Pre-School, who have come to share in a Chinese New Year Music Festival organised for them by Mr Walker and the Ceilidh Band.
In-school events have included Year 9 Find a Future Day, Years 9-11 National Maths Challenge and our annual Week of Change event, which focuses on the United Nations Convention on the Rights of the Child and takes, each day, a different right which forms the basis of a range of student-led activities at break and lunchtime. The Week of Change concluded with a 'Teacher Swap', which saw over 170 students working with their teachers to plan a lesson that they then delivered to their peers. Such was the students' enthusiasm that over 50 lessons or part-lessons were delivered by them across 14 subject areas. A remarkable achievement!
So we are all eager to experience a half-term week of relative calm, post-6am lie-ins, and some lazy, work-free evenings. And then there's masses to look forward to after the break…… applications for, and appointment of our next Prefect Team, our Fair Trade Conference, the Year 10 Geography Field Trip, World Book Day and related events…. and that's just the first week back!
Happy half-term to you all.
---
Friday 3 February 2017
"Times they are a changin'!"
It's a changing landscape in so many aspects of life at the moment.
On a global scale, we have Brexit, President Trump, the threat of terrorism and, to lighten the mood, Beyoncé's changing profile!
On a local scale, as we pause for a moment to glance out of the window, we see Edenbrook continuing to grow and a nearly completed Leisure Centre across the road.
In education terms, the current Year 11s are preparing for brand new GCSEs in English and Maths that will be graded on the new 9-1 system this Summer. This will be supported by our revised 'Lesson 0 and Lesson 7' intervention programme, "Make a Difference".
These changes will gradually roll out across all the year groups and are having a direct impact on our teaching and learning, bringing additional challenges and requiring all of us to embrace the growth mindset approach that underpins 'The Calthorpe Way'.
We have also had something of a drive on morning punctuality recently and are delighted to report a change in this area too, with a steady improvement; we appreciate parental support in ensuring that students are here on time. Next week we will continue our Prepared and Ready to Learn programme with a particular focus on ensuring that all students are properly equipped; once again, we would welcome parental support in this matter.
Next week at Calthorpe Park is our annual 'Week of Change' which focuses on the United Nations Rights of the Child. A wide range of related activities are scheduled, concluding next Friday with a 'teacher swap' whereby a number of lessons will be prepared and taken by students, in place of their teachers, thus encouraging responsibility, awareness, organisation and planning.
Change is inevitable and might not always be to our liking; our challenge is to make the changes positive, dynamic and advantageous. Making the best of everything and never giving up.
"Education is the most powerful weapon which you can use to change the world" (Nelson Mandela)
"Change will not come if we wait for some other person or some other time. We are the ones we have been waiting for." (Barack Obama)
---
Friday 16th December 2016
As we approach the end of another year, we think back over the weeks, months and terms that seem to have sped past so very quickly. It has been another incredibly busy but highly rewarding and very successful year. A year in which our (now former) Year 11 students achieved some outstanding GCSE results and in which the programme of trips, visits and enrichment activities offered and taken up by our students in all year groups has been the broadest and most diverse in the school's history. With a student roll of 1,172 we are fully subscribed, fully staffed and have the best-resourced, most well-appointed and spacious school we could ask for; 2015/16 has truly been a great year.
It has become somewhat of a tradition since we became Headteachers for us to share with parents, via the newsletter, the address which we deliver to students at end-of-term events. The theme of our Summer Awards Ceremony was 'change', reflecting the change from work to play, from one year to the next and, in some cases, from one school to another, that different members of our Calthorpe Community were about to experience before the start of the new school year in September.
Well, here we are, already at the end of another term, with Christmas fast approaching. And so we share with you below a glimpse of the message with which we will conclude our Christmas Assembly on Friday.
'At the Awards Ceremony in July, we spoke to you about the amount of change that had occurred in the world and in our lives during the previous academic year. Since that assembly, the momentum of change has not slowed; if anything it has accelerated.
Ten years ago, a company endeavoured to project into the future to predict things that they thought would come about within a decade. They didn't get it completely right as one prediction was that, in 2017, the first human head transplant would take place… now there's a thought! But in other areas, their forecasts were uncannily accurate. For example, they predicted a major crisis in Yemen, something that is sadly already happening and is likely to worsen.
It was also predicted that, sometime next year, due to urban expansion, nine cities in China with populations of several millions will merge, so creating a mega-city with a combined population of 42 million; this compares with the population of the entire UK, at 65 million, and plans have been in place since 2011 to move towards just such mega-cities in a number of global locations.
Another idea was that by 2017, the number of web-connected "smart" devices would exceed the population of the world. This would mean that there would be more than 7.2 billion gadgets in use around the planet. This figure has already been exceeded; in fact, we went past it three years ago! The number of such devices is increasing five times more quickly than the population, meaning that every second, ten more tablets or phones are connected.
And in terms of education, the group foresaw the growth of virtual schools, where students sit at home and study via skype, email and web-based resources. No social interaction! No social education!
In some countries this is already happening in more remote areas but the idea is being explored in cities as well. Indeed, in Hampshire, some students who are ill or, for various reasons, are unable to attend school, learn from home via a virtual learning environment. Similarly, they predicted that education would become a defining feature of not just an individual's future success but of an entire nation's. In some countries, parents are paying for private tutors for children as young as three. In Shanghai, for example, parents are paying to have their three year old child's brain waves analysed to figure out what kind of subjects they should specialise in at school, so that parents can support them to succeed. The word 'competition' has become a watchword for them as they aspire to be the best they can be in everything they do, both as individuals, and as a country.
This is the world we live in. This is your world.
Things change. We must adapt to survive.
Who would have imagined that Facebook would become such a global force and that its fake news could change the destiny of a nation? That hackers would be able to bring a business to its knees, and possibly a country? Who would have imagined that the new iPhone 7 would not have a headphone jack!?
Change happens. It happens in technology but change also happens to you; it happens at home, in school, in Fleet, as well as in the world. And it's how we adapt that matters. How resilient we are. How we seize opportunities to ensure that we are well-placed to compete and succeed in the world as future employees, employers, carers, parents, friends. That is what will make us who we are and who we will be.
Our country is facing a crisis at the moment in terms of education, health and social care. It is sometimes easy simply to blame a lack of funding and, whilst this is often a key factor, it actually goes beyond that. We can live healthier lives to cut down on the impact on the NHS of avoidable illnesses and injuries. We can recognise, appreciate and support the benefits of the education we receive for free and not disrupt, disturb or be negative in lessons so that everyone can succeed. And we can care. We can care about ourselves, about each other, about our family, our friends. But perhaps the most important thing at this time of year ...... we can care about those who are less fortunate than us. And there are so many people who are.
This Christmas, our challenge to you is not just to say you care but to show you care. Do something that brings a smile of gratitude or appreciation to someone's face, an elderly person, a lonely person, someone down on their luck, someone unhappy. Do it not for a gift or for a reward but for the right reasons. We talk about integrity as doing the right thing even when no one is watching. Over this festive season, show integrity: give without expecting to receive; brighten someone's life by your company, your politeness, your help, your care. That is the greatest gift you can give and the greatest gift you can receive. Even better than an iPhone 7, with or without a headphone jack!'
A Merry Christmas and a Happy and Peaceful New Year from us all at Calthorpe Park School.
---
Friday 2nd December 2016
Magic moments…..
A very brief blog from us this week, just to highlight three moments during the past few days that have truly captured something of the essence of the school.
A prospective teacher at the school came to have a look round and was taken on a tour by two young students. Upon his return, he spoke of their honesty and openness, their positivity and their palpable pride in the school of which they are a part. He immediately applied for the job!
Four Year 11 students represented the school's STEM (Science, Technology, Engineering and Maths) Club under the direction of Mr Hainsworth at a national awards ceremony at the House of Lords. The following day we received an email from someone who had also been at the ceremony and who had met our students. The email stated, "It was a pleasure to meet them. They were very professional, mature and had such enthusiasm for the great work they had done. They were a credit to the school and to themselves."
Finally, we held our Interhouse Music Competition this week. It was a wonderful event that will be reported in detail in the Christmas Newsletter, but during one solo performance, having sung beautifully, one student slightly forgot her words. As emotion swept across her face, the entire student audience, irrespective of age and house allegiance, instantly began to sing the song for her, to her ….and with her.
Confidence, commitment, care, compassion, community...
Calthorpe.
---
Friday 18th November 2016
And so to the end of the busiest fortnight ever!
Week beginning 7.11.16: Full Governing Body Meeting on Monday Evening and Governors' Finance and Personnel Committee on Tuesday evening. Wednesday evening saw us at both a CPSA meeting and an Ocean Stars Event. Thursday? Our annual Certificate Evening and what a fantastic event it was. Attended by 140 ex-Year 11s and their parents, it was an absolute joy to meet up again with such delightful, dynamic and incredibly grown-up young adults.
On Friday 11.11.16 at 11am, the whole Calthorpe community joined together to hear the Last Post played, from the courtyard balcony, by one of our Year 10 students and to collectively observe two minutes' silence in honour of those who have given their life in war.
On Sunday afternoon, with two of our Senior Student Leadership Team, we attended the Fleet Remembrance Service. Afterwards, in a very moving ceremony, our students read a poem of remembrance and laid a wreath at the War Memorial in Gurkha Square.
This week has been less hectic, meetings-wise, but has nevertheless seen our current Year 11s embark on the first week of their GCSE Mock Exams. And they have done so with exemplary behaviour and great focus.
We have also completed the first of this year's Calthorpe Lesson Standard events. Over two days, every teacher has been observed by a member of our Senior Leadership Team and we have seen many fine examples of inspirational teaching by our dedicated colleagues and learning by our intellectually curious and creative students.
Feeding back, individually, to each colleague is a great opportunity for us all to engage in vital pedagogic discussion and to engage in reflection on what constitutes outstanding learning and learning dispositions – which is surely what education is all about?
---
Friday 21st October 2016
This half term has, as ever, been an incredibly busy and full one packed with events, trips, activities, successes and achievements. There are far too many to mention individually and we are delighted that most of them are mentioned at various points throughout this Newsletter.
We would, however, like to pay tribute to everyone who has organised, facilitated or been involved in any of the many, varied and rich range of opportunities that have occurred in the last few months. It is sometimes quite easy to lose sight of how incredible the staff are at this school; how amazing our students are year after year; and how lucky we are to be Heads of such an organisation.
Last year's exam results are beginning to be able to be seen in a wider context and early indications are that, despite all of the pressures and changes, our students have done wonderfully well. We will publish more information when it has been finalised and validated but we look forward to celebrating this success with the leavers of 2016 at their Certificate Evening on 10th November.
We were also so impressed with the students who supported us during the Open Evening and Open Mornings, helping and talking to visitors with consideration, thought, intelligence, pride, courtesy and independence. They continue to be our best ambassadors and our finest advertisement.
From another perspective, we held our annual Model United Nations event a week ago and, once again, all of our many and esteemed visitors were so impressed by the dedication, passion, compassion and intellect of all of the students. One visitor commented that it "gave you confidence that the future is in safe hands".
At a conference last week, a senior member of Ofsted spoke and said that every so often Headteachers should take a step back and admire everything that is good about their school, even at times to go "wow". In a busy day, week, half-term, it is not always possible to do that but when we do, when we read through the Newsletter about all that is going on, we never cease to be impressed, even "wowed" by everything.
Thank you to everyone for their ongoing support.
---
Friday 7th October 2016
Generosity of spirit, cakes and impromptu fire drills!
As the school year continues to move forward, so we at Calthorpe Park continue to do the same.
Open Evening was the highlight of our week, with students and staff showing our many visitors just how fantastic a school we are. With so many activities and experiences on offer in the various subject areas, guests at the school were bombarded with choice and were able to get thoroughly immersed in the many aspects of Calthorpe Park life. So much so, that even the Science Department's over-enthusiastic use of Bunsen burners, and an impromptu fire drill, couldn't dampen their spirits! The sheer volume of people on the school site was a joy to behold, and made the efforts of everyone involved particularly worthwhile….even if the students (and staff) appeared a little tired the next day! A huge thank-you to all involved, it was truly a team effort and a fantastic success.
Not content with their very active role in our Open Evening, the Senior Student Leadership Team also organised our annual Macmillan Coffee Morning this week. Again, the whole school community got involved in some capacity. Whether it was making and bringing in delicious cakes to sell, wearing Mufti, donating directly to charity or having to contend with the 'hardship' of buying and consuming a scrumptious treat and hot drink at break, everyone played their part in raising a large amount for charity. Needless to say, such was the students' 'appetite' for this event, it was a total sell-out by the end of break!
The week will finally end this evening when various teams battle it out for the title of 'Calthorpe Park Quiz Champion'. Our CPSA supports the school in so many ways, and events such as these play an important role in their fund-raising efforts. With a Quiz Master who relishes the challenge of setting a puzzling set of questions, it is never a foregone conclusion who the winners will be. However, whatever the outcome, the journey is always more important than the destination, even for those who don't quite make it and who are left to console themselves with a plentiful and tasty curry.
We never cease to be amazed by the kind and generous nature of our students, parents and staff and that is something that is never taken for granted. But it is lovely to witness and be part of such a spirit on a daily basis, no matter what is going on at Calthorpe Park School.
---
Friday 30th September 2016
A very hectic, but typical week at Calthorpe Park!
What a busy but fantastic week!
Our annual Prize Giving Ceremony, in the Hart Leisure Centre on the evening of 22nd September, was a wonderful evening of celebration. Having recognised the superlative achievements, academic, personal and community-based, of over 220 students at our July Awards Ceremony, and at a special Award Winners BBQ on 16th September, Prize Giving was an opportunity for the parents of our Award Winners to come along, share in the celebrations and to proudly watch as their sons and daughters were recognised for their successes. We, and our staff, welcomed in excess of 450 parents to the ceremony and awarded 165 Subject Awards and 149 Pastoral Awards. An amazing achievement!
On Sunday 25th September, our Race for Life was held on the school site. Organised by Ms Perez in support of Cancer Research UK, 75 students, family and friends turned out in a range of fancy dress on a crisp, autumnal Sunday morning to complete the course (2.5 or 5 kilometres, according to choice and personal fitness levels) and to raise over £900 for this excellent charity. Thanks to our CPSA whose refreshments were a great pick-me-up for tired but elated participants on completion of the race.
On Tuesday 27th September, all our Year 7 and 8 students were treated to the Punctuation Show in our Hall. Presented through song, dance, joke and interactive quizzes, who could have guessed that learning how to use grammar well could be so very entertaining and such fun! And we were particularly delighted by the very positive feedback from the guest presenter, Barrie McDermid who wrote: ' I'm now back home safely and would like to thank you for your wonderful hospitality. During my visit to Calthorpe Park, I found that my conversations with staff illustrated the school's commitment to achieving great results and the students seemed very well-balanced and happy. Their manners were flawless and their courtesy was outstanding. All staff were enthusiastic and supportive of each other and gave me the impression that Calthorpe Park is as nice a place to work as it was to visit'. What a superb accolade! And a big 'thank you' to our excellent new Librarian, Mrs Ward, for organising this very impactful event for our students.
On the afternoon of 27th, we held our 'Meet the Tutor' Interviews. A great opportunity for our new Year 7 parents to come in to chat to their son or daughter's new Tutor and to find out just how well they have settled into life and learning at Calthorpe Park.
On Wednesday 28th September, we held our Options at 16+ Information Evening which was very well attended by our Year 11 students and their parents. Representatives of local colleges, apprenticeship providers and the Careers Service were present to advise on wide-ranging aspects of college life and post-16 pathways and this was an excellent start to the process our Year 11 must now embark on as they plan for life after Calthorpe Park. This final year with us will go by so quickly for them!
Thursday 29th September was a whole-school Mufti Day in support of our Ocean Stars Charity. Over £900 was raised, which was a fantastic sum that will be added to the £8,400 already raised this year by the students and staff who will be travelling to Sri Lanka in October. This money will be used to benefit the local schools, and their students, that our party will work with during their 10 day trip.
And finally today, Friday 30th, an INSET Day and school closure for our students but a busy day of Performance Management, Subject Self Evaluation and Improvement Planning for 2016/17 for our staff.
Just a flavour of a very hectic, but typical week at Calthorpe Park!
---
Friday 16th September 2016
Having now completed a full week of the new timetable and new year, we want formally to welcome back all of our students and colleagues and, in particular, all of our new staff. It is quite a long list of new faces that join the Calthorpe community but as the school grows, our staffing must reflect the need to retain the same size of teaching and tutor groups, something that is core to our beliefs and standards.
Mr Roberts joins us as Associate Leader with responsibility for Maths and Numeracy having previously held a senior position in a school in Basingstoke. He has settled in quickly and is already building on the reputation of the department as well as the skills and qualities of the team around him.
Joining Mr Roberts in the Maths team we are also delighted to welcome Mr Downes, Ms Man, Mr Kisob and Ms Webb. Mr Downes is a highly experienced and successful new colleague who was previously a Lead Teacher of Maths; Ms Man has worked in a number of local schools with success; Mr Kisob was based in a school nearby until this year and came to us with an excellent reputation; and Ms Webb has travelled to us from Australia where she was previously Maths Curriculum Adviser for the State of Queensland. We have been extremely lucky to recruit such highly skilled, qualified and experienced staff into a subject area that is a shortage one nationally.
We were further delighted to recruit Mr Jones as our new Head of Modern Languages. A very experienced Subject Leader in two schools previously, he has held a whole school position at a school in Reading but returns to his first love and subject specialism in his new role with us.
Two new colleagues have joined the History Department, Mr Redman and Ms Williams. Both have been successful subject specialists in other schools and, once again, we are delighted to have been able to recruit such experienced colleagues.
Mr Irvine has taken up a post in our Computing and Business Studies team and also joins us having held more senior positions elsewhere; he is looking forward to getting back into the classroom and working with our wonderful students.
Ms Blake and Ms Hadley join our Drama Department with additional roles in promoting literacy. Ms Hadley was with us for a few weeks at the end of last year and they have both started with great enthusiasm and creativity… as you might expect.
Ms Francis and Mr Barrett are also new colleagues who joined us for the final part of last term, moving seamlessly into the RE/Psychology and Science departments respectively. We also welcome Mr Ferry to the Science Team. Mr Ferry will this year work part-time with us here at Calthorpe Park and part-time in the Science department at Farnborough Sixth Form College.
Another new colleague has also made the long journey from Australia, and we warmly welcome our new member of the English Department, Ms Brown.
Mrs Griffiths is a highly experienced and specialist teacher who joins our Learning Support Department. We are delighted to welcome her to Calthorpe Park.
We offer the warmest of welcomes to all of our new colleagues. We also express our admiration for how quickly they have settled in and the high standards that they are all setting right from the start. We look forward to working with them and to the contribution we know they will make as we move the school forward and develop yet further success in the future.
On the subject of success, we must conclude by paying tribute to all of the staff who worked with our Year 11 leavers to achieve such great results this summer, the details of which were published a few weeks ago. We know that large numbers of our former students will be starting college or apprenticeships or jobs around this time and we take this opportunity to congratulate them on their excellent GCSE outcomes and to wish them every success and happiness in the future.
The 2016 leavers set a very high standard and we challenge our current Year 11 to aspire to be even better than their predecessors (they certainly have the potential) and thus inspire younger generations of Calthorpe students to continue that improvement, year on year.
Finally, we thank you all for your support on the matter of uniform this year. Almost without exception, students have returned looking immaculate so enabling us all to concentrate on the business of learning.
Welcome to the new school year.
---
Tuesday 19th July 2016
We love the chance to celebrate the many and varied achievements of our students and are so looking forward to our wonderful Annual Awards Ceremony on Tuesday. We can hardly believe that we are, yet again, at the end of another year. It certainly has been a busy one with many changes and even more successes. And it is the conclusion of our third year in post. How time flies!
And during those three years, it has become our tradition, each July, to convey to parents, via our final Newsletter of the year, our Annual Awards Ceremony Concluding Address to Students. We reproduce it below; its theme this year is 'change', reflecting the change from work to play, from one year to the next and, in some cases, from one school to another, that different members of our Calthorpe Community will be experiencing in the weeks to come.
But before we record our address, we wish to record our bitter-sweet feelings as we say goodbye to a number of colleagues this academic year. Sad to lose them, but delighted for them as they move on to new roles, new schools and new phases in their lives, we send them off with our very best wishes for the future and thank them for all they have given to Calthorpe Park School:
Mrs Binding moves on to teach History, and to return to Advanced level teaching, in the private sector. We will miss her excellent pedagogy and constant drive for excellence.
Mr Burrell moves to take up a Progress Leader role in a school in a nearby town. He has done a sterling job as Pupil Premium Lead this year and we wish him well on his promotion.
Ms Clay leaves us after nearly 11 years. Known for her commitment, dedication and excellence, both as a teacher and tutor, we will miss her greatly and wish her well in her new role in the private sector.
Ms Ellis has only been with us for a year but she has made a real difference in that short time. We are very grateful for her contribution to the teaching of Art in school, for her positivity and thoroughly caring approach.
Moving on for family reasons, we wish Mr Goddard every success in his new job in Bournemouth. He has been a dedicated and deeply caring teacher who will be greatly missed.
After being with us for effectively two years, Miss Salter also leaves us to extend her knowledge and experience of A level Maths at an independent school. We wish her well.
We must also say goodbye to Mrs Ward, who has decided to take a break from teaching. We would like to assure her that her experience and commitment to our students will be missed and, if she ever wanted to come back…
Mr Gueye has been with us for three years and moves on to teach A level Maths. He has been a dynamic, committed and utterly dedicated teacher with a wonderful sense of humour and integrity. He will be greatly missed but has assured us he will be back!
Mrs Ryan also leaves us, having retuned just briefly after the birth of her daughter. She is moving back to Ireland, to be near family and to enjoy her little girl growing up. We wish her every happiness.
Similarly, Mrs Franks is not returning after her maternity leave, having moved to Kent to be near family and for her husband's job. She was an outstandingly effective teacher and hugely well organised. We know that the school and the students will miss her.
Mrs Wilson moves on to take up the position of Subject Leader of Maths at a school in Basingstoke. She has made a great contribution to Calthorpe Park over the years, and especially this year, when she has led the department onwards, under difficult circumstances, and we thank her for her professionalism, commitment and focus on the students.
Finally, we have to say goodbye to Mrs Wood. Mrs Wood started at CPS in 1977 and her record of dedication and commitment to the young people of Fleet has been truly astonishing. She has fulfilled various roles in the school but always with the optimum sense of caring deeply about the lives of the young people she has taught and tutored. She has made a truly significant difference to so many lives and is hugely appreciated throughout the Calthorpe community. We wish her every happiness and many years of enjoying a richly deserved retirement.
And so to our Awards Ceremony Address:
'This last year has seen some big changes at Calthorpe Park. The new building is complete and we are pretty much fully moved in with the other refurbished rooms, hopefully being ready for September. Alongside such changes in our school, we have seen the new Leisure Centre taking shape across the road and the ever growing number of houses being built in Fleet.
We have seen quite a few new staff arrive this year and have welcomed them into the Calthorpe Community. We will see more arriving in September and we know that you will welcome them also. And sadly, today we have to say goodbye to some, who move on to new schools, new opportunities, new chapters in their life.
But before we move on, it's worth stopping a moment to reflect on those staff. Your teachers. All of them. They work such long hours and with such dedication to help you learn and progress. To provide you with opportunities to grow. To help you change for the better.
It's easy, when you are young, to dismiss adults as not knowing what it's like, not being fair, not understanding. But we do understand, all too well. Some of us have been doing this job for a long time. We have seen not just the one childhood or adolescence that you are experiencing now, in your life, but literally hundreds, even thousands of them. We do know what is best for you.
You should thank your teachers every day for what they do. Just as we stand before you now and thank all the amazing staff of Calthorpe Park for everything they do, day in and day out, for you, for us and for our wonderful school.
But it's not just at CPS that changes have taken place….
This year has so far seen considerable change in the wider world too. We have seen a Prime Minister move on; an England Manager move on; a country move on. Whether these things are for the better or not is not the most important point. What matters is that everyone works for success.
The world has also been a troubled place at times this year. We have watched in horror as atrocities, injustice and inequality have occurred in so many places and in so many ways. We have had our thoughts filled with the pain of others' loss and felt sympathy for the lives that many are forced to live.
Through all this upheaval, we must constantly reflect on our own lives, consider our own skills and talents, the opportunities we have, and ask ourselves what we can do to make things better.
What can we change to improve the here and now?
What can we do to improve the lives of others?
What can we do to improve ourselves?
Because change must be welcomed. Progress goes on in spite of some of us, of a certain age, nostalgically looking back and thinking... even saying.. 'It was better in my day'… Whether it was or not is open to debate. We have to change to move on, to develop, to progress, to make improvement.
The theme of this year's assembly is Carnival and this also reflects the theme of Friday's SLUGG Walk also. The Rio Olympics start in just a short while. Across the world, people will be putting the final preparations to their training for their events. The culmination of years of endeavour, focus, commitment and dedication. Years spent fine-tuning performances to save a millisecond here, to jump a fraction further there, to be just a tiny bit stronger, better…... Sweating the small stuff to make the big differences. To be the very best they can be. All of this in the land of the carnival. A joyous celebration of life and the fun of life. It is full of tradition but it also embraces the very best of the new.
Never lose sight of the need to push yourself as far as you can, but always do it with a smile on your face, with belief in your spirit, with joie de vivre and the expectation that you can succeed.
Many centuries ago, the philosopher Socrates wrote "the secret of change is to focus all of your energy not on fighting the old but on building the new."
That is your job. Your role. To build the new. We will help and support you to do that but you are the next generation. Whether that is in the next year of secondary school or as the next wave of leaders, your job is to learn from your mistakes, to progress from where you are, to change into something better, to grow into something that makes you proud.
Because ultimately it's all about the person you are.
The new toilets in the new block have the best mirrors in the school. But, they are also very visible. And we see you! We see you looking at yourselves, admiring yourselves. Touching your hair, checking how you look……
But that person you see needs to have depth as well as just looking gorgeous. So think about the person you are going to be tomorrow, next term, next year. And make the changes you need to make to progress. To be a better person.
We finish with a poem by Dale Wimbrow in which the word "guy" is used in a generic way to mean any person, male, female, or transgender; and the glass is a mirror.
When you get what you want in your struggle for wealth,
And the world makes you King for a day,
Then go to the mirror and look at yourself,
And see what that guy has to say.
For it isn't your Father, or Mother, or Wife,
Who judgement upon you must pass.
The person whose verdict counts most in your life
Is the guy staring back from the glass.
That's the person to please, never mind all the rest,
For they're with you clear up to the end,
And you've passed your most dangerous, difficult test
If the guy in the glass is your friend.
You can fool the whole world down the pathway of years,
And get pats on the back as you pass,
But your final reward will be heartaches and tears
If you've cheated the guy in the glass.
Look in the mirror. See the person there. Be proud of yourself and resolve to be even better next year. That is your challenge.'
So now it's almost time to recharge the batteries. We thank all our parents for their continuing support again this year and we look forward, optimistically, to September. But, in the meantime, we wish you all a sun-filled and relaxing holiday!
---
Friday 1st July 2016
Only 12 more school days to the end of the year.
Looking back, it doesn't seem possible; the year has gone so fast! And what an amazing year it has been in so many ways. And nowhere more emphatically evident than in terms of the diversity and volume of curricular, extra-curricular and enrichment opportunities that have taken place. A true reflection of the importance we place on the promotion of the spiritual moral, social and cultural development of our students. "Educating the whole child" in the widest sense.
The final half term of the year is proving to be as busy as ever with an equally diverse schedule of events. We have concluded GCSE exams. We held our Year 11 Leavers' Assembly last week and we enjoyed their excellent Prom at Highfield Park. Both had the highest attendance of any such event in our school's history with over 200 students (from a Year group of 214) attending the Prom. Their behaviour, attitude and appearance were quite superb.
Delightful too have been the behaviour and exuberance of our 255 Year 6 guests who today completed their two Year 6 to 7 Transition Days with us. It has been an excellent occasion, as was the Transition Parents' Evening yesterday, and we look forward to welcoming both students and parents to Calthorpe Park in September.
We know, too, that the remaining 12 days will be filled with a similarly diverse range of events: our school production of Beauty and the Beast; Sports Day, our annual SLUGG Walk, trips to Winchester Science Centre, our D of E Assessment Weekend, the Pen Y Fan Challenge and, of course, our Annual Awards Ceremony on the final day of term.
And just to balance this wonderful array of enrichment events lined up, parents might be interested to learn of some of the strategic work that has been going on during the final few weeks of term.
Formulation of the 2016/17 academic timetable is well under way with the issue of three year groups embarking on, or working within an options framework, being a challenge to be overcome for the first time! Next year's School Calendar is also almost ready; our Assessment and Reporting Calendar is currently out for consultation, as is our proposed Meetings Schedule for 16/17. We have formed and are currently training a Teaching, Learning and Assessment Group which will drive pedagogic improvement in school next year. We are also currently devising 'Calthorpe Park Standards' in a wide range of areas of leadership, teaching, learning, behaviour and operational systems; these are a set of benchmarks and non-negotiable standards which will underpin all aspects of our professional and operational practice in school and we will be using them to structure the New Staff Induction Day that we will be holding in early July.
And finally, to reflect and encapsulate our values and ethos, we have distilled our expectations for student attitudes, approaches and relationships into a new set of principles entitled "The Calthorpe Way". These have been recently publicised through posters, presentations, assemblies, and via the Year 6 Induction Days and Evening. For further details, please take a look at our Ethos and Values page.
---
Wednesday 18th May 2016
Having recently visited a school where the path to the Headteacher's door is described as being 'steep and full of obstacles', we reflected on the openness of Calthorpe Park and our own desire never to find ourselves in that sort of 'management Ivory tower'.
Calthorpe Park is a self-evaluative school. We constantly review our practice and reflect on how we can drive continuous improvement. Fundamental to this is to find out what our stakeholders think about our school.
We have, therefore, recently conducted two questionnaires, one with the staff and the other with the students. We wanted to reflect on what is going well and, more importantly, on how we might do things better, so we thought we would share the outcomes with you in this week's Blog.
So, what did they think?
Out of more than a thousand (anonymous) student responses, over 90% think that the school provides good teaching, that we have high expectations for the quality of work, that learning and progress are the school's priorities and that students respect staff.
The same 90%+ response was accorded to their belief that the House system works well and that they work hard and engage actively with their learning; also that they have a clear understanding that hard work improves life chances and that they recognise that they have a supportive learning environment at home.
Similarly favourable responses were recorded regarding their belief that they are challenged to think in lessons, that the school's learning resources are good, that their teachers encourage them to contribute actively in lessons and provide them with work that promotes independence in learning and that our classrooms are pleasant places to learn.
And it continued in a similar vein with our students feeling that they are treated with respect, that the school values the student voice and that their parents are interested in their learning. Finally, students emphatically stated that they feel safe and happy at Calthorpe Park and that they are proud to be members of this school.
Overall, 94% rated the school as Good, Very Good or Outstanding.
Inevitably, there were some areas where responses were less favourable and we took anything with less than a 70% positive response to be an area we need to reflect on and put plans in place to address. 70% may seem to be a relatively high threshold for concern but we set our standards high. Students perceive there to be a need for increased consistency in behaviour management, in teachers' use of praise and rewards and in the quality of learning.
Striving for greater consistency in all we do is a key objective of our 2016 School Improvement Plan, this need having been identified by ourselves via our 2015 School Self Evaluation process. 'The rest of us like the best of us' is our watchword and something we will continue to strive for in all that we do. We will reflect on what the students have said over the next few weeks. We are already putting together an action plan.
Finally, we also gave students the opportunity to make any comments they wished to about the school. Very few took this opportunity but we leave you with a few quotes that reflect some of their views:
"CPS is a great school, full of great opportunities and people!" Year 7 student
"Lucky to have such a great school." Year 10 student
"CPS is a brilliant community with hard working students who really care about it." Year 11 student
---
Friday 29th April 2016
This week has been a week in which a variety of visitors have commented extremely favourably on our school, its buildings, our staff and our students. From the Site Manager of Balfour Beatty (who finally leaves us this week, with our sincere thanks for the fantastic job he has done over the past 20 months) who commented what a joy it has been to work at the school, through a visiting member of the Hampshire Inspection and Advisory Service, to a number of candidates for important roles within the school. Their comments have been very satisfying and it would be easy to rest on our laurels.
We are a school, however, which is in an almost constant process of self-evaluation and improvement planning. The above plaudits add weight to our conviction that we have some outstanding materials to work with but that there are always things that we can do better. This is equally true of organisations as it is of individuals.
Our Year 11 students have now completed their Art and Photography exams, are in the middle of their Drama exams and have the full exam season only ten days away. We know how hard they are working to do that bit better. The focus and concentration evident in the exams to date, as well as their ongoing commitment to revision sessions, demonstrate clearly that they know just how crucial it is to look back, reflecting on how things in the future can be done even better. When we make mistakes, it is not the mistake that is important but what we take from it, and how we move forward subsequently. That is what learning is all about.
Although our building programme is physically completed, there are a multitude of new challenges and tasks ahead of us, not only in the environment but in everything we do; and we know we have the capacity to do even better, to continue to grow. We also know that there will be times when things don't go quite so well. But we learn from those times and we move forward with the support of the entire school community.
We thank Balfour Beatty for giving us a wonderful new building that reflects the aspirations of the school. We thank the Year 11s (and the staff) for their commitment to all aspects of their schooling and exam preparation.
Growing is hard work!
"If we are growing, we are always going to be out of our comfort zone" (Maxwell)
However, "Without continual growth and progress, such words as 'improvement', 'achievement' and 'success' have no meaning (Franklin)
We are confident in the belief that everyone within our Calthorpe community will continue to work hard, to grow, to succeed and so give meaning to all that we all do.
---
Friday 10th March 2016
This half term is a very short one but still packed with events and activities.
The CPSA Quiz and Curry night last week raised an amazing £1500 in one night. We would like to thank everyone who came and, as ever, the loyal band of CPSA members who work tirelessly to support the school. It is greatly appreciated that people give up their time to attend or help, modelling the very qualities that we strive to promote in our students.
The Year 8 trip to York left this morning and we hope that they all have a wonderful time; education in its widest sense with a range of opportunities and experiences as well as a great deal of fun!
We say goodbye to Mr Montero today and thank him for his contribution to the school during Mrs Goss's maternity leave. We welcome Mrs Goss back on Monday morning. This will necessitate some timetable changes and parents of students concerned will be informed of these by letter. We would also like to recognise the excellent work that Mrs Coackley has done as Acting Head of Somerville during Mrs Goss' leave. We thank her for her contribution, as do Somerville students. Mrs Coackley will be heading up a number of whole-school projects during the Summer Term and we will issue details nearer the time.
GCSE Exams have started in earnest with Art and Photography pieces being completed over a two-day period; Year 10 are also currently in the middle of their internal exam period. We wish success to all students taking exams and all the best for what we hope are detailed revision programmes fully underway!
Senior staff have met individually this week with every single student in Year 11 to review their progress and support their preparation in the 'Countdown to GCSE's. It has been a real privilege and delight to meet so many young people with ambition, dedication and a real sense of commitment. And we must also applaud their great work ethic. We have been operating additional exam revision and preparation sessions each day for a number of weeks now. This programme includes Lesson 0 which runs from 8.10am to 9am and Lesson 7 from 3.10pm to 4pm each day of the week. Some Year 11's even attend additional practical sessions (Lesson 8!) until 5pm. We are full of praise for their resolve and enormously grateful to our staff who give so generously of their time to ensure the best possible outcomes for our students and our school.
At a time when education is constantly in the media due to staffing shortages, recruitment difficulties, funding shortfalls - things that are impacting every school - we never stop appreciating the young people and staff who make up the community that is Calthorpe Park. They are why we all do this job and it is they who make it all worthwhile.
---
Friday 4th March 2016
Last week saw the opening of our courtyard, releasing another section of the school for student use! We celebrated this next step of the building project with the whole school and a film produced by some Y10 students:
---
Friday 29th January 2016
We thought that, this week, we would show off our wonderful new building!
All the new classrooms are now occupied by teachers from English, Maths and Modern Languages. Teachers and students report that they are delighted to have moved in and that their new environment has further enhanced the quality of learning at Calthorpe Park.
We have both moved into wonderful new offices above the new Reception area.
The full-size, floodlit astro turf pitch is now in use by the PE department although, in spite of community interest, we will not be taking bookings until further notice.
Our students are revelling in the extra space and are really looking forward to opportunities that the opening of the new courtyard will afford. Year 11, particularly, are delighted to be able to enjoy our amazing new facilities before it is time for them to move on to the next stage of their education.
Below is a selection of photos to give a flavour of the environment of which we are increasingly so proud. We are now developing plans to celebrate with a formal Opening Ceremony in the Summer Term, when everything will be completed and made even more inspiring under a sunlit sky.
---
Friday 8th January 2016
Happy New Year to all our readers!
We hope everyone had a wonderful Christmas and that your resolutions for 2016 are still holding. The new term at Calthorpe has started with the opening of our brand new Reception; it is still something of a 'work in progress' but it is one more step towards the final completion of the new block and courtyard area.
In the customary January manner of looking back over the final few days of the old year and looking forward to the new, we would like to report that we enjoyed a traditionally amazing final Christmas Assembly with fantastic performances and involvement. It was a joyous end to a long term.
Sadly, we also said goodbye to two members of staff. Mr Kay was only with us temporarily but he has now moved on to a new school which is closer to home and we wish him well. Mr Carter who had been with us for four terms and had made such an outstanding start to his teaching career, was offered, and accepted, a role that he described as his 'dream job' as Sports Coach, teacher and Development Officer at an Academy in Reading. This fitted perfectly with his original training as well as with his additional role as Captain of the Reading Rockets basketball team. He left us with our very best wishes and our certainty that he will be a great success in his new role.
We have been joined this term by two new staff. Ms Fixter will teach Science and Mr Moore becomes a member of the English team. We warmly welcome them both and are confident that they will quickly become key members of our Calthorpe community.
We began the term with an introductory message to all of the staff highlighting some key focuses for this term in relation to our philosophy and approach. We would like to share with you the four main headings in support of wider understanding of the developing ethos and culture of all stakeholders at the school:
Believe that no matter what their individual circumstances or difficulties, everyone has the capacity to improve
Create inspiring environments in which to learn and work
Positivity and a solution-focus at all times. Work with openness and transparency; make clarity and concision our watchword
'The rest of us like the best of us' : aspire to be the best we can be in every way and in every context. Support each other through leadership and collegiality, and with humanity.
Our presentation made reference to the key vision statements and motto of the school but concluded with a quote from Goethe which, we feel, encapsulates the next phase of development of our philosophy, culture and ethos. And so we leave you with this thought:
"Be bold in our ideas and courageous in our decisions and actions.
"Whatever you do, or dream you can do – begin it. Boldness has genius and power and magic in it."
---
Friday 27th November 2015
This week's Blog will be very brief but entirely celebratory.
We are truly delighted and very proud to let everyone in our community know that the school performance data published by the Department for Education and Ofsted this morning confirms that our GCSE results of 2014/15 were truly outstanding.
This data confirms the progress students at Calthorpe Park School made from Year 7 to Year 11. A score of 1000 approximates to the national expected rate of progress at secondary school. This year we have achieved 1011.2. (Our highest value added score previously was 1008.9.) This year's figure is identified by the DfE as showing that CPS students made significantly more progress than students across the country.
This fantastic outcome represents a huge amount of work by students and staff and we thank them for all of their efforts.
---
Friday 13th November 2015
A theme of remembrance this week.
We attended the Fleet Memorial Service on Sunday, accompanied by two of our Senior Student Leadership Team, Emily and Tyrone from Year 11.
Following the Remembrance Service at the Harlington Centre, we joined the parade to Gurkha Square where, on behalf of our school and alongside representatives from Court Moor School, Tyrone delivered a poem with gravity and poise whilst Emily ceremoniously laid a wreath in remembrance and honour of those who have given their life in war. It was a poignant ceremony; the advancing dusk and distant rumble of thunder evocative of battle, as Tyrone's voice echoed solemnly across the square.
Assemblies throughout the week have also reflected the theme of remembrance and commemoration and, on Wednesday, our school community observed the two minute silence with the Last Post performed outside by Michael P from Year 9. A very powerful moment of reflection and gratitude for sacrifices made.
Thursday witnessed another kind of remembrance, but with a joyous dimension, as we celebrated the many and varied achievements of our 'Year of 2015'at our annual Leavers' Certificate Evening. This was the first time that we have been able to hold this event in our magnificent new hall. Parents were greatly complimentary about the evening; former students admired, with wonder, our vast new auditorium, their largesse tinged, however, with envy for a space they had watched grow but which they will only get to experience and use on this one occasion!
165 awards were presented; every winner was enthusiastically greeted with supportive applause and, to the credit and generosity of their peers, each of our Major Award Winners received well-earned rapturous ovation.
Another event of which Calthorpe Park School can justifiably be proud.
---
Friday 16th October 2015
Our brain is like a muscle. The more we feed and use it, the stronger it gets.
Our assemblies this half term have focused consistently on the power of positivity …. a belief that, with the right mindset, anything is possible.
That the 'Calthorpe Way' is one where any assertion that something can't be done is always concluded with 'yet!'.
And that where we start from, and how far we travel, are more important than where we finish.
We want our young people to value challenge above success, effort above ability, process above outcome.
And we want them always to remember that here at Calthorpe Park, our corporate message is clear ….. we emphasise growth-mindset over talent-mindset.
Enquiring minds.
A solution-focused approach.
Insatiable curiosity.
A willingness to rise to the challenge.
And an expectation to be a positive, professional learner.
We went out today and snapped a few students at work and at lunch. Feeding their brains.
Enjoy!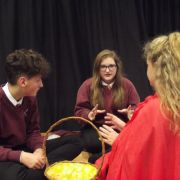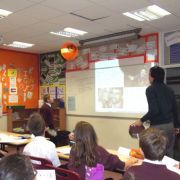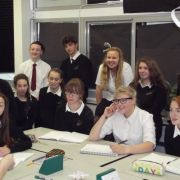 ---
Friday 18th September 2015
With two and a half weeks of term having sped by already, we thought it was time for us to introduce the new colleagues who have joined us this term.
The end of last year saw quite a few staff leave us, all for reasons of retirement, promotion, moving away to get married, or to embrace new challenges. The new year has, therefore, been one of new beginnings in many ways; we are delighted with our new, multi-talented colleagues and have been impressed with how quickly they have settled into Calthorpe life.
In no particular order we welcome:
Mrs Milner, who joins us as an Associate Leader with responsibilities across the Science, Technology, Maths and Computing subject areas.
Also in Science, we have been joined by Mr Findlay and Mr Carter.
In English, we are delighted to greet Miss Beaveridge, Miss Hanif, Mrs Beynon, Mr Morris, Mrs Hoole and Miss Stilwell..
We extend a warm welcome to Miss Gluck and to Miss Salter who join our Maths Department.
In Modern Languages we say 'willkommen', 'bienvenue' and 'hola' to Miss Meaden, Mrs Hull and Mr Montero.
In Technology we welcome Miss Tims.
Ms Rose joins us as Head of Art and Miss Ellis also joins the Art Department.
We welcome Ms Perez who will teach both PE and Geography and Ms Streimikyte-Pocevicience who joins our Cover Supervisor Team.
And finally, we are pleased to announce that Mrs Ball has been appointed to the role of Emotional and Behavioural Support during Magda's maternity leave.
We wish a happy and rewarding stay to all our new staff who, we are sure, will make a great contribution to the growth and continuing success of Calthorpe Park School.
We would also like to announce the following changes in role:
Miss Fisher takes on the post of Associate Leader with responsibility for English and Literacy across the Curriculum.
Mrs Wilson and Mrs Franks assume the joint mantle of Head of Maths - although, with the commencement of Ms Franks' maternity leave, we now look forward to the impending arrival of her new son or daughter and wish her well for the months to come.
Mr Hainsworth and Miss Baggott jointly take on the role of Head of Technology.
Mrs Green is now our Learning Support Manager and Mr Burrell assumes Lead Responsibility for our Pupil Premium Students.
Ms Coackley has taken on the role of Acting Head of Somerville and we congratulate and send our very best wishes to Mrs Goss on the arrival of her new baby boy.
We also send Mrs Ryan our very best wishes and congratulations on the birth of her daughter.
We know that all of our new staff, and all of our established ones, will, through their commitment, hard work and dedication, maintain and build on the highest standards of CPS, as well as enjoying everything that being part of this school brings.
We conclude with a quote from one of our Year 11 Summer leavers:
"Could you please pass on to all the staff my thanks for being an amazing team and for their help and support through the years. Please tell them how, because of them, it made school life ten times easier. The grades I achieved were all thanks to them and their help. Because all the teachers were so good, it was great fun to be a student at Calthorpe Park School."
A fitting point at which to sign off this week's blog!
---
Friday 4th September 2015
First few days back at school and our first blog of 15/16.
A huge amount of work has gone on over the summer and many areas of the school are looking very different. Lots of photos to follow over the coming weeks!
We hope that you have read our statement on the website announcing our great GCSE results. We were delighted with all of our students' performances.
Although it has been a busy summer on site, the real message we want to convey today is how pleased we are with the way in which students have returned to school in terms of their demeanour, attitude and approach and we reproduce below a message that we sent to all of them at the end of their first day back, a day during which we delivered an assembly to each year group in our amazing new Hall (as they walked in, the 'wows' were audible!):
We would like to commend the very high standards of dress, behaviour and approach on the first day back at school. Conduct during our assemblies was outstanding, and particular mention should be made of Year 11 who were exemplary in terms of their maturity, demeanour and positivity. We are sure they are going to be outstanding role models throughout this year.
Uniform was generally very good with the vast majority of students turned-out impeccably and fulfilling our expectations that uniform and presentation should be professional and reflect the business of learning. In a few cases, inappropriate material or styles were evident and we would advise these students to review the uniform guidelines in the Student Planner and then to speak to their parents about ensuring that they comply with the requirements and our expectations.
Our new Year 7 also made an extremely impressive start to their secondary school careers and seemed to really enjoy their day.
Overall, we have heard nothing but positive comments from staff about the way in which students have conducted themselves on the first day. We are delighted and know that this will continue. Maintaining these standards is now our minimum expectation for everyone.
Well done to you all. Have a great year
And finally, a thank you to all Calthorpe parents for your support in ensuring that your sons and daughters have returned to school with such a positive mindset and so ready for the business of learning. We look forward to another year of close partnership working with you all.
Martin Amos and Melanie Hooper
---
Friday 3rd July 2015
Last week was about our leavers; this week we welcome our new students who will join us in September!
---
Friday 26th June 2015
This week has seen us bid au revoir to our Year 11 leavers. On Tuesday we held the final assembly where we and the Heads of House said farewell and then looked back through a catalogue of photos that documented their five years with us at CPS. On Wednesday, we gathered at Oakley Hall for the Prom.
The same afternoon, two of our ex-students came back to visit us. They were happy to admit that although they hadn't always approached their education positively, or hadn't always behaved impeccably, they had learnt so much from their time with us, and not just academically. Both, in their own way, have had to demonstrate many of those dispositions that we hold so dear, not least resilience. One has had to fight back physically and emotionally from a severe car accident but is now working to support people with cancer and she reflected on how lucky she has been. She talked of her regret at not seizing all of the opportunities the school had offered her and has agreed to come back to spread the message to our current students. The second visitor is soon to leave to take up a soccer scholarship in the US just weeks after being told by Chelsea that he would not be part of their plans. Again, he has bounced back from adversity and sought a new and exciting challenge, with education a key part of his drive and motivation. Each spoke of how much they missed school and how much they appreciated everything that everyone had done, and tried to do, for them. We wish them both well.
Within hours we were watching our current leavers arrive at the grand Hall that was the venue for their final act as students of CPS. As ever, they all looked glamorous, beautiful, handsome, smart and oh so very grown up. Many parents expressed incredulity at the swift passage of time to this point; as did the staff!
The evening was a true delight. As ever the behaviour was everything we could ask for. They had a great time, dancing, talking, smiling and laughing. The staff of the Hall spoke warmly of their politeness, charm, warmth and joie de vivre. Even the weather was perfect.
At the end of the evening, as they left, they shook hands, hugged and thanked staff who were there with genuine appreciation and affection. The staff simply burst with pride at everything these young adults had become.
Someone said at the time that this was the Calthorpe circle complete. Of course, it is not a circle. We are just one stop on a long journey, a continuum. We wish them every success and happiness on the rest of their journey and hope they too will come back to see us with tales of their achievements and adventures.
Our motto describes our desire to help educate "Learners who....inspire others". Wednesday was one of those days when one can reflect on a job well done.
We thank every student for doing just that: inspiring us and, indeed, the next generation of students at Calthorpe Park School.
---
Friday 12th June 2015
At a time when young people are exposed to increasingly wide-ranging stresses and pressures in their lives, the benefits of teaching mindfulness in schools has received a great deal of attention recently. Growing up in today's frenetic, ever-changing world is not an easy task. We have heard recently that children as young as 5 are being diagnosed with mental health problems and research tells us that adolescence is a particularly vulnerable time for the onset of mental illness, with 50% of mental health disorders believed to begin before the age of 15.
At Calthorpe Park, following our very successful Year 9 Mindfulness Day last year, we have recently held a further two Mindfulness Events for our Year 8 students. Planned, organised and coordinated by Mrs Timms Blanch, these highly-practical and very well-received experiences included sessions in Guided Meditation, Yoga, Art Therapy, Relaxation and Music Therapy and were delivered by a mixture of external experts and our own Calthorpe staff.
There is a growing body of knowledge out there that tells us that mindfulness techniques have a powerful and highly positive impact on the development of young people's coping skills, helping them to deal more effectively with stress, increase motivation, better manage time pressures and acquire greater focus and concentration. Experts have found that mindfulness supports self-regulation, boosts tolerance, patience and a sense of well-being. And, on the achievement-front, research shows that practising the techniques of mindfulness bolsters self-esteem, supports problem solving and decision making; in short, that it helps young people to learn more effectively.
After their Mindfulness Morning, our students were asked to reflect on how the experience had affected them. Their responses were as insightful and inspiring as ever. A few of their contributions are shown below:
We finish this week's blog with the words of Mrs Timms Blanch. All that remains for us to do, is to hope for a calm and relaxing weekend, and to wish the same to everyone!
'At the heart of all we do, every single moment of every day at Calthorpe Park, is our genuine desire to promote the wellbeing and happiness of every member of our community, be they student or staff. Our recent Mindfulness Mornings made a small contribution to this endeavour'.
Seishin, Buddhist monk and Leader of the session on Meditation
---
Friday 5th June 2015
A very creatively satisfying week this week as we have spent time with our architect focusing on some interior design features for our new school.
No pain, no gain, of course and, despite the now less-regular but still noticeable and very familiar banging, drilling and other auditory reminders of major building work, it is increasingly exciting to watch the external features of the new-build take shape before our eyes - structures rising majestically, cladding adding interest and texture, the outline of new social areas and landscaping features taking shape and so providing an increasingly detailed glimpse of how our school will soon look.
But things really begin to take on a tantalising reality as we come to the interior decor part of the process! We have been choosing colour schemes, design features, furniture and fabric from a dazzling array of swatches, samples and mock-ups.
And the best and most exciting aspect has very definitely been the bit where we have considered the 'manifestations' we want to have displayed around the various areas of the new building. Words and phrases that encapsulate our values and convey our vision for learning, personal development and achievement will be etched into glass windows and partitions, featured pictorially on key walls and in core spaces.
We can see taking shape a wonderful and diverse learning space that will motivate our students to fulfil the aim expressed in our motto 'Learners who aspire for themselves and inspire others'.
We are certainly feeling inspired by this unique opportunity to shape the future of our school in both a physical and visionary way; to grow minds and build futures.
We have actually chosen this to be the theme of our whole-school Annual Awards Ceremony this year, scheduled to take place on the last day of term - 'Growing minds; building futures'.........
But that's for another blog!
---
Friday 8th May 2015
Fewer words from us this week!
Instead, a focus on some of the diverse array of additional and enrichment activities that our students have been involved in since our return from the Easter break. A snapshot, pictorially and metaphorically, of the rich diet of opportunities that support those hugely important social, moral, spiritual, cultural, personal and physical dimensions of education. And which promote the skills and attributes that are so very essential to life in the 21st century ….. personal commitment, collaboration and teamwork, resilience, perseverance, problem solving, reflection …….
Wednesday 22nd April: 12 of our young team take part in the STEM QinetiQ event
Thursday 23rd April: Election fever continues at Calthorpe Park as Hustings for the election of Sports and House Captains begin
Every Tuesday and Thursday, after a hard day of studying, our intrepid walkers cover a round trip of over 10 miles, building their stamina and resilience in preparation for the annual Yorkshire 3 Peaks Challenge in July
Thursday 30th April: Students from Years 8 and 9 take part in the national Junior Maths Challenge
5th, 6th, and 7th May: three evenings of the most wonderful Year 11 GCSE Drama performances. Inspirational acting, superb team spirit and remarkably thought-provoking pieces held audiences spell bound and bode incredibly well for outstanding results this August.
Thursday 7th May: Congratulations to our jubilant Year 9 football team on beating Purbrook Park School 3:0 to become the Hampshire Under 14 Champions following the final played at Farnborough Town Football Club.
Throughout the weeks since Easter, our Year 11s have been immersed in Subject Conferences specially designed to aid revision and support them all to achieve the very best results in their GCSEs which start next week. Well done to the students for their concentration and great buy-in. And, of course, to staff for the energy and, as ever, for the total commitment that has gone into preparing and delivering these conferences.
And finally, as we write, our Year 9 students are today enjoying our annual Health and Respect Day. The day consists of 12 workshops which focus on keeping safe, relationships and sexual health, relaxation and stress management and more. It's great to welcome so many presenting visitors to school from such a wide range of charities, trusts and services including St John's Ambulance, Step by Step, The Fire Service, 'Babies, Babies, Babies' and the Police with their sniffer dogs.
Just another fortnight in our busy schedule! GCSE exams really kick in next week and we wish all of the candidates the very best of luck knowing that all their hard work will pay dividends.
The drum beat of the piling has ceased but the seismic repercussions of the election are yet to be felt. We have seen a dramatic political 24 hours and all of us will hold our breath to see what the new government's education agenda will bring. Rest assured that we will always work in the very best interests of our inspiring students.
---
Friday 24th April 2015
After the peace of the Easter break, we have returned to school to the accompaniment of a steady "drumbeat" from the piling work across the road. We are assured this will only last for another week but, ever seeking ways to promote those crucial dispositions of resourcefulness and resilience, we wonder whether, as in the stories of the Roman galleys, this might provide us with an excellent opportunity to create a rhythm for student working … especially as it has seemed to become faster and faster as the week has progressed!
The Snow Sports trip returned with great tales of success and even greater plaudits for the attitude, approach and behaviour of the students; the Three Peaks training continues in earnest with regular 10k walks being completed even after a hard day at school; the building work progresses; and the sun shines; all is well at Calthorpe Park.
Year 11 students will, of course, have spent a great deal of time over Easter revising and this is being reinforced by a series of subject 'Conference Days' which allow an immersion in the key elements needed for exam success. Staff are working very hard to ensure that these days have maximum impact and that students are supported to achieve at the highest level of which they are capable in the final exams.
We have been busy interviewing, both at the end of last term and the beginning of this. We are delighted to have appointed some excellent new English and Modern Languages teachers as well as making some internal promotions: Ms Franks and Ms Wilson will be jointly taking on the Head of Maths role from September; Ms Baggott and Mr Hainsworth will be assuming the Head of Technology mantle; Mrs Green will become our new Learning Support Manager and Mr Burrell will take on responsibility for specific groups of vulnerable students. We have also appointed a very experienced and talented external applicant who will operate in an Associate Leader role with her precise title to be confirmed.
Throughout this process, every one of the visiting candidates has commented on the staff, students and school in the most favourable terms; the happy, welcoming atmosphere; the calm and responsible student behaviour; the active, purposeful learning - all have been commonly mentioned as particularly impressive. All of them wanted to work here … well, who wouldn't?
The hammering pace has increased and so we must get on even faster! Enjoy the weekend; let's hope the sun will keep on shining.
---
Friday 20th March 2015
This past week has been busier than ever and one during which we have truly marvelled at the creativity, independence, contribution and awesome talents of our student body.
On Thursday last, among many student-led initiatives to raise funds in support of Comic Relief, we staged our first ever 'Calthorpe Bake Off' which saw students and staff in steely competition, producing a range of highly creative red-themed cakes which were judged by a panel of local expert bakers. Needless to say, in spite of the highly commendable efforts of the staff, our student bakers won the day, producing a spread of weird and wonderful culinary delights which were snapped up the following day, so adding to the amazing range of tasty treats produced by our students and on sale in school in support of the fundraising day.
Thursday and Friday also saw a group of students from our STEM Club at the NEC in Birmingham, taking part in the Big Bang Science Fair, where we were delighted to win two trophies. The first was the prestigious Young Engineers School of the Year Runners Up Award and the second was for the Space Balloon Launch. We are planning to use the prize money to further develop the STEM ethos around the school starting with Scalextric 4 Schools. The absolute highlight of this extremely successful event for us was that one of our Year 9 students, Jack, was selected to be the UK representative at the Broadcom International Masters event in Pittsburgh in May. This is a highly prestigious award available to only 24 young people from around the world each year and we are absolutely delighted that one of our amazing young science and engineering stars has shone in this way.
This week has also been our Week of Change. Based on the United Nations Convention on the Rights of the Child's 'Day of Change', our Student Senior Leadership Team organises, annually, a full week of rights-themed events and student involvement and this year has been greater than ever. Entirely student-led and introduced by them in assemblies at the start of the week, each day has focused on a different right.
With wet and windy Monday focusing on Article 27, the right to shelter, students competed at lunch time to build shelters from recycled items, the inclement weather really helping them to focus on just how hard it must be for those whose lives are on the streets to keep warm and dry.
Tuesday's Article was Number 24, a right to clean water. Volunteer students ran a water station on the playground to raise awareness of just how crucial this basic commodity is to health and life. Wednesday focused on Article 31, the right to leisure, play and culture. Staff didn't think they knew much about this right! But, with an extended lunchtime, students happily exercised theirs by flocking to the hall to watch Monsters Inc.
For Thursday's Right to Privacy, staff and students voluntarily contributed little-known facts about themselves for a Guess the House competition and finally today, the culmination of the week, we focus on the Right to Education with students and teachers swapping places in the classroom. Jointly organised in advance between teachers and their volunteering students, our budding 'student teachers' have prepared and will deliver lessons to their class. We expect over 100 such lessons, reflecting every subject, to take place during the course of the day and, on Monday, in a temporary 'staff room' at break, our volunteers will celebrate the final grand total, well supported by congratulatory cake.
Many of you may have been catching up with yesterday's news on South Today when the cheerful face of Patrick in Year 7 popped up to deliver an update on the solar eclipse! This was part of the BBC School Report initiative that we took part in and he, along with another four of our students, spent the afternoon at the studios watching, rehearsing, filming and learning about how the world of television really works. Congratulations to everyone involved and particularly to Patrick for his professionalism and winning smile. And congratulations are also due to our Year 9 football team who made it through to the Hampshire Cup Final this week with a comfortable 6-1 win.
Finally, as we write this, the moon is inexorably sliding across the sun to create the eclipse, albeit hidden by frustrating levels of cloud. It seems that the arrangements and best-laid plans of various teachers will be thwarted by the weather today, but let's hope that the Easter holiday of everyone connected to the school will not be similarly affected and that the spring sun will shine on us all.
---
Friday 6th March 2015
This week's blog is a reflection on what can be learnt from the building process that is going on here at Calthorpe, especially as the past few weeks have seen a dramatic change in the view from our offices. If you haven't visited or passed the school recently, you may not have seen that since half term the steel work for the new front building has been erected. Approximately 100 tonnes of steel has been put up in just over two weeks (and it would have been faster if the delivery pace had matched the speed of the construction work). It took 6 months to prepare the groundwork for the new build. The foundations, infrastructure and service connections have been time-consuming but essential. So much of the constructor's hard work is now hidden below the concrete slab and gravel and yet it is vital to the end product.
We can now clearly see the shape and size of the project, the locations and perspectives of the classrooms and offices, and the scale of the new courtyard that will be created. This weekend, we know that a number of our families and members of the local community will be taking the opportunity to look round and we hope that you feel the same level of excitement as we do.
So what message can we pass on to our students from our observations of the project to date? In simple terms, we would say to all of our younger students, you must get the ground work right. You are laying the foundations for your success in every lesson and through every learning opportunity. The skills, dispositions and knowledge that you are gaining will be the bedrock of future achievement.
For our Year 11s, the message is similarly clear. When you look at the rapid changes and developments that have happened in the last fortnight, reflect on the fact that it is amazing what you can achieve, in a relatively short time, with the right preparation, organisation and skill set underpinned by simple hard work and commitment. Your exams are barely three months away; see what more you can build in that time.
Without continual growth and progress, such words as improvement, achievement and success have no meaning. Benjamin Franklin
---
Friday 23rd January 2015
Last Thursday evening, our ever-growing STEM club held its annual Post-Christmas Lecture. Presented jointly by STEM Club students, staff and parents, it was a wonderful glimpse into the amazing range of Science, Technology, Engineering and Mathematical activities, events and competitions that club members have been involved in this year. Last year, as their major project, and in conjunction with PhD students from Southampton University's Spaceflight Association, our STEM students designed equipment and programmed technology to capture the curvature of the earth through photos and video footage of a helium weather balloon which they sent to the edge of space and then tracked in flight. This year, aspirations are even greater; 'infinity and beyond' is the password for the next major project which aims to link up with Airbus to support their solar-powered UAV flight programme.
Thoroughly inspired, with a whetted appetite to learn more about how we might capitalise further on the awesome potential of technology to enrich the learning of our students (and, on a practical note, to envisage possibilities for resourcing our post-expansion school and its learning environment), we spent some time yesterday at London's BETT exhibition at the Excel. The range of technological devices, programmes, structures, support and hardware that are now available in the world of education is breathtaking. We did wonder what schools are actually able to afford much of the hard and software on display, particularly in times of budget cuts and growing basic costs, but we planned for the near future and dreamt for the longer term, and, with great satisfaction, we identified some exciting and innovative hardware, gadgetry and furniture that we want to include when kitting out our new-build.
Whilst the exhibition illustrated the awesome potential of, and speed of change in technology, this in turn served to reinforce the fact that the so called 'soft skills' in education are becoming ever more important so that the next generation can adapt, be resilient, be creative and rise to the challenges of the future. When we speak to local business leaders, it is clear that what they really want, and need, are young people with the ability to communicate effectively, to show initiative, to operate in a solution-focused way; young people who can work both independently and in a team and who demonstrate the GRIT that we value so highly, and promote so emphatically here at Calthorpe Park.
And finally for this week, our blog would not be complete without mentioning the retirement of Mr Tony Phipps, our Head of Technology who steps down after 22 years at Calthorpe Park. Mr Phipps has been an excellent teacher and tutor; with his passion for Technology, he has brought many new ideas to the department, to the classroom, to form time and to the many and varied activities that he has been involved in as part of our Citizenship and House Day programme. This is not really a final goodbye as he will remain with us in a support capacity for a while yet, but it is most definitely a huge thank you to him for his many years of loyal and committed service. We will miss him enormously and wish him well with his slightly less stressful role at CPS as well as for the rest of the week when he will be enjoying the world beyond education. We're sure there is one out there!
---
Friday 9th January 2015
In spite of already having arrived at the end of a very busy first week back, our first blog of the year is simply to wish a Happy New Year to all our community and to hope that one and all enjoyed a wonderful festive season.
As 2015 quickly establishes itself and, with Christmas fast becoming an increasingly distant memory, we would just like to think back and mention our amazing, uplifting Christmas Assembly which was held in the Hart Leisure Centre Sports Hall on the last day of term. Always a fantastic and thoroughly enjoyable celebration, we were, this year, delighted to welcome the Chair and Vice Chair of Hart District Council who were highly impressed by the talent, participation and infectious enthusiasm of our students.
The staff started the new term on Monday with a powerful training day on a 'sticky learning' theme. With the increasing move to terminal GCSE exams, focus on strategies to support our students to retain information, long term, is crucial so we used the day to explore how best to do this. We were also delighted to welcome back Mr Groszewski after a period of illness and recuperation during the Autumn Term; we are so pleased to see Mr G now looking well and so obviously pleased to be back in the Calthorpe fold. We also welcomed one new member of staff this term; Mrs Bev Wayman joins our PACE and Citizenship Department and, we know she will waste no time in proving herself to be a highly effective, driven and popular colleague.
Our students returned on Tuesday and life has moved on rapidly since! Yesterday saw us hold our annual and highly successful Year 9 Find a Future Day and today, as we write, the whole school celebrates another annual high point....our Day of Languages. It is lovely, again, to see so many students (and staff!) in their various national costumes and to hear so many different languages being spoken and celebrated. As is the Calthorpe tradition, and in a spirit of mutual support and 'having a go', we conducted our Staff Briefing this morning in a selection of recognisable and obscure languages. Thank goodness for Google Translate!
Looking ahead, Mock Exams start next week. We wish all of our Year 11 students every success in their endeavours but we also remind them of our constant message that there is absolutely no substitute for hard work and that success comes to those who put the effort in! And finally, a flag for the Mock Results Assembly which is scheduled to take place on 9th February and at which we look forward to recognising some outstanding outcomes and personal achievements.
A happy New Year and a successful and healthy 2015 to all.
---
Monday 15th December 2014
As the steel frame of the new hall grows and we cope with yet further restrictions to access, we would like to thank all of our staff, students and parents for their patience and resilience in the face of all these changes and challenges. The temporary road has been repaired and we thank all of you for your continued and careful use of it, not just because of the pot holes, but because this maintains the quality of the surface a little longer.
Christmas is nearly upon us and thus a new year is just around the corner, with every hope and opportunity that this brings. No doubt many of us will be reflecting on resolutions to be made to do better (car park usage records for the Leisure Centre show it to be at its busiest in January as we all resolve to get fit, lose weight or shake off the post-Christmas lethargy!) and we have been delighted by the response of our students to recent charity events in school; a particular mention goes here to our senior students who take responsibility for organising so many of these events.
Our thanks also go to all of you who bought raffle tickets and helped our PTA raise over £1000. We would also like to express our gratitude to all who contributed prizes, particularly the Four Seasons Hotel and our building contractors, Balfour Beattie, who continue to be great partners, not only in the process of putting the building up, but also in supporting the general activities and ethos of our school.
The Year 7 Parents' Afternoon and Evening were a great success, as was the superb afternoon that our Year 7's spent working with, and being inspired by, the author Alan Gibbons. We have also recently seen very successful trips to the Lion King and to STEM events from which, last Thursday, a number of our students came away with nationally-acknowledged Gold and Silver Crest Awards. On Friday, the Christmas Jumper Day went well, despite it being mainly the staff who entered into the sartorial spirit of things! However, the school had a wonderfully festive air and the lunchtime market was a huge success.
Christmas and the holidays may be just around the corner but the remaining week will be a busy one with our Music Concert on Monday, our annual House Day on Thursday and our Christmas Assembly in the Leisure Centre Sports Hall on Friday morning. A busy week is scheduled in the community too with the two of us due to attend a number of local events to celebrate the season as well as, at their Certificate Evening on Thursday evening, the achievements of our previous leavers who went on to Farnborough Sixth Form College.
We will issue our last message of 2014 as part of our end-of-term Newsletter but in this, our last real blog of the year, we would like to reflect on all of the successes, opportunities, qualities and efforts displayed by members of the Calthorpe community. As one year draws to an end and another is about to start, it is even more imperative that we believe in the philosophy of growth mindset and recognise that anything is possible with the right attitude and commitment….Year 11 take particular note as your mocks are early in the new year!
---
Friday 28th November 2014
As Christmas approaches, our blog this week takes on a more philosophical note.
Following our profoundly thought-provoking and very moving Year 7 Citizenship Day, with its theme of homelessness, which took place on Tuesday, we all had cause to reflect on the plight of those less fortunate than ourselves.
Shelter has recently announced that over 90,000 children in the UK will be homeless this Christmas. Predictions from the Trussell Trust are that, nationally, thousands of families will be relying on help from food banks over the festive period.
At the senior end of the school, a group of our Year 11 students are taking the initiative to plan a sponsored event in January which will raise money for, and awareness of, the work of the Step by Step Charity in Aldershot which focuses on supporting and empowering young homeless people and those who are facing adversity in our local area.
Our commitment to educating the whole child must include opportunities that allow our young people to explore and develop an understanding of a wide range of social issues to contextualise their own lives. And to support them to reflect on the the contribution that they can make to help improve, make a difference to, their own world.
Today is 'Black Friday'. As we are bombarded by adverts encouraging us to 'spend, spend, spend', we should, perhaps, give some thought to a simple calculation. Predictions suggest that in excess of £500 million are likely to change hands in today's pre-Christmas spending spree.
In contrast, the generosity of the UK, and indeed, of our own students, is reflected in the £32.6 million raised nationally on a Friday just a couple of weeks ago.
Amazing as it undoubtedly is that such a huge sum should be raised by the British public to support Children in Need, and whilst we know that more money will come in before final calculations are made, as pledges are realised in the weeks to come, simple maths tells us that the final total will, undoubtedly, amount to less than a tenth of the sum likely to be spent today.
And how many more shopping days are there to Christmas?
We are enormously fortunate to work with young people who have the integrity to reflect on their own situation with honesty and a sense of appreciation.
Sometimes, it is important to just stop, think, take stock, care. For this week's blog, we think this is a good point for us to stop, too.
---
Friday 21st November 2014
With our last Blog dedicated to a single worthy subject, this one covers a wide range of events and emotions. The weeks since half term have been something of a roller coaster.
Over half term our intrepid group of staff and students travelled to Sri Lanka to experience a new culture and to help at schools in communities still struggling to rebuild after the tsunami of 2004. They took with them wonderful activities, great games, brilliant musical instruments and an abundance of energy, compassion and empathy. Elsewhere on this website you can find a film and photos of the trip and we urge you to look at them to see the joy on the faces of everyone involved. This now annual adventure is life-affirming and life- changing for all those who take part. Next year's trip is already nearly full and we celebrate both those young people who are so willing and ready to dedicate much time to helping others, as well as the staff who go with them. The entire venture is organised by the wonderful Ocean Stars charity and we were privileged to meet Gihan, one of the tour operators of 'Beyond Boundaries', the company which coordinates our trip in Sri Lanka, when he visited our school two weeks ago. Gihan praised all members of the team for their positivity and the sheer love of life that they brought to the trip.
The Fleet Remembrance Day service, parade and ceremony was a deeply moving one and we were, as ever, very proud of those senior students who sensitively delivered a reading and laid a wreath on behalf of our school at the town's War Memorial. On the 11th, the entire school fell silent as the last post was beautifully and hauntingly played by one of our young musicians. The respect and reverence were tangible in the strict adherence to silence in memory of those who have given their lives in conflict.
Last week saw us back at the Farnham Maltings for our annual Certificate Evening for our Summer Year 11 Leavers. It was a real privilege to be a part of such a celebration of success, endeavour and wider contribution to the school. The turnout was higher than ever and every student who attended had their richly-deserved moment in the spotlight.
As well as the leavers and their parents, Certificate Evening was attended by staff and Governors as well as being hosted by current senior students, alongside ourselves. A similar representation attended the funeral this week of Clive Newland. His widow, Jo, was particularly touched by the presence of such a range of people from the school, especially our senior prefects who offered their condolences on behalf of the entire student body.
Next year we hope to have the capacity in our new hall to host the Certificate Evening in-house, maintaining the high standard of presentation, as at all our events, but allowing us to bring those leavers back "home" for the celebration of their achievement.
On the subject of the building work, we would like to express our appreciation of those parents who have continued to use the new drop-off area despite the deteriorating condition of the access road. This is something that is regularly raised in meetings with the relevant representatives of the Local Authority and we will continue to pressure them to resolve the problem as a matter of urgency. Continuing the theme of our building work, our Staff Training Day this week had the added auditory distraction of the pouring of 18 lorry-loads of concrete to form the base slab for the new hall, all of it pumped over the top of empty teaching rooms! Over the next few weeks the same process will be undertaken for the much bigger base of the main building although this will be done in a 'sequence of pours', not over a single day! The project continues to be on track despite the weather and we are very grateful to Balfour Beattie for both their efficiency and their support of a variety of events and activities: they have very quickly become part of the Calthorpe team.
We were also delighted to welcome our new Deputy Headteacher, Oliver Borkowski, who this week visited us and who will be joining the school in the Summer Term. He is very excited and keen to be joining us and we know that he will make an excellent contribution and add yet more value to the quality of the school workforce.
And thus to the Staff Training Day itself. We were very privileged to welcome the internationally renowned educationalist, Professor Barry Hymer who articulated, reinforced and extended the philosophy of Growth Mindset, a philosophy in which we implicitly believe and which has underpinned much of our vision and aims since appointment.
The day reinvigorated staff to continue to explore practical ways to ensure that all students can, and do, succeed through promotion of an attitude and approach that celebrates and thrives on challenge, effort and resilience and a belief that everyone can achieve with the right level of commitment and the right positive mindset. These are things that we celebrate and value and will focus on increasingly as time goes by.
Growth Mindset is a philosophy originally coined by Carol Dweck and we conclude with one of many key axioms presented:
"The hallmark of successful individuals is that they love learning, seek challenges, value effort and persist in the face of obstacles."
It is incumbent on all of us to ensure that through our actions and words we support everyone at the school to be such individuals.
---
Friday 7th November 2014
This week's blog has, unusually, a single focus and we will write about other matters next time.
Those of you who keep a close eye on the website may have noticed a brief notice reporting the very sad passing, over the half term break, of our Network Manager, and member of our school's Governing Body, Clive Newland. Following our private communication with his wife, we now wish to mark his passing with a more fulsome tribute. Clive showed great fortitude, courage and dignity during his illness and we have lost a fine man and a highly respected member of our school community.
Clive enjoyed a diverse career supporting the high-level development and deployment of complex IT systems in several significant companies. His work with the RAF took him overseas to work with new information and control systems as well as taking on critical research and development projects in the UK.
His problem solving skills, dedication to the job and enthusiasm for supporting others were very special professional characteristics. Clive has been highly regarded by staff and students at Calthorpe Park School for the past 8 years as a key member of the ICT Technical Support Team and, for the last 4+ years, as our Network Manager. His contribution to the development of Information Technology within school has been substantial and highly valued.
Clive had great integrity, wisdom and calmness that meant, even in the face of difficulty and when under significant pressure, he remained implacable, measured and positive. He was also a school governor and as such contributed greatly to the strategic direction of the school. Although not widely known to the students or parents, he was one of those essential people who we rely on so greatly.
In the years that Clive was here, he became a real Calthorpe man, demonstrating all of the dispositions that we hold so dear. He was a gentleman and a gentle man. We will miss Clive enormously and our thoughts, prayers and most sincere condolences are with his family especially his wife, Jo, and his two youngest children.
There will be a collection that will go to a charity of his family's choice, the Phyllis Tuckwell Hospice. Should anyone wish to contribute, please contact the school or send donations c/o Mrs Haynes.
---
Friday 24th October 2014
And so the first half term of the 2014/15 school year closes, and what a half term it has been. So many things have happened and these have been variously reported in previous blogs or in the Newsletter that is published today.
The school looks so very different and yet the essential values and ethos remains steadfastly the same. Buildings have been knocked down, foundations have been laid for new ones and the view from the window has ebbed and flowed each and every day. The 154 ten metre piles have all been finished and the amazing piece of machinery that did the work has been disassembled and transported elsewhere (apologies if you got caught behind it on the M3). The next phase is underway with the metal frame due to be completed by Christmas. The multi-use games area will open after half term alongside the new play area for younger years. We are very excited about this facility and the opportunities it will bring to the school and the PE department in particular.
This week we have been interviewing for a new Deputy Headteacher and every candidate commented on the smooth running of the site despite the restrictions, the amazing resources that are being created and, in particular, the positivity and adaptability of the students. Every one of them desperately wanted to come and be a part of the school…well they would, wouldn't they?
Our intrepid group currently in Sri Lanka on their way to support schools so badly affected by the tsunami have reported back:
"We had a great day seeing baby elephants being hand fed, swimming in the pool, having a buffet meal with music, visiting a Buddhist temple. The weather is gorgeous and the students amazing."
They will now be travelling across the island to a situation that is a world away from the one they describe here where they will learn so much and give even more.
This blog is quite a brief one, partly due to the publication of the Newsletter but also as the lure of half term draws our minds away; although rest assured we will still be working - albeit not ALL the time.
Thank you for your support this half term and for the positive comments about this blog.
Before concluding, however, and in the context of our aim to educate the whole child for the whole of their future, we just wanted to quote from a letter received from a student who left last year:
"I've been privileged to make such wonderful friends and have teachers all of whom have helped me and encouraged me to achieve grades that I felt were out of my reach… (but) I didn't just learn the facts and statistics for exams, but also about who I am and who I want to be in the future."
Makes it all worthwhile.
We'll see you in November.
---
Friday 10th October 2014
As this blog is penned, a debate on the situation in Syria is in full swing in our Model United Nations Debating Hall. Radical solutions are being proposed! Throughout all discussions, however, the thing that shines through is the level of understanding of the global picture underpinned by real passion for human rights and a clear sense of moral integrity. The speeches, both prepared and off-the-cuff, are eloquent, informed and delivered with real clarity of thought and expression. Despite what we might be told in the media, the future is in safe hands!
On a similar note, we would like to reiterate our thanks to all those students, and there were many, who worked hard to make our Open Evening and the Open Mornings such a success. They are our best advert and the number of visitors who commented on their knowledge, excellent communication skills, self-confidence and commitment to Calthorpe Park, made us feel privileged to work here.
We are delighted that the new multi-use games area is on course to be opened in ten days whilst outside the office window, an enormous drill rig has been delivered and is now beginning to sink over 150 10m piles into the ground as the next step for the new building. Gradually, our dreams become reality!
Although the sun is shining as we write this, we are aware of some concerns regarding where students go at lunchtime when the weather is less favourable. We are trialling a new system, the details of which are in the weekly update and published elsewhere on the website.
Have a good week.
---
Friday 3rd October 2014
As the view from our office windows changes on a daily basis, it is astonishing to watch the progress being made. One building demolished, extensive trenches dug, services rerouted, old pipes removed and now the beginnings of a building outline emerging.
Out on the field, the multi-use games area is nearing completion, as is the new softer area which will be part of a lower school facility for breaks and lunchtimes; both will be ready in just a few weeks. Exciting times underpinned by the students' incredible flexibility and adaptability….and school life carries on as usual!
The last few weeks have been as busy as ever and, once again, it is our students who have led the way in giving us our greatest sense of pride. This was best exemplified by the Prizegiving Ceremony held last week in the Hart Leisure Centre where award winners recognised in the summer had the opportunity to repeat the process in front of their family. It was a wonderful event and we thank all those parents who took the time to comment so positively. The musical interludes were of their usual extraordinarily high standard and the students' support for each other, irrespective of year or house, was a joy to behold.
This week has seen a group of students involved in the first part of a Shakespeare Festival; and an entire year group undertaking a wind turbine activity in the Hall to promote the skills and dispositions that underpin education and our curriculum commitment to ELLI (Effective Lifelong Learning Inventory).
Yesterday also saw our annual Open Evening where all those parents interested in sending their children to Calthorpe Park came along to have a look around. We imagine many of you remember the event and some of you may well have come back around again, with younger siblings! This year the tours had to weave their way through the revised site, and our usual fabulous subject presentations were supplemented by a room overlooking the main build area, dedicated to the building work and manned by our partners from Balfour Beattie. The feedback from our visitors was extremely positive, many commenting about the welcome and information they received from staff as well as the wide variety of activities that were going on. The greatest praise was, however, reserved for all of the students who acted as guides, helping departments or speaking in public presentations. Each and every one was a credit to the school and reinforced our enormous sense of pride in our students, your sons and daughters. We thank them all. They remain our very best advert.
Finally, next week sees the start of the annual Model United Nations event at the school with countries to be represented now allocated, research underway and interviews for the key roles completed. These allow senior students to speak eloquently and informatively about the role of the United Nations and of their perception of its key priorities. Our MUN event is an extraordinary occasion and demonstrates that the young people of Fleet have a wide knowledge of the world, an ability to debate, reflect and respond as well as a keen commitment to make their world a better place. What is not to be proud of?
---
Friday 12th September 2014
A very warm welcome back to a new year at Calthorpe Park, particularly to those of you who have just joined the Calthorpe community. This is an extremely exciting year in many ways but particularly with the major building project now definitely underway and a very different landscape and vista to key areas of the school. The block at the front was demolished over the Summer in dramatic fashion and the field has seen extensive work undertaken. Published in the weekly message on Friday is an outline of the new arrangements for accessing the school that will come into operation from Tuesday 16th September. Please take some time to familiarise yourself with these arrangements, available as an announcement on our new school website which, we hope, reflects and conveys the spirit and values of the school.
Our Year 11 students last year did us proud once again with some outstanding achievements both individually and across the board. An announcement on the website gives more details and we wish to pay tribute to all of those who made great progress, and to the staff who helped them.
We were also delighted with the results of both last year's Year 10 Statistics groups and Year 9 RE candidates. Remarkably, of the 192 students who took GCSE Statistics, 75% achieved an A*-C grade and, of the 146 students who took RE GCSE, 99% achieved a B grade or higher.
These courses reflect part of the school's commitment to an enriched and challenging curriculum and the results bode very well for those current students who are now either half way through their GCSE courses (Year 11), or just starting them (Year 10). We look forward to huge levels of progress and ever greater success.
This term we are delighted to welcome a number of new staff to the school and welcome back following maternity leave Mrs Plunkett who will resume her role as Head of Marie Curie although Mrs Jinadasa will continue her work with the house specifically on a Wednesday.
Furthermore: Ms Chidgey has taken over as Head of Geography; Mr Lewis, Professor O'Donnell and Mr Atkins have all joined the Science Department; Ms Gray has arrived into English; Ms Doward will be teaching Art; Mrs Marren joins RE; Ms Shipley will be with the Maths department; Mr Möller will now be teaching Music and Drama; Ms Shakell has joined Drama and Mr Carter has taken a role in the PE Department.
We started the school year with assemblies to all but Year 7 outlining our expectations and vision for the school. These are also conveyed in our Head Teachers' Welcome message on the website; we would ask that you continue to support us in ensuring that the students dress, behave and work in a manner that is conducive to progress and the business of learning. We would ask that you encourage and support your son/daughter to attend punctually and to adhere to the uniform regulations. We do not want these basic expectations to get in the way of learning but, equally, we do expect students to be appropriately dressed. Similarly, encouraging a dialogue about what they have learnt and what they did to improve their own learning is a good way to start the "What did you do at school today?" dialogue.
Finally, a particular mention to our new Year 7 students who have settled into the school quickly and positively, finding their way around despite all the changes. As ever, we have been extremely impressed by their general attitude and demeanour although must also pay credit to the other year groups who have helped them and, in particular, to the Year 11 students who greeted them on their first day, gave them a tour and have continued to look out for them as the days have gone by. It has been a delight to witness the Calthorpe community so brilliantly illustrated by seeing Year 11s freely and happily chatting to the new arrivals.
We do hope you have enjoyed a wonderful summer and look forward to working with you throughout the year. Thank you, as ever, for your support.